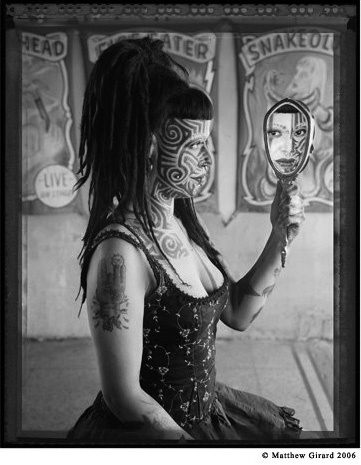 'Reach' by Kathryn Cornelius, is one of 24 area artists on display in 'arts council@ grace 2007' through August 3 at Greater Reston Arts Center.
Through August 3, at Greater Reston Arts Center, 12001 Market St, Suite 103 (the ground floor corner suite), Reston, VA . Gallery hours are Tuesday through Saturday 11 a.m. to 5 p.m. For further information call (703) 471-9242 or see www.restonarts.org.
The Arts Council of Fairfax County began its annual Open Exhibitions way back in 1971. The event location has floated all over the county, as it had no home venue. That was until last years collaboration with GRACE located in downtown Reston. It's a great pairing we hope to see continue for many years to come.
This year's juror, Irene Hofman, is the Executive Director of the Contemporary Museum in Baltimore. Ms. Hofmann has a rather healthy resume, as the art shown here bears witness. Good judges pick good art, that's sort of a no-brainer. What's a little more hidden is the fact that good judges have a strong tendency to attract good entries. Artists who consider themselves to be of a certain level won't chase after every little opportunity. There isn't enough time to do so, even if you wanted to. It's the real world, we're all trying to climb the ladder before us, artists are no different. Everyone wants to face a challenge and conquer it.
My favorite pieces were two photos and a video loop by Kathryn Cornelius. The pair of photos feature a woman in black dress, faced away from us, talking into a tin can on a string. The other end of the string naturally has another tin can attached to it… but it sits there in plain sight with no one listening.
Compositionally these are probably the strongest images in the show. There's nothing like dynamic use of space, and the ability to draw the viewer's eye into, through, and around the image. I look at a lot of work, and a very small percentage of artists truly get this notion. It's all about the ability to see, and use the space within the picture frame. I've half a notion gelling in the back of my brain that good photographers are better at this than the average artist. With the lion's share of the image making process done by the camera itself, the artist is left to concentrate on composition and exposure. If you can't compose and expose you'd best give up photography.
Aside from their esthetic merits, these images also seem the richest vein for metaphoric interpretation. They're ambiguous as to exactly what the artist is saying, which allows the viewer to fill in the blanks as they see the image… another nice talent to have by the way, and very tricky to pull off. In one image the woman yaks away to no one, while walking in the middle of the road gesticulating away. The other image has her sitting in a wooded park like setting, again yakking away to no one, seemingly oblivious to the beautiful nature she's immersed in.
They may be comments about cell phone use, and people who basically talk to themselves as much as anybody else, all the while ignoring the real world space around them. We've all seen people crossing the street phone to ear, moseying along oblivious to cars that might kill them in the next few step if they don't wake up and get out of the way… Or you could think about the images on a deeper level as emblematic of life's basic isolation. Man's eternal need to connect to his fellow man, and the inherent futility there of. Either way they're visually, and metaphorically punchy. Nice work.
The accompanying video shows the same woman in black dress, this time at the beach. The camera remains static throughout, simply showing us a section of beach and ocean behind it. The woman in black dress makes passes back and forth, entering and exiting the picture frame…pushing a vacuum cleaner back and forth.
Again it's work with plenty of metaphoric possibilities. To me it's about biting off more than you can chew. The futility and complete waste of time, and effort, spent on projects you never should have started to begin with. Or life's seemingly endless supply of chores. Whatever you see there, it's likely to bring a smile to your face. It's surrealistically bizarre in a comical sort of way.
The Juror's first place award went to Linda Hesh and her "White Liberal Mugs," with accompanying photos. White ceramic mugs with text reading "I Like Black People," "I Like Brown People." "I Like Yellow People." One photo shows them on a store shelf, which is a fairly wry photo. The other photos show white people in T-shirts with the same slogans. I Like Yellow people at the Vietnam War Memorial, I Like
Black People at a grocery store with black shoppers around them.
I like the work, but the egalitarian in me wants to like the work more than I do. Hesh's artist statement refers to this as the last step in a fight to overcome bigotry, which is a great goal, but…. What we have at hand is a sort of white middle class self loathing to my eye. Where are the 'I Like White People' mugs and T-shirts? And why aren't the black people wearing them? Which could be a rather crafty statement seeing how as the text is color coordinated, and the white text on white mugs would be nearly impossible to read. Where are the "I Like Red People" mugs? Seeing how as the white man waged genocide on them while stealing their land and over running their country….
Coming off a few weeks where we heard all about Don Imus' regrettable sentence or two that lead to him losing his job. And little, if any, uproar over black comedians and rappers who spew far worse. It's clear we have a long way to go yet with these racial issues.
Additionally there are a couple of artists working with found materials. Charles Westerman uses plastic bags and disposable plastic sandwich boxes from Poland. Travis Childers uses clear plastic push pins to fabricated a shirt that looks fabulous, but would be seriously painful to wear. What price fashion?

Artist Opportunities——–
'Driven'
Deadline Friday July 6. Open call for young artist with mental and/or physical disabilities, aged 16-25. There will be 15 finalists, and $60,000 in awards. Grand prize is $20k, First $10k, second $6k, and 12 awards of excellence at $2,000 each. The theme is a quote from Carl Jung "Art is a kind of innate drive that seizes a human being and makes him it's instrument." See www.vsarts.org/VWcall. These people find some great artists, turning out work that bears no hint of "disabilities". Then again, $60,000 in prize money will tend to do that.