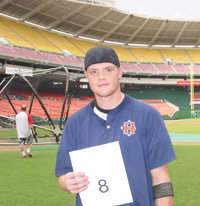 Longfellow Middle School won third place in the U.S. Department of Energy National Science Bowl in Denver, Col. It is the country's largest academic competition of its kind to test sixth, seventh and eighth grade students. (photo: courtesy Thulasi Ramnath)
Virginia Tech Business Scholar
Falls Church resident Ian Hay, a business student at Virginia Tech, has received the 2007 Curtis A. & June Haworth Thompson Scholarship from the university's Pamplin College of Business. The scholarship is awarded based on merit, service to the university and the community and extracurricular activities in finance.
Johnson recognized for 'Service Above Self'
The Falls Church Rotary Club honored Farnum Johnson for 30 years of service at the club's farewell meeting on June 14. Johnson received a plaque for his accomplishments.
Mediastudio Receives Philanthropy Award
Branding agency Mediastudio has been awarded the 2007 Excellence in Business Philanthropy Award by the Washington Business Journal and Greater DC Cares. Mediastudio was recognized for its CreateAThon event, a 24-hour marathon for area professionals to design brochures, websites and other materials for non-profit organizations for free.
At the RAMMY's
Robert Egger received the Duke Zeibart Capital Achievement Award at the RAMMY Restaurant Awards Gala on June 17. Egger was recognized for his establishment of DC Central Kitchen, Inc., an organization that trains people to prepare meals from area restaurants and donates them to the needy. The organization has trained over 630 formerly homeless people for jobs in food service. The RAMMY Awards honor the best chefs in the metro region.

A Slice of Falls Church History
The Smithsonian Folklife Festival on July 1 will feature the "Roots of Virginia Culture" exhibition from 11 a.m. – 5:30 p.m. on the National Mall in D.C. The exhibition will explore Falls Church history back to 1699 in the Family and Community tent. Over 180 communities will participate in the celebration.
Race for the Fisher House
On August 26 in Louisville, Ky., Bill Rollins of Fairfax will participate in his first Ironman Race, a triathlon that consists of a 2.4-mile swim, a 112-mile bike and 26.2-mile run. Although no fundraising is required for participation, Rollins is using the race to promote awareness and raise money for the Fisher House Foundation. The foundation is a non-profit organization that provides homes near medical centers for the families of injured American military men and women during hospitalization. For more information about Rollins and his race, visit www.billrollins.com. Visit www.fisherhouse.org to learn more about the organization.
Burfield Graduates First
Congratulations to Evan Burfield of Falls Church for graduating from St. Catherine's College in Oxford, England. He graduated with a First, the British equivalent of summa cum laude. He received bachelor's and master's degrees in philosophy, politics and economics.
Hometown Hero
Dick McCall, an executive committee member of the Falls Church Education Foundation, received Commerce Bank's Hometown Hero Award on June 16. The award is given to individuals involved in community service. McCall served as the policy advisor to the National Reconciliation Congress in Somalia to help build the country's infrastructure.
Todd Makes Dean's List
Alexssa Cody Todd of Falls Church has made it to the Dean's List at Drew University for the spring 2007 semester. Students with a grade point average of 3.4 or higher are eligible for the Dean's List. Drew University is located in Madison, N.J.
Free Check-up for Can Donations
Essential Health Care will offer free check-ups to current patients who donate canned foods throughout the month of July. New patients making donations can receive up to $180 worth of health care. The donations will go to the Falls Church Community Service Council Food Pantry. Essential Health Care is located on 7202 Arlington Blvd., Suite 301, Falls Church. Call 703-204-4798 to make an appointment.
Congratulations NSDAR Awardees
The Freedom Hill chapter of the National Society of the Daughters of the American Revolution has granted the following students the Outstanding Work in American History award: Marie De Marce (Grace Lutheran School), William Kiley and Evelyn Robinson (Kent Gardens Elementary School), Marissa Hornstein (Longfellow Middle School), Phillip Neighbour and Gabriela Della Corna (Spring Hill Elementary School), Alden McCray and Kelly Phelan (McLean High School).
The following students received the Outstanding Citizenship award: Andrew Vargas (Grace Lutheran School), Eslie Djemmal and Alexander Antezama (Kent Gardens Elementary School), Jayne Willner (Longfellow Middle School), Rebecca Shaw and Jonathan T. Meyer (Spring Hill Elementary School) and George Kennedy (McLean High School).
Stroke and Osteoporosis Screenings
Life Line Screening will be conducting screenings for strokes and osteoporosis on July 7 at Thomas Jefferson Elementary School (601 S. Oak Street, Falls Church). The four screenings being offered take under one hour to complete and cost $129. Pre-registration is required. Call 1-800-324-1727 to make an appointment.
Bring Out Your Free Stuff
Clear out your closets, basements and garages for anything you'd like to give away on July 7 – 9 at the Celebration Center of Religious Services (2840 Graham Road, Falls Church) from 9 a.m. to 1 p.m. Items can include household supplies, clothing and toys. No vendors before 1 p.m.
Congratulations to Norwiega and Hill
Jeb Stuart High School students Eraina D. Hill and Edward H. Norwiega are being awarded the Horatio Alger Association's D.C. Metro Area State Scholarship. They are among 25 students in the metropolitan area who have overcome adversity while demonstrating strong academics and character. The scholarship program awarded over 1,200 scholarships in 2007 ranging from $2,500 – $10,500 for each student.
Va. Tech Dean's List
The following Virginia Polytechnic Institute and State University students from Falls Church are on the Dean's List for the spring 2007 semester: Mustafa Amin, Andy C. An, Reed A. Anzalone, Gavin R. Argo, Jessica A. Arrazola, Marvin E. Aylor, Pablo A. Calderon, Chelsea R. Caumont, Lauren T. Cobert, Mackenzie A. Cohe, Amanda L. Davis, Laura Degitz, Karla R. Delgado, Gregory A. Douglas, Matthew R. Dowden, Julia E. Falkenstern, Emily C. Ferk, John D. Flatness, Gaku Fujiyama, Christine M. Gallagher, Griffin D. Goodreau, Thomas W. Goodrich, Nicholle C. Harris-Depaz, Ian A. Hay, Courtney E. Heck, Melissa A. Jan, Michael S. Jansen, Edmund C. Jong, Peter Kang, Jung H. Kim, Natalie A. Lauby, Robert W. Lauby, David X. Le, Dacia Leon, Rachel A. Leonard, Brian J. McCabe, Andrew J. Montgomery, Jennifer H. Murphy, Chelsea K. Newman, Caroline S. Neyland, Anh T. Nguyen, Duc M. Nguyen, Griffin V. Ofiesh, Alexander J. Pappas, Spencer D. Patton, Kathryn M. Rebers, Maya C. Renfro, Devin C. Roden-Reynolds, Megan M. Ryan, Timothy M. Sadler, Jennifer P. Sanchez, Geoffrey W. Schrager, Rungnapha S. Senedara, Syed M. Shamim, Kendall R. Stone, Sara J. Sugrue, Jennifer A. Toth, Chuong H. Tran, Paul Truong, Jeffrey W. Turner, Jeffrey N. Twigg, James P. Vaeth, Christopher P. VanEvery and Christopher H. Yancey.