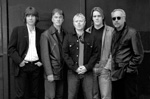 Driving one night, Victoria Patchen recalled seeing someone swerving on the road ahead of her. After slowing down to keep a safe distance, Patchen watched as the driver slammed into a guard rail. Patchen pulled over and rushed to the driver's aid, eager to call for help. But the driver, still conscious, told Patchen not to call the police. Clearly intoxicated, the woman behind the wheel of the wrecked car did not want to get caught drinking and driving.
"If someone else had been in her path, you could only imagine what could have happened," she said. "It's not something you can hide."
Patchen, along with her band Lucky Day, is now speaking out against drunk driving by contributing a song to the D.C. Rockers for Life CD, one of over 50 compilation CDs put out by Illumina Records.
Ron Bellanti, the company's president, started his anti-drunk driving campaign in 1989 when an intoxicated 15-year-old fell out of the back seat of a moving pickup truck during a concert, leaving her severely injured. The driver, who was drunk and driving in rapid circles in the parking lot, crashed, leaving everyone in the car unconscious.
"Children don't die in hospitals in America … they die on highways," Bellanti said.
The record company, based in Beverly, Mass., found Lucky Day through their web page on MySpace.com. "I love the band," said Bellanti. "They don't just play good tunes, they have a good heart."
Lucky Day, which performs in the D.C. area, consists of Patchen on vocals, Brian Huber on guitar, Eric Belec on bass and David Ray on drums. Huber, who lives in Burke, Va., started the band in the summer of 2005. His Brit-pop influences combined with Patchen's lyrical lines has been compared to 60s music by reviewers such as The Washington Post. Belec and Ray, despite previously playing in a hippie jam band, currently focus on instrumentation for the pop-like group.
Huber wrote all six of the upbeat, catchy tunes on their independently released EP, All My Rainy Days. They contributed their title track "Rainy Days" to the compilation album.
"It's something that'll help raise awareness," said Huber. "People regard it [drunken driving] as an everyday thing at this point."
"Even if you don't immediately know someone, it could happen to anyone," said Belec. "We could all be affected."
Lucky Day does their part by setting an example. "There's a particular lifestyle that people associate with rockers," said Huber, referring to a drinking culture. When touring, they always make sure whoever is behind the wheel is fit to drive. They mention planning ahead or taking a taxi as valuable preventive measures.
There has been talk of uniting bands from the D.C. Rockers compilation for a benefit concert, however, nothing has materialized as of yet. For now, the band is focusing on releasing a second CD by early next year, one featuring Latin and reggae influences.
"It's a way of showing our range more stylistically," said Belec. "We're never going to go outside of the pop-rock genre, but we're adding that little extra taste." Belec plans to experiment with the mandolin on some songs.
While the band mostly performs in Virginia and the D.C. area, they have also toured further south into the Carolinas. In the future, they plan to do a New England tour where they will visit Connecticut, the home state for both Patchen and Belec. Lucky Day will be performing on July 12 at the Friday Night Live! Summer concert series in Herndon, Va. and at Royal Lake Park in Fairfax on July 20. To learn more about Lucky Day, visit www.myspace.com/luckydayband or more information and to buy the D.C. Rockers for Life CD, go to www.myspace.com/dc_rockers.