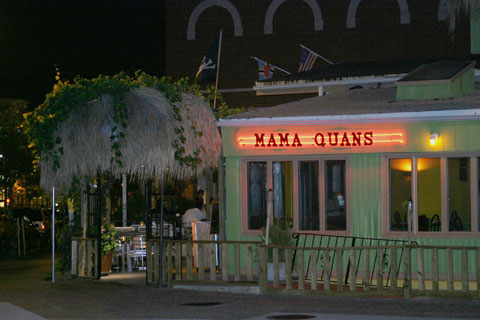 Looking for a meal that's light-yet-satisfying with an exotic twist? Aladdin's Eatery is your place to try Lebanese cuisine with flavorful and well-spiced dishes at a good price. The restaurant specializes in Middle Eastern and Mediterranean cuisine, from grilled kabobs to rolled pitas, with ample fresh vegetables making their way into every dish.
The restaurant, housed in the downtown district of Ballston, Va. on Fairfax Drive, is located conveniently across the street from the Ballston metro stop. When the weather is pleasant, there is plenty of outdoor seating with enough umbrellas to block out the summer sun. The indoor atmosphere is just as pleasing, with simple red, yellow and black elements that give an exotic appearance without being too jarring. Plus the fun, breezy guitar music adds a Mediterranean flair.
For starters, try a Lentil or chili soup ($3.15 – 3.85): either plain, with chicken, or make it three-way by combining all three. Before cringing at the blandness of lentil soup, you will be pleasantly surprised to find that the added spices make for a one of a kind flavor. But for spicier tastes, the chili is in order.
Appetizers feature Middle Eastern favorites such as Tabouli ($5.25 small, $9.95 large) — parsley with tomatoes and cracked wheat with a mint flavor. Dawali ($5.45) consists of stuffed grape leaves with rice, chick peas and tomatoes. The Chicken Sambusek ($5.25) has deliciously grilled strips wrapped in a thin, crispy shell with peas, onions and the most exotic spices on the menu. Topped with diced scallions and tomatoes, it's one of the restaurant's tastier items and is also served as an entrée ($8.95).
Speaking of entrées, you can't go wrong with the quality of the meats in these dishes. Aladdin's Favorite Combo ($11.95) would be a favorite in any meat lover's book. It includes chicken, beef and ground beef patties on top of rice and comes with good portion of salad. If you like lamb, you might enjoy the Mediterranean Lamb Plate ($11.95), which is topped with pine nuts, almonds and cinnamon.
There are still many options for vegetarians, including the Fatayer Plate ($8.95), which takes spanakopita— a spinach pie with feta cheese and wrapped in filo dough— and tops it with cheese and scallions.
For a lighter course, try one of the many rolled pitas ($5.25 – 5.95), filled with fresh greens and wrapped in a thin, crispy pita bread that's lightly toasted. Meats include beef, chicken, lamb and even tuna. For vegetarians, Aladdin's Falaffel Rolled, rich in seasoning and grilled just right, is a must.
Don't forget to order one of their freshly squeezed juices or fruit smoothies, such as the Crazy Berry ($2.95). For something hot, try Aladdin's specialty mint tea, dubbed "The Comfort Drink" ($1.50).
The service, which is both quick and friendly, adds to the atmosphere and makes the dining experience even more worthwhile.
Aladdin's Eatery
4245 Fairfax Drive
Arlington, VA 22203
703-528-0078
Hours: Open daily at 11 a.m.