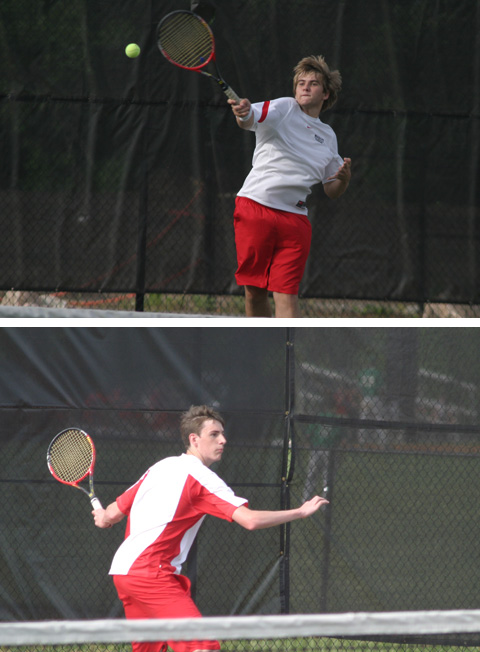 Four years ago, Alex Goetting took the court at the Group A Virginia State Tournament final as the George Mason High School boys tennis team's No. 1 player and helped lead the team to its eighth state title. Last weekend in Radford, Va., it was the teams' other four seniors and a standout freshman that took the lead to pace the Mustangs to their fourth straight state championship and their 12th overall.
Depth proved to be the difference, as Mason High dispatched Radford High School in Saturday's final for the second straight year, securing the necessary five victories in the singles portion of the competition. While Goetting lost his match to Radford standout sophomore Malik Mubeen — his first defeat ever in eight singles matches at the state tournament — his teammates were there to pick him up. Freshman Tim Goetz and seniors Thomas Yancey, Daniel Butler and Daniel Lim all claimed singles victories, setting the stage for senior Xavier Alarcon's title-clinching, straight-set win over Radford freshman Sanjay Kishore.
With the first set in hand and leading 5-2 in the second, Alarcon broke Kishore's serve to give Mason the title, sending the Mustangs spilling out onto the court for a round of a congratulatory hugs and high fives.
"The competition is getting a lot hard," said Alarcon, a three-year member of the varsity team. "But it's always a lot of fun."
Last year, the Mustangs topped the Bobcats 5-2 in the final. This year's Radford squad, which doesn't feature a single senior in its top six, was younger, but no less dangerous, as proven by their spot in the state finals.
"As soon as last season ended, we knew we were losing a lot of players, but we wanted to live up to the tradition," Mubeen said. "I think we proved a lot of people wrong by making it pretty far as a young team."
While the old guard of seniors Goetting, Alarcon, Yancey, Lim and Butler ended their careers on a high note, the state tournament also signaled a promising start for freshman Tim Goetz.
Playing at No. 3 singles, Goetz dispatched his opponent, Jay Desai (6-0, 6-0), in just under 45 minutes to put Mason on the board in the finals. On Friday, against semi-final opponent Gate City, Goetz took his singles match in straight sets (6-2, 6-2) and then teamed up with Yancey to claim the clinching fifth game in the third set of their doubles match, 2-6, 6-4, 6-3.
The win gave the Mustangs a narrow, 5-3 win over Gate City in an epically long five-and-a-half hour semifinal match.
"It was really scary," Yancey said after his doubles match. "Everyone was down at one point, but we pulled through. It was probably the most intense match we played all season."
With temperatures climbing into the mid-90s on Friday, and higher on the hardcourts, fatigue became an issue in the later matches. Just before serving for the match, Goetz dropped to the ground after faulting on a serve, clutching his cramping calf. Afterwards, his double's partner echoed his pain.
"I am cramping up all over," Yancey said. "It is definitely not a good feeling."
Alex Goetting, Daniel Butler and the doubles team of Goetting and Alarcon accounted for Mason's other three wins in a match that saw Daniel Lim lose for just the second time in his three-year career in the Mason top six.
The win by Yancey and Goetz finally allowed Mason Head Coach Steve Goetting to breathe a sigh of relief. Throughout the match, the coach rushed from match to match to monitor his players, pausing only briefly to comment on his hair, which he firmly believed to be both rapidly graying and falling out during the close contest.
"I definitely thought that we might lose to the eventual state champions," Steve Goetting said of his team's semi-final draw.
Instead, it would be George Mason that again celebrated a state title. While the school improved upon its state-record 12 titles, the Mustangs' streak of four in a row has a little ways to go before eclipsing the school's six-year stretch of championships from 1986-1991.
That streak will not be broken under Steve Goetting's watch, however, as the head coach appears to be "one and done." With Alex moving on to the University of Arizona, where he will try to walk on to the tennis team, Steve will step aside, leaving the team in the hands of assistant coach Matt Sowers. Steve Goetting, previously an assistant coach, took over the team this season after the departure of former head coach Dan Wilkie.
"It was fun being an assistant, but it's nothing like being the head coach," Steve Goetting said. "Besides I need to maintain this perfect record."
For Goetting, a Sweet Three-Peat in Doubles Tournament
For the third straight season, Alex Goetting and his doubles partner claimed the state title in the doubles tournament. Goetting and Xavier Alarcon defeated Radford High School's top pairing of Malik Mubeen and Sanjay Kishore 6-3, 7-6 (8-6) to earn the three-peat.
Alarcon partnered with Goetting when the two were sophomores, winning the title in 2005. Last year, Goetting teamed with then-senior James An to take the crown.
The Mason pair walked away with the title after a gritty and, above all, odd second set in which no player held their serve. Rather, twelve-straight breaks led to a tie-breaker and pushed Goetting and Alarcon to the brink of losing the second set.
"It was pretty nerve wracking," Goetting said of the second set. "You'd think you would hold your serve, then it would slip right away."
Leading the tie-breaker 6-5 and with set point, Radford's Kishore volleyed a ball into the net, knotting the tiebreaker at 6-6. Alarcon followed with a service winner to put Mason at match point. On the ensuing rally, Goetting lunged to volley the ball back across the net. When Kishore's return failed to creep over the net, Goetting and Alarcon were left to celebrate with their teammates.
"This one is sweeter [than the first doubles championship] — by far," Alarcon said. "This is a good culmination to senior year."