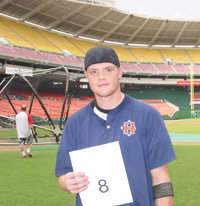 THIS PHOTO OF A STREET SIGN with conflicting messages was taken by Falls Church resident Diann Watkins. The photo, which was snapped by Watkins while she, her son and her dog were traveling from Knoxville, Tenn., ran in the June 10 Snapshot Column of PARADE Magazine. (Photo: courtesy PARADE Magazine)
Four Elephants in the Room
The Republican candidates Vellie Dietrich Hall, running for the Fairfax Country Board of Supervisors from the Mason District, Gary Baise, a candidate for Chairman of the Board of Supervisors, Steven Hunt, running to be an at-large member of the Fairfax County School Board, and Patrick McDade, running for Fairfax County Commonwealth Attorney, will all be available to meet with you and answer your questions. The event will take place Friday, June 22 from 6 – 9 p.m. at the Party Room at the Lakeside Plaza Condominiums (3800 Powell Lane, Falls Church). Call Peter and Helen Evans at 703-931-2202 for more information.
Concerts in the Park
The City of Falls Church will host their 15th Annual Concerts in the Park series this summer, with concerts every Thursday from June 21 – August 2 at 7 p.m. All concerts are free. Concerts will be held at Cherry Hill Park (312 Park Ave., Falls Church). Rain location is the Falls Church Community Center (223 Little Falls St., Falls Church). Call 703-248-5077 for more information.
Choralis Goes Out With All-Mozart Concert
Choralis, the 80-member choral ensemble featuring members from the Washington metro area, will have its final concert of the 2006-2007 season Friday, June 29. The concert will begin at 8 p.m. and will take place at The Falls Church (115 East Fairfax Dr., Falls Church). The concert will feature only works by Mozart, including "Mass in C Minor." At 7 p.m., Choralis Artistic Director Gretchen Kuhrmann will offer her "Director's Insights" into the performance. General admission tickets are $30, tickets for students 22 and under are $5, and children under 12 get in free. Call 703-237-2499 or visit www.choralis.org to purchase tickets.
Robarge and Ensign to Attend Governor's School
Congratulations to Karina Robarge and Seth Ensign of George Mason High School, who have been selected to attend Governor's School for Visual and Performing Arts at the University of Richmond this summer. The Governor's School program will run from July 1 – 28. The four-week program contains workshops, classes, special events and field trips.
City of Falls Church Awarded Federal Funds
The City of Falls Church has been selected to receive $3,500 in order to aid the City's emergency food and shelter programs. Any public or private voluntary agencies who wish to apply for funds from the Emergency Food and Shelter Program should contact Celeste DeFiore of Catholic Charities of the Diocese of Arlington (200 North Glebe Rd. Suite 506, Arlington) by calling 703-841-3830. Interested agencies may also get an application by emailing webmaster@ccda.net. All applications must be received by June 15.
A Showcase of Young Artists
Amadeus Concerts presents a showcase for young artists, featuring Rena Kimura on the violin, Alexander White on the trumpet, Tiera Furby as a soprano vocalist and Frank Conlon as an accompanist. Jessica Swink will receive the Rowe Artist Grant. The showcase will be at Saint Francis Episcopal Church (9220 Georgetown Pike, Great Falls, Va.) on Sunday, June 17 at 4 p.m. General admission is $10, and students under 18 get in free.
Falls Church AAUW Scholarship Winners
The Falls Church American Association of University Women gave out three local scholarships May 14. The scholarship winners were Bao Chau Nguyen of Falls Church High School, who will attend American University, Emily Sabbatini of George Mason High School, who will attend James Madison University, and Virginia Tran of GMHS, who will attend the University of Maryland.
Arocho, Sargsyan Named to MICA Dean's List
Congratulations to Alexandra Beatrice Arocho of Fairfax and Lusine Sargsyan of Falls Church, for having been named to the spring 2007 Dean's List at the Maryland Institute College of Art. Arocho and Sargsyan are both members of the Class of 2010.
MPA 'Strictly Painting' Exhibit
The McLean Project for the Arts (MPA) will be holding their sixth "Strictly Painting" exhibit from June 21 – 28. This year's exhibit will include McLean artists Steve Adams and Cynthia Young. There will be a reception and juror's talk held Thursday, June 28 from 7 – 9 p.m. For more information, contact Dabney Cortina at 703-626-1786.
Domestic Violence Support Group
Doorways for Women and Families holds a safe and confidential domestic violence support group every Tuesday. Call 703-237-0881 for more information. Doorways for Women and Families is also seeking volunteers to help out with its program. Call 703-522-8858 x13 or email volunteer@doorwaysVA.org to find out more about how you can lend a hand.
'Colors of the Congo' Exhibit to Open
French-American photographer Dorothee Bond will open her "Colors of the Congo" exhibit at 6:30 p.m. on June 25. The exhibit, consisting of 15-20 photographs taken in the Democratic Republic of Congo, is a departure from the traditionally somber photos taken of the country. The exhibit will run until September 10. Admission to the exhibit is free.
Summer Art Courses for Adults, Teens
The McLean Project for the Arts (located at the McLean Community Center – 1234 Ingleside Ave, McLean), along with the Corcoran College of Art and Design, is offering five art courses this summer for adults and teens ages 16 and up. The classes offered are Drawing Studio, Portrait Painting, Beginning Watercolor, Botanical Drawing and A Week of Plein-Air Painting (for ages 12 and up). The courses are taught by Corcoran faculty members, are not for credit, and consist of 15 hours of instruction. General tuition is $190, McLean district resident tuition is $165. For more information or to register, call 703-790-0123 or go to www.mpaart.org.
'Rocky Balboa' Meets 'Sideways'
The French Wine Society, along with the Washington Wine Academy, will host two head-to-head, boxing match-style wine-tasting competitions June 30. The first, taking place from 1:30 – 4 p.m. will pit Bordeaux vs. California, and, held from 7 – 9:30 p.m., the main event features France vs. the Rest of the World. The taste-off will be held at la Maison Francaise – Embassy of France (4101 Reservoir Rd. NW, D.C.). Prices are $60 for Society members, and $75 for non-members. Contact Ryan Wegman at 202-466-3330 for more information.
Wilber Makes Sewanee Dean's List
Congratulations to Arlington's Elizabeth Wilber, the daughter of Mr. and Mrs. W. Scott Wilber, who made the Dean's List at the University of the South for the Easter 2007 semester. In order to make Sewanee's Dean's List, one must earn a minimum grade point average of 3.625.
Stott Earns Dean's List Honors at Mitchell
Congratulations to Zaria E. Stott of Falls Church for making Mitchell College's Dean's List for the spring 2007 term. In order to make the Dean's List at Mitchell, a student must compile a minimum grade point average of 3.5.

This Redbone's For You
Leon Redbone, the Ragtime, Folk-Jazz musician who coined the eternally-popular "This Bud's For You" jingle for Budweiser, is coming to Lexington's Theatre at Lime Kiln (Lexington, Va.) Sunday, June 24. The show will begin at 7:30 p.m. and the gates will open at 5:30 p.m. Bowl seats at $24, and lawn seats will be sold for $22 the day of the show, weather permitting. Call 800-594-TiXX or visit www.limekiln.musictoday.com to purchase tickets.
Lipman Honored Yet Again
Margaret Lipman, who will graduate from George Mason High School today, has received the Robert C. Byrd Honors Scholarship for 2007. The scholarship is given by the Commonwealth of Virginia and recognizes high school seniors who achieved exceptional academic accolades during their high school tenures. Lipman is attending the University of Virginia this fall as an Echols Scholar.

McLean Ballet School to Perform
The McLean School of Ballet and Jazz will perform June 22 at 7:30 p.m. at the Ernst Theater at Northern Virginia Community College – Annandale Campus. Tickets may be purchased at the McLean Arts Center (1437 Emerson Avenue, McLean) or by calling 703-356-3048. Ticket prices are $14 in advance and $16 at the door.
Capitals Equipment Sale
For those of you who have been dying to get your hands on the game-worn equipment of the Washington Capitals, your day has come. The Caps are holding their annual equipment sale June 16 at the Kettler Capitals Iceplex (627 North Glebe Rd., Arlington). The sale is not limited to game-worn equipment, as new items will be sold as well. Equipment sold will include jerseys, gloves, pants, skates, pucks and helmets. The sale of young star Alexander Ovechkin's equipment will be handled differently, as it will include a drawing. The event is open to the public from 1:30 – 4 p.m.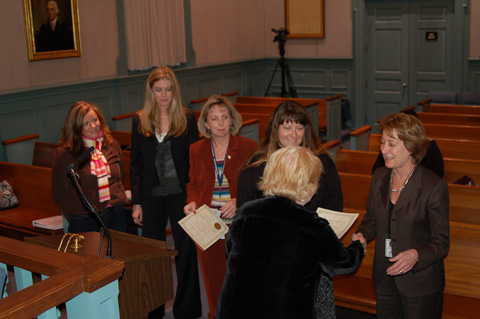 Bishop Ireton Announces New Varsity Coaches
Bill Simmons, Athletic Director of Bishop Ireton High School, announced in a June 6 press conference the new varsity head coaches for the 2007-2008 school year. The new head coaches are Tony Verducci (Interim Football), Mike Gallagher (Baseball), Sully Hamid (Men's Soccer), Matt Hendricks (Women's Soccer), Katie Sloper (Tennis), Melody Colebrook-Jones (Cheerleading) and Cara Hurrin (Women's Lacrosse).
Dodd Attending USC's Resident Honors Program
Jake Dodd of Langley High School has been selected to participate in the University of Southern California's Resident Honors Program. Dodd will leave High school one year early to begin his program at USC this summer. His major is in astronautical engineering.
Singing for Sir Elton
James Jelasic of Falls Church's Black Tie Arts Management performed at the National Association of Broadcasters Education Foundation Service to America Leadership Award banquet earlier this week. The black-tie affair, held at the National Building Museum in D.C., honored Sir Elton John for his charitable work done to fight AIDS. Inside Edition's Deborah Norville hosted, and Lauren Nelson, Miss America 2007, performed the National Anthem.