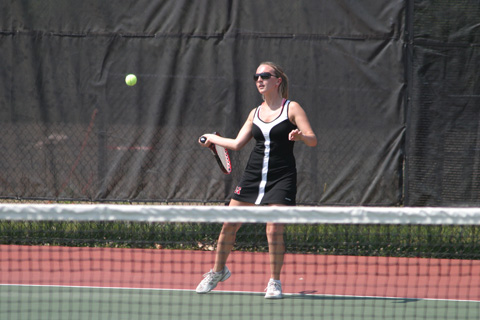 On June 1, George Mason High School's women's tennis team advanced to the State finals in Radford, Va., clinched by an impressive (6-2, 6-1) win by senior Anna Duning (No. 2). The Mustang's competition, the Goochland Bulldogs, proved to be formidable but the Mustangs prevailed, sweeping the Regional Finals.
The performances of freshman Kelsey Kane (No. 3) and seniors Alina Kaye (No. 4), Margaret Lipman (No. 5) and Yesha Shrestha (No. 6) paved the way for the sweep. The quartet defeated their opponents by scores of 6-0, 6-1; 6-3, 6-0; 6-4, 6-2 and 6-2, 6-0 respectively.
Kane wrapped up her win over Goochland first, barely breaking a sweat. Lipman and Kaye each had a challenging and long set against their competitors, but their perseverance paid off for the win. Impressively, each of the singles players managed to beat their opponents in two sets.
Having won their match (5-0), Mason didn't have to send their doubles teams out into the nearly 90-degree heat that is magnified on the court.
While the successes of her teammates ensured that Mason went on to the State Finals, sophomore Michelle Repper (No. 1) still had to play for her chance to advance to the Individual Singles State Semifinals. This game was not a guaranteed win for Repper, even with her shockingly powerful serves and returns. Repper won her first set, before her Goochland opponent claimed the second, forcing a third set to break the tie. Appearing slightly discouraged after her arduous second set, she received an energetic boost of support from Head Coach Chris Madison and fans watching from the stands. After a long and grueling third set, Repper pulled through for the Mustangs, defeating her opponent (6-1, 3-6, 6-4). She faced her opponent for the Individuals Singles State Semifinals yesterday, but results were not available at press time.
The Mustangs will play in the State Semifinals match tomorrow.