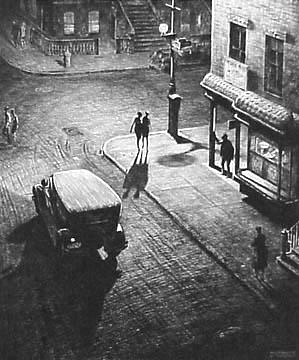 'Relics' a 1928 drypoint print by Martin Lewis (1881-1962), from 'Made in America' the Washington Print Club's 19th Biennial show currently at American University's Katzen Art Center through June 24.
Ballston Arts and Crafts Market
Season begins this Saturday June 9, from 10 a.m. to 4 p.m., and returns the second Saturday of the month through October. Goodie bags for the first 100 visitors each market day. Welburn Square, 9th and N. Stuart St, across from the Ballston Metro. For further details call (703) 528-3527, or see ballstonarts-craftsmarket.blogspot.com.
'Made in America'
The Washington Print Club's 19th Biennial Exhibit through June 24, at American University's Katzen Art Center, 4400 Massachusetts Ave, Washington, DC. Museum hours: Tuesday through Sunday 11 a.m. to 4 p.m. Metered parking on street level. Phone (202) 885-1300, or see www.american.edu/cas/katzen/index.cfm.
The Washington Print Club (home.comcast.net/~washingtonprintclub/wpcsite.htm) members have loaned over 100 prints made within the United States for this Biennial show. A diverse show ranging from portraiture to Color Field abstractions with three main groupings. Historical prints from the 1930's to 1950's, with works such as Martin Lewis' 1928 print titled "Relics." A fantastic image with its intensely playful exploration of artificial light and cast shadows in a depression era nocturnal urban street scene. Other groupings cover DC artists, and contemporary works.
Print collecting is a complex mine field for the uninitiated. The voice of experience… joining a group like this is not a bad idea if you're interested in collecting art prints. You really need to know your stuff to keep from taking a bath in the cesspool of fakes and frauds. Training your eye by looking at a lot of prints is also a key part of that.
Also of note: The Katzen Center has an open call for art works by the Alumni of AU for a juried show in September. Alumni being loosely defined as anyone who ever took a class at AU. Deadline for entries is June 15. See contact info above for complete details.


'Anonymous III'
Presented by Washington Project for the Arts/Corcoran presents from June 7 through 23, at Flashpoint Gallery, 916 G St NW, Washington, DC. Regular gallery hours: Tuesday through Saturday from Noon to 6 p.m. Phone (202) 315-1310, or see www.flashpoint.org. Opening preview night Thursday June 7, from 6 to 8 p.m. First day to purchase art works Friday June 8 from 6 to 8 p.m.
This obviously being the third time WPA has presented this idea. The notion is rather simple. Ten fairly well known DC area artists were chosen to do work on a 2'x2′ format, and they in turn selected nine additional artists of their choosing to do the same. Yielding a total of 100 anonymous unsigned (at least on the front) art works for people to view and buy as their tastes so see fit. All art works are priced at a flat $500 each. Which if you know your way around the local art scene can net you some nifty name art on the cheap. As you might expect, it's all first come first served.
These sorts of events are based on the basic question that gnaws at the back of people's minds… do artist's works sell because they're good, or because they're well known. The Washington Post's weekly Style Invitational contest ran one these anonymous entry events several years ago. In the end it proved what most all of them do, the famous are famous because they're good.
'Artists & War'
Friday June 8 through 30, at MOCA DC, located across from Sea Catch Restaurant, in Canal Square, Georgetown at 1054 31st St. NW, Washington, DC. See www.mocadc.org or call (202) 342-6230. Gallery Hours; Wednesday through Saturday 1 to 6 p.m. Opening Reception this Friday 6 to 9 p.m.
You never know what you'll find at MOCA with it's open call shows, but this one seems to be generating a bit of buzz. Back channel word is some of the movers and shakers in the DC art world have spread the word. We'll all find out what comes of it Friday night, but this could be an interesting event to catch.
Artists are by nature people who create, protect and preserve. So it's not surprising that they tend to be on the anti-war side of things. War being that socially acceptable event featuring death and destruction. It's not a new concept. Hitler knew this and labeled anything outside his non-threatening vision of art 'degenerate.' Which lead to the mass exodus of European artists into New York during WWII…. and why New York, and by extension America took over the art world following WWII. Come to think of it, we got their scientists as well, so we got the bomb and the art.
People are fairly heated up about the fighting in Iraqi, so you can pretty much count on this one being predominately anti-war. Having said that, the director of MOCA has gone out of his way to make sure pro-war artists are welcome to show as well.
'Hang'em High'
Monday evenings through August 20, in Crystal City, at the corner of 18th and Bell St. Less than a block from the Crystal City Metro stop. Free garage parking in Crystal City after 5 p.m.
Hang'em High is an outdoor film-fest featuring a different Clint Eastwood western each Monday night starting at dusk (roughly 8:30 to 9 p.m. which will obviously change as the twilight hour changes) for the next 11 weeks. OK, so it's not a drive-in, but it's on the grass, and it's free, so nobody has to ride there stuffed in the trunk. The films run rain or shine. 'Best Dressed' contest each night. I'm afraid to ask….
See www.georgetownfilmfest.com/crystal_city.html for complete details. June 11- "Hang'em High," June 18- "Bronco Billy," June 25- "Two Mules for Sister Sara," July 2- "The Outlaw Josey Wales," July 9- "Pale Rider," July 16 "High Plains Drifter," July 23- "Joe Kidd," July 30- "A Fistfull of Dollars," August 6- "For a Few Dollars More," August 13- "The Good, The Bad, The Ugly," August 20- "Unforgiven."
Artist Opportunities


'Bodies.. The Exhibition'
Attention figure artists….Washington Studio School is sponsoring a night of drawing at "Bodies.. The Exhibition" ( www.bodiestheexhibition.com/intro.html) in Rosslyn, VA. Which features dissected cadavers that have been plastacised to preserve and pose them. Sure beats anatomy classes with those jangly plastic skeletons. A normal ticket to this exhibit is $26.50 and does not allow drawing. This sketch night on June 18, from 7 to 9 p.m. is a mere $10.
It's a rare opportunity, so you'd better be quick about it if you're so inclined. RSVP by June 10, at (301) 718-7210, or email at Admin@washingtonstudioschool.org.