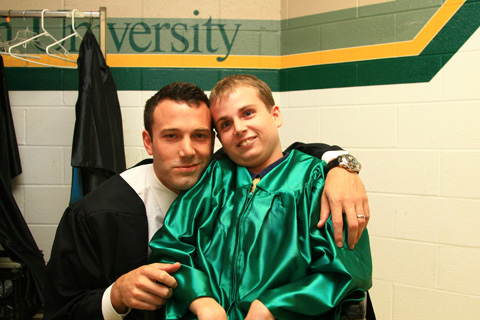 The key note speaker at Falls Church High School's graduation on June 1 said that there are four or five days in every person's life that he or she will never forget. Friday's ceremonies, held at George Mason University, may very well count among them, as the star-struck high school graduates in attendance last Friday listened to the address given by actor Ben Affleck. For graduate Joe Kindregan, the student responsible for Affleck's attendance, there is no debate.
"It was the best day I ever had," Kindregan said.
Kindregan first met the actor in 1998 when Affleck was shooting "Forces of Nature" at Dulles Airport — a film Affleck lightly compared to "Citizen Kane" in his graduation address. Joe's older sister, Stacy Kindregan, wanted to go see Affleck, so Joe tagged along on the short car ride from their home in Springfield. Just 10 years old at the time, Joe had recently lost his ability to walk due to a degenerative disease called ataxia-telangiestacia (A-T) and was using a wheelchair. In between takes, Affleck took notice of Joe's new electric wheelchair and approached him. Before long, the two hit it off.
"They were like two big kids, playing and joking around," said Suzi Kindregan, Joe's mother.
Instead of going to his trailer during breaks, Affleck went to hang out with Joe. After the filming, Joe's supervisor, Kiran Shahani, a social worker for the Fairfax County Public School system, suggested that he call the Make a Wish Foundation. His wish?
"He only wanted to see Ben Affleck," Shahani said.
The foundation sent him to Los Angeles to attend the screening for Affleck's movie. At the after party, Affleck spent the rest of the evening entertaining Joe, said Suzi Kindregan.
Since then, Joe and Affleck have kept in touch via phone and email. In addition to inviting him to all his movie shoots, Affleck has agreed do a variety of fundraisers in conjunction with the A-T Children's Project, a non-profit organization that promotes ataxia-telangiestacia research.
When Senate hearings took place in 2001 to increase funding for the National Institutes of Health, the Kindregans seized the opportunity to put in a word for more research for Joe's disease. At the family's request, Affleck spoke before the senate, alongside Joe and the head of A-T Children's Project. As a result, the budget was increased for the division of rare diseases, which A-T falls under.
Ataxia-telangiestacia leads to lack of muscle control and often immunodeficiencies. It is a terminal condition that gets worse over time. Many who have the disease usually die in their teens or early 20s, though some have been known to live on into their 40s.
Though born healthy, Joe's sense of balance got worse as he got older and began to fall down more frequently. At first, he was diagnosed with cerebral palsy. However, a year after the gene that causes ataxia-telangiestacia was first discovered in 1995, Joe's diagnosis was changed to A-T.
Today, Joe still uses a wheelchair and has more trouble speaking. For this story, his mother typed his answers to e-mailed questions while he dictated.
Despite the struggles Joe has experienced with his health, his friendship with Affleck has given him a reason to fight on, Shahani said.
When Joe proposed to his class officers at Falls Church High School to have his movie star friend speak at their graduation, they responded with both excitement and disbelief.
"They couldn't believe he might come, but really wanted him to," Joe said.
Despite questioning his importance as a key note speaker, Affleck promptly accepted the invitation, attending with his wife Jennifer Garner. "I haven't been to space, I'm not a politician, I'm not even a gangster. I've only pretended to be all of those things, and in some cases, just barely," he said in his address.
Affleck praised the impact Joe has had on his life in his speech. "Everything I learned about life that really matters, every real observation and lesson … I learned from Joe," he said. "I would have had a much harder time fighting uphill, finding a reason to live, believing I could."
"It was just wonderful," Suzi said. "They got to spend a lot of time together, cheering each other on."
"Ben's speech was one of the best given at Falls Church High School," said Shahani, who had the honor of leading Joe on stage at the ceremony.
The pair also spent a good amount of time goofing around like they did on the "Forces of Nature" set.
"There was so much warmth between them," said Shahani.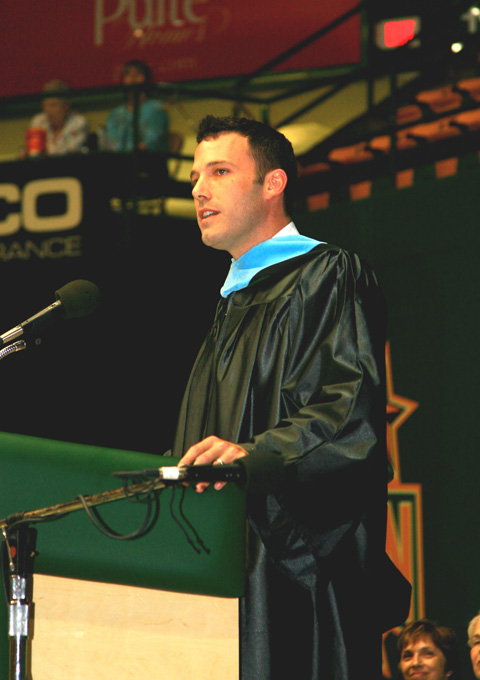 Joe will be attending the Earl L. Pulley Career Center, a school for disabled students, which the family calls his "community college." He said he enjoys woodworking, but said that it might be difficult. He also said he's handy with office work and has an interest in landscaping. Aside from that, like most recent high school graduates, Joe doesn't know about what he wants to do … aside from maintaining his friendship with Affleck anyway.
"It's a special bond that was meant to be," Shahani said.