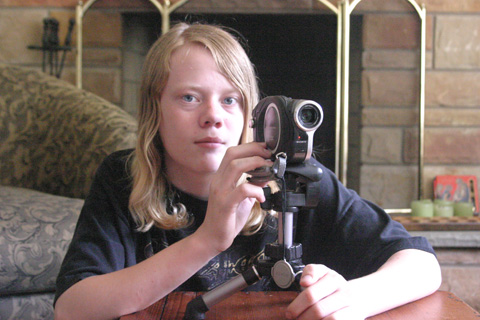 Award-winning filmmaker and Falls Church resident Ian Scott Wilson proudly flashed his newly-minted business cards. His relaxed look of short pants and a t-shirt fit well with his shoulder-length blonde hair, and was representative of the confident state of someone who had just claimed first prize among his peers in a national filmmaking contest with his debut film. His schedule of late has included making appearances on local and national television networks. He has had one-on-one meetings with United States senators. He has been recognized on the streets of D.C.
So, what's next for the successful filmmaker?
High School.
The 13-year old Wilson of Luther Jackson Middle School won first prize among middle school entries in "StudentCam," C-SPAN's National Video Documentary Contest for his documentary "When the Boys Come Home: The Controversy at Walter Reed." Wilson took home $1,000 in prize money, and his video will be played at 6:50 a.m. on C-SPAN on June 14.
Wilson's video, which runs just under 10 minutes long, highlights the controversy surrounding the cleanliness and medical care provided at Walter Reed Hospital, which takes care of wounded American soldiers returning from battle. Wilson relates the issue to his own family, as his brother Sgt. Gordon "Gordy" Hamm is currently serving in Iraq.
"What would happen to my brother should he be injured in Iraq?" Wilson asks during the narration of his documentary.
His video went through three rounds of judging by a panel of C-SPAN representatives, before separating itself from the rest of the submissions.
"His video takes a national issue and brings it to a personal level," Meredith Rapp, Education Program Specialist for C-SPAN said. "Anyone who watches it is touched by it."
Wilson first learned of the C-SPAN video contest from his father, David Wilson, who came across it while watching the network. Around the same time, Ian first read of the controversy developing at Walter Reed.
"He said, 'This is bulls–t. What if Gordy got hurt, is he going to have to come live with rats and roaches and stuff?' And I said, 'Well, do something about it … Hey, that C-SPAN contest.'"
Ian hit the ground running from there, jotting down his ideas in his notebook and contacting members of Congress, asking for answers. Only his own congressman, Representative Tom Davis, replied to his requests by sending a packet of information.
"I assumed that I'd get ignored," Ian said. "But maybe not that drastically by that many people."
Ian then went downtown to D.C. to interview citizens and get their take on the controversy. After doing that, and compiling footage from C-SPAN, Ian went through a very long editing process in order to cut his video down under the 10-minute maximum length. All told, Ian estimates it was a month-long process.
His parents were both surprised and impressed by his dedication to the project.
"We kind of figured, 'he'll work on it for awhile, then he'll get bored with it," David said.
"When I saw [Ian's video], I said, 'Wow, you did this?'" Julie added, turning to Ian, "No offense. You're a smart kid. But I was just like, 'Wow, this is pretty cool.'"
Ian's parents believe that he is a combination of his father's freethinking ways and his mother's practical outlook on life. David, who refers to himself as "professionally unemployed," is a journalist by trade, but is currently taking time off to write a book on the Ozzy Osbourne-led rock group Black Sabbath. He certainly does not look the part of an avid C-SPAN viewer (he has tattoos up and down both of his arms, and the only hair on his head is a mammoth goatee that extends far below his chin), but is, in fact, very well in-tune with the latest political events. Julie, who sports a more buttoned-down, conservative look, is an investigator for the Inspector General's office. As a former accountant, she often gets teased by her family for her love of numbers and slide rules.
Ian said that his brother Gordy served as the main inspiration for making his video. Although Hamm has not seen Ian's video yet, he sent word via his wife Melissa that he was very proud of his little brother's accomplishments.
Hamm joined the Army in November of 2001, and fought in Afghanistan prior to being sent to Iraq. He is part of the 82nd Airborne, stationed out of Fort Bragg. Currently he flies drones, but he has been accepted into a pilot's program and may be returning home to the States in October to go to flight school.
"I don't know when he's getting back," Ian said. "But I hope it's soon."
Hamm is David's son from a previous relationship, and David said he was "very young" when Hamm was born and that he was not involved in raising him. Around the time Hamm turned 14 or 15, however, they developed a closer bond, and the three children David has with Julie – Ian, Katherine (10 years old) and Sean (eight years old) – have all taken a great liking to big brother Gordy. Hamm, who is 23, has three children of his own – Alaina, Tristan and Logan (all under the age of three) – with Melissa.
"He's a totally self-made man," David said of his oldest son. David said he still remembers crying on the phone when Hamm told him that he had enlisted in the Army, he was so touched by his son's sense of duty.
"He said, 'Now is when we need it,'" David said, his son referring to the need for troops to fight in the impending war with Afghanistan following September 11.
When he's not making documentaries, Ian said that he enjoys to read (his favorite author is Hunter S. Thompson) and watch an occasional movie (he is a fan of Steven Spielberg's work, as well as Michael Moore's), but that making documentaries allows little time for much else. He has two new projects in development right now, the first a documentary on Pink Floyd that he has set aside for the moment to focus on a new one on the 2008 presidential election. He hopes with the latter to examine the impact that kids can have on the election. He said that he always tries to stay objective on the issues, particularly since he hopes to make a career out of journalism and documentary filmmaking, but that he has formed his opinion about one thing.
"I don't want to be in a war," Ian said. "That's all. I don't like war. I don't think anybody does. Unless it makes them money, or they're winning."
The contest win has brought Ian a lot of attention. He appeared on the Fox television program "Fox and Friends," had a one-on-one meeting with Senator John Warner, during which the senator promised to arrange a tour for Ian of Walter Reed, and has been the subject of several different local news segments and newspaper articles. Nothing, his mother said, however, compares to the time he was recognized on the street by a complete stranger.
"We were out one weekend in D.C.," Julie said, "and as we're walking across the street one guy is like, 'Hey, you're the kid from,' and I think he said 'CNN,' but he meant 'C-SPAN,' and I'm like, 'Did that just happen? Did Ian just get recognized?'"
As for his high school plans, Ian is still unsure, as his family may be moving back to Egypt, where they lived for a year previously. In the meantime, he is continuing to work on his election documentary, enlisting the help of Congressman Davis, who called in during Fox and Friends to promise to help Ian with anything he needs. Davis better get ready to make good on that promise. Ian already has a list ready of people he wants Davis to help him get in touch with.
Throughout the entire process, Ian said that the thought of not winning had crossed his mind.
"'What if I don't win? Not many people will see my video then,'" Ian said he had wondered to himself.
"You have to do something to get noticed."