LEE-GRAHAM POOL, YOUR PIZZA IS HERE – There's nothing like swimming to work up a hearty appetite, and nothing like a delicious pizza to fill up hungry swimmers. Four of Falls Church's finest pizza providers – Domino's, Papa John's Vocelli Pizza and Z Pizza – generously donated pizzas for a pizza extravaganza held at Lee-Graham pool to kick off the 2007 season opener last weekend. With lots of swimming in the weeks ahead, it's a safe bet that pies from these four pizza powerhouses will be the lunch and dinner choice for much poolside dining this summer. Yum! (Photo: Caty Summers)
Mega Yard Sale
The community is invited to a yard sale on June 2 between 8 a.m. and 2 p.m. at the Falls Church Presbyterian Church (225 E. Broad St., Falls Church). The sale includes everything from toys and games to furniture and household items. For more information, please contact Jenneke Fijin van Draat at jennekef@yahoo.com.
Vienna Stars Shine Brightly
Several members of the Vienna Stars '92 softball team have been selected to All-District teams. Khristin Kyllo of Madison High School and Lauren Sana and Michelle Tilson of Marshall High School have been selected for the Liberty District First Team. Liberty District Second Team Selections include Kalia Conlon and Laura Wolffe of Madison High School and Lauren McColgan and Megan Sullivan of McLean High School. Brittney Clendenny of Battlefield High School earned Second Team honors from the Cedar Run District. Holly Dominquez of Briar Woods High School and Lindsey Packard of Loudon County High School are Dulles District Second Team Selections.
Globetrot Without Leaving Virginia
Elderhostel Fairfax County Alumni offers four presentations on cross-country and cross-cultural learning experiences on June 24 from 2 p.m. – 4 p.m. Presenters will talk about faux finishing in North Carolina, the historic cemeteries of St. Kitts and more at the George Mason Public Library (7001 Little River Turnpike, Annandale, Va.). Visitors are welcome, but reservations are required. Contact Rebecca Prather at 703-534-2274 for further details.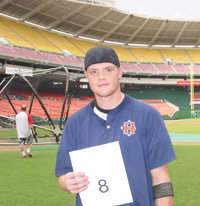 Watershed-Friendly Garden Tour
Garden lovers and anyone interested in conservation are invited to visit twenty Northern Virginian properties during the Watershed-Friendly Garden Tour. The tour features green roofs, rain gardens, native plants and backyard wildlife habitats and is designed to demonstrate the advantages of landscaping to retain rainwater. Sponsored by Arlingtonians for a Clean Environment, the tour will be held on June 3 from 1 p.m. – 5 p.m with a suggested donation of $5. Visit www.arlingtonenvironment.org for directions and details or call 703-228-6406.
25 Years of Animal Care
Pets Are Inn, a pet lodging business in Alexandria, is celebrating its 25th year in service to local pet owners. Pets Are Inn offers an alternative to kennels for business and leisure travelers. Services include pick-up and delivery of pets as well as matching animals with temporary homes. The business is known for its care and admiration of "man's best friend."
An Eagle Scout Takes Flight
Hunter Burkey, a senior at George Mason High School, took the Eagle Scout Oath at his Court of Honor Ceremony on May 20. A member of Troop 895, Hunter received a plaque and letter of congratulations from Delegate Jim Scott as well as notes of congratulations from President and Mrs. Bush, Vice President Cheney and Senator John Warner. Hunter plans to attend Centre College of Kentucky on a four-year Army ROTC scholarship.
Lions and Tigers and Bears, Oh My!
Park Avenue Gallery is happy to announce a new art exhibit, "Lions & Tigers & Bears & MORE!" The multi-media, group exhibit will showcase the work of 14 Falls Church Arts member artists. The animal kingdom takes on new life in the artists' paintings, collages, drawings and photographs. Artists will be available to discuss their work at the opening reception on June 1 from 6 p.m. – 8 p.m. at the Falls Church Arts Gallery (111 Park Avenue, Falls Church). The exhibit runs through July 28 and admission is free, Monday through Saturday from 10 a.m. – 6 p.m.
Got Art?
McLean Project for the Arts seeks art submissions for its first annual ArtFest. The event is to be held on October 14 as a one-day juried fine art and craft show. MPA ArtFest will highlight the artwork of 40 local and regional visual artists. The deadline for entries is June 30. Visit www.mpaart.org for more information.
Support Group
A domestic violence support group meets every Tuesday. Free childcare is provided. The group's meetings are held in a confidential Arlington location. Call 703-237-0881 for more information.

All the World's Children
The International Child Art Foundation will host the World's Children's Festival on June 23-26, celebrating the boundless creativity of children worldwide. The Festival aims to showcase children's imagination and build a bridge between American children and the world's children. The four-day celebration will be a colorful collection of art, dance, music and leadership workshops. All are welcome to the free event from 10:30 a.m. – 5 p.m. each day at the National Mall in Washington, D.C. Visit www.icaf.org for further details.
Local Marketing Company Captures Top Award
American Marketing Association's Washington, D.C. Chapter is proud to have named JDG Communications, Inc. of Falls Church "Marketer of the Year," D.C.'s top marketing award. JDG is commended for its communication excellence on its awareness campaign for Business.gov. The Association's awards seek to recognize marketers on their successful campaigns, strategy and innovation.
Enjoy the Outdoors
The Sierra Club presents several environment-friendly activities and outings this summer. Paul Elliott of the Metropolitan Washington Regional Outings Programs will speak on "Cool Summer Hikes in the D.C. Area" on June 18 from 7 p.m. – 9:30 p.m. The event will be located at the Lake Anne Community Center (1609 Washington Plaza, Reston, Va.). On July 28, the club invites the community to a Family Outing and Picnic at Bears Den in Bluemont, Va. Visit www.bearsdencenter.org for directions. To get more involved with the club, attend "Sierra Club 101" on July 29 from 3 p.m. – 5:45 p.m. at the Tysons Pimmit Regional Library (7584 Leesburg Pike, Falls Church). All events are free and open to the public.
Graduating with Flying Colors
Kevin Bergemann of Fairfax graduated from Harvey Mudd College with a Bachelor of Science degree in physics on May 13. He was one of 161 students to be awarded a baccalaureate degree at the school's 49th commencement.
Cultural Film Fusion
The Second Annual Asian-European Short Film Showcase will begin June 4 and end June 15, featuring films from Japan, France, Korea, Italy, China, Spain, India and Germany, all with a running theme of romantic love. Each night, except for the first Friday, Saturday and Sunday, starts at 6:30 p.m. with a short film and continues with a discussion and reception. All events are free but reservations are required. For film schedules and locations, please visit www.goethe.de/washington.
Local Student Named to Dean's List
Congratulations to Dimitri Athan Bikos of Falls Church, who was named to the Dean's List at the University of Virginia's College at Wise for spring 2007. Students on the Dean's List must earn a grade point average of 3.5 on a 4.0 scale with no grades below a "C-" as well as take at least 12 credit hours.
Snazzy and Jazzy
Redeemer Lutheran Church kicks off the summer with a new Saturday night jazz service on June 16 from 5 p.m. – 6 p.m. and continuing every Saturday evening. Musicians Dr. Willium E. Smith and the W.E.S. Group will jazz up the service. Following the service will be a reception and a youth group movie. Redeemer Lutheran Church is located at 1545 Chain Bridge Rd., Fairfax.
Musical Star
Shelley Gresko, a freshman flute player at George Mason High School, was accepted into the 2007 MidAmerica Production's National Wind Ensemble as one of 11 flautists, out of 375 total flautists selected to audition. High school and college students nationwide compete to be a part of the prestigious ensemble. In June, Gresko will attend the ARIA Summer Music Symposium in Indiana.
Softball: A How-To
The McLean Magic Travel Softball Organization and the McLean Little League will be offering a free softball clinic for girls ages eight to 10 on June 10 from 3 p.m. – 5 p.m. Players are invited to take a few swings at the McLean Little League fields (1836 Westmoreland Rd., McLean). For more information, go to www.mcleanmagic.com.
Soccer Team Tastes Victory
Congratulations to the Premier AC Strikers who won the U11 Girls Bronze East Division of the 2007 Virginian Memorial Day Soccer Tournament. Coached by Eric Farnsworth, the girls won all four preliminary games and defeated the SYA Swifts 3-2 in the championship game.
Area Student Makes Dean's List
Congratulations to Gonzalo Escobar of Falls Church. He has been named to the spring 2007 Dean's List at Lees-McRae College. A minimum grade point average of 3.5 is required to make the Dean's List.
Emergency Preparedness Workshop
The Fairfax County Federation of Citizen Associations presents an emergency preparedness forum for the older adult population on June 7 from 11 a.m. – 1 p.m. Sheltering-in-place and how to stay prepared for emergencies will be covered. The program will be held at the James Lee Community Center (2855-A Annandale Rd., Falls Church). Contact Tania Hossain at 703-560-6946 with questions.
Resident Wins 'Volunteer of the Year' Award
Opportunities, Alternatives & Resources of Fairfax County, Inc., recently honored June Chalou of Falls Church with a "Volunteer of the Year" award. She was acknowledged for her commitment to volunteering and her work with jail inmates, former offenders and their families. Her volunteer activities included teaching parenting at the Fairfax County jail, training new volunteers and transporting donations.
Lehigh University Graduate
Congratulations to Jonathan E. Martin of Falls Church who graduated from Lehigh University on May 25 at the university's 139th Spring Commencement ceremonies.