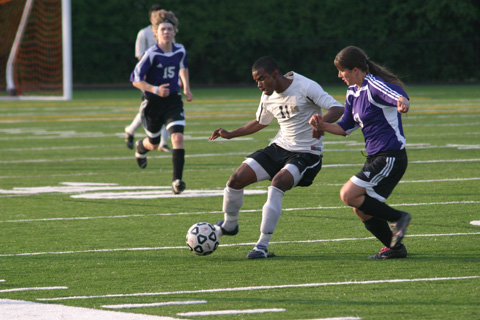 After a lopsided 9-1 drubbing of Strasburg, the George Mason High School boys varsity soccer team finds itself back in the Bull Run District title game, but facing a different foe from recent years.
For the first time since 2002, the Clarke County Eagles failed to reach the district final and advance to the Region B Tournament. The exit of the Mustangs' biggest rival was hailed by the Mason coaching staff, though they remain cautious given Rappahannock's superior play this season.
"They come straight up the middle and always seem to get a breakaway goal against us," Mason Head Coach Art Iwanicki said.
The Panthers have scored in that manner against the Mustangs twice this season and in the first meeting at Rappahannock, the marker held up to earn the Panthers a 1-1 tie. It was the only minor blemish on Mason's district record of 9-0-1 this season. The Mustangs prevailed in the return engagement at Mason, 2-1, coming back from a 1-0 deficit.
When the two teams square off this time, Thursday at 7 p.m., much will be at stake. Not only will the district title be up for grabs, but also a No. 1 seed in next week's Region B Tournament. While the Mustangs are already assured of a berth in the Regionals, a loss on Thursday would send them on the road against a much-ballyhooed Riverheads team. A victory, however, and Mason wouldn't match up with Riverheads until a potential showdown in the final. It would also keep the Mustangs at home until the championship game.
Last season, Mason was denied a trip to the State Tournament after it lost its opening round game of the Regionals.
If Tuesday night's blow-out win over Strasburg is any indication, Mason is primed to avoid a letdown this year. Senior Jack Settje scored the first of his two goals in the second minute of the game and the Mustangs added two more from junior Antonio Randriansolo and single markers from Daniel Serrano, Wesley Frank, Nick Smirniotopoulos, Viktor Faus and Andrew Arias to account for the nine-goal onslaught.
The Rams notched their one goal on a penalty kick by senior Kaylee Kohlhaas in the game's waning moments. Mason senior goalie Eric Casteuble guessed correctly, but could not reach the kick, placed perfectly in the top left corner of the net. Casteuble finished with four saves in the game.
One challenge for the Mustangs moving forward will be playing without starters Matt Gresko and Alex Casteuble. Gresko is likely done for the season after x-rays on Monday confirmed he had a broken foot. Alex Casteuble is recovering from a broken nose and is questionable for further action.