FALLS CHURCH resident mystery novel author Wade Fleetwood made a special presentation of copies of his latest book that is based in Cherry Hill Park to the Falls Church City Council Monday. Copies of the book are on sale at Falls Church Art and Frame.
FC Memorial Day Building Closures
City Hall, Courts, DMV Select Office, Schools, Senior Center, Sheriff's Office, Mary Riley Styles Library (also May 27). The FC Community Center will be open until 6 p.m. GEORGE Local Transit will have no service. Yard waste, bundled brush and special trash collections will not be made. For more information on the Memorial Day schedule, visit www.fallschurchva.gov.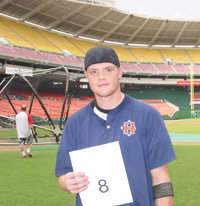 Chairman Connolly Uses Pedal Power
Fairfax County Board Chairman Gerry Connolly will join other area dignitaries, including D.C. Mayor Adrian Fenty, and an estimated 6,500 other citizens on May 18 for Bike to Work Day 2007. 25 local governments and area employers are hosting "pit stop" locations throughout the region for cyclists. The event is sponsored by Commuter Connections and the Washington Area Bicyclist Association and caps off National Bike to Work Week.
Click It or Ticket
The Falls Church City police department will join Virginia Law Enforcement for the national "Click It or Ticket" campaign during the month of May. The campaign hopes to increase the focus on seat belt and child safety seat use by holding highly visible patrols and citing motorists for violations. Virginia law states that all occupants in a vehicle under the age of 16 must be properly restrained with a seat belt or child safety seat, and all front seat passengers over the age of 16 must also use a seat belt. For more information contact the FC Police Department at 703-241-5050.
Fairfax County Time Capsule Submissions
The new Fairfax City Regional Library, scheduled to open in early 2008, is looking for items to place in a 50 year time capsule. Contributions the Time Capsule Committee are seeking include "Letters to the future," artifacts, photographs and anything that reflects contemporary life in Fairfax County. Any submissions for the capsule should be small and durable, and any paper items should be acid-free. Submissions may be mailed to or dropped off at the library by September 4 and should be marked with the donors name and address. The time capsule will be placed in one of the columns near the library's entrance. For more information, contact the library at 703-293-6227, or by e-mail at FXtimecapsule@fairfaxcounty.gov.
Free National Symphony Orchestra Concert
The Music Friends of the Fairfax County Public Library will close their season with a free performance by a National Symphony Orchestra chamber ensemble. The concert is to be held at 3 p.m. on May 20 in the Alden Theatre at the McLean Community Center, (1234 Ingleside Ave., McLean). The group will perform Beethoven's Trio for Violin, Viola and Cello in G Major, Op. 9, No.1; Dohnayi's Serenade for Violin, Viola and Cello in C Major, Op. 10; and Brahms' Piano Quartet No. 3 in C Minor, Op. 60. Check the libraries website for more information and announcements at www.fairfaxcounty.gov/library.
Medieval Musicians Invade Arlington
A free performance by Hearts Ease on authentic reproductions of Renaissance-era wind instruments will be held in the garden of the Glencarlyn Library in Arlington. The 30-40 minute concert will be on May 19 at 2 p.m., and no tickets or reservations are necessary.
'Money Follows the Person' Grant Awarded to Virginia
On May 14th the Administrator of the Centers for Medicare and Medicaid Services Leslie V. Norwalk will join the Commonwealth of Virginia's Secretary of Health and Human Resources Marilyn B. Tavenner, national disability and aging advocates and local Fairfax County officials and disability and aging advocates to make a very important announcement and helping people with disabilities living in the community. Braddock Glen Center (4027 Olley Lane, Fairfax Virginia).
American Soccer Academy Camps Come to FC
The Mid-Atlantic youth soccer education organization recently announced that it will against be hosting community soccer camps over the summer in Falls Church. The camps are set for July 16-20 and August 13-17. They will be held at Idylwood Park (7713 Virginia Ln., Falls Church) The camps are open to boys and girls of all skill levels and abilities, ages 3 -14 from 9 a.m. – 5 p.m. each day during the camp weeks. Call 301-685-GOAL for more information.
Civitans Honor Pulcinella's Ristorante
The owners of Pucinella's were the proud recipients of the Civitan's Award for Outstanding Community Service. Over the years, they have supported Civitan through the sale of White House Christmas Ornaments, which in turn benefit local entities providing services to the developmentally challenged. The eatery is located at 6852 Old Dominion Drive in downtown McLean.
Johnson & Wales University Names Local Student to Dean's List
Congratulations to Paul Chung of Fairfax who is majoring in Culinary Nutrition in the College of Culinary Arts at the Province campus of Johnson and Wales University for being named to the Dean's List for the 2007 winter term. To receive Dean's List commendation, students must earn a cumulative grade point average of 3.40 of above.
Spring Cleaning in FC
Falls Church Community Service Council, Inc. is in need of usable furniture and household items. Beds and cribs are critically needed at this time. Pick up service is available in zip codes 22042, 22043, 22044 and 22046. Please call 703-237-2562 for pick ups and more info.
Hyde High School Honors Students for Athletic Excellence
Congratulations to Kyle Rieger of Falls Church, son of Mr. Barry Joel Rieger, received the Most Improved Player award in Men's Prep Wrestling during his junior year at the independent, character-based Hyde school in Bath, ME.

Harry Reitze Named Chief of Police in City of Falls Church
City of Falls Church City Manager Wyatt Shields announced today announced the appointment of Harry Reitze as Chief of Police, effective Wednesday, May 9 2007. Reitze began serving as Acting Chief of Police Dec. 1, 2006 upon the retirement of former Chief Robert Murray.
Dulin Church Thank You
Dulin Church would like to thank the community for supporting their recent Yard Sale. Over $6,000 was raised to support local ministries including the Falls Church Homeless Shelter, Crosslink, Falls Church Community Services, Grace Ministries, Homestretch, as English as a Second Language.
26th Annual Memorial Day Parade
The City of Falls Church will host its 26th Annual Memorial Day Parade and Festival on Monday, May 28, 2007. The event will be held rain or shine from 9 a.m. to 5 p.m. on Falls Church City Hall grounds, located at 300 Park Ave. in Falls Church. Free admission. The day will feature a Don Beyer 3K Fun Run at 9 a.m. and a Pet and Owner Costume Contest at 10:30 a.m. The Memorial Day Parade steps off at 2 p.m. under the direction of this years Grand Marshall, John Gannon, Ph.D. A former Naval Officer and Vietnam veteran, Dr. Gannon served for more than two decades at the Central Intelligence Agency. He later worked in key homeland security assignments in White House and Congress. President George W. Bush awarded him the National Security Medal, the country's highest intelligence award. 9 a.m. – 5 p.m.
Annual Chrysanthemum Sale Blossoms
The Old Dominion Chrysanthemum Society will hold its Annual Mum Plant Sale on Saturday May 19th, 2007 from 9 a.m. – 3 p.m. at Green Spring Gardens Park (4603 Green Springs Rd., Alexandria) A wide variety of rooted, potted cuttings including a complete range of Mum colors and cultivars, will be available at great prices. Call Jim Dunne at 703-560-8776 for more information. Or visit the website www.ODSMUMS.org.
Christopher Newport University Spring 2007 Graduates
Congratulations to FC residents and recent Christopher Newport University grads Jamie Carter, who received a BA in English, David Cook, who received a BA in Psychology, Mehreen Farooq, who received a BA in Political Science, Susan Kenney who received a BS in Biology and Illysa Schrager who received a BA in Sociology.
McLean HS Alum Honored by James Madison University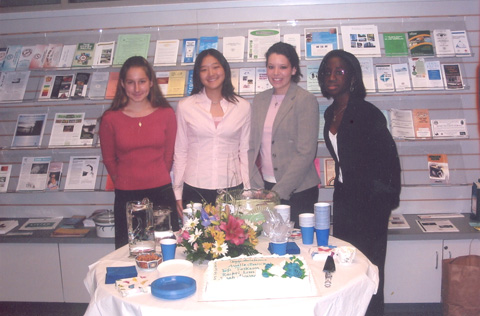 Raphael Gregory Perrino, a 2003 graduate of McLean High School, recently graduated from the Institute of Technical and Scientific Communication at James Madison University with a B.S. and received the Outstanding Student Award for 2006-2007 at the Institute and also selected as a recipient of the annual "Write On!" award for academic writing at JMU. Raphael will continue his studies at JMU with a full graduate assistantship next year, and will be pursuing an M.A. Raphael is the son of Ralph and Denise Perrino of Falls Church.
FC Presbyterian Vacation Bible School
Falls Church Presbyterian Church (225 E. Broad St., Falls Church) is registering children from age 4 to rising 5th graders for its Vacation Bible School from July 23 – July 27. The theme this year is "Lift Off! Soaring to New Heights with God." Classes will include crafts, music and games. The camp is $30 per child or $50 per family. Call 703-532-6518 for more information.
Junior League Honors '07 Woman of Vision
Angela Halamandaris, President and Co-Founder of The Heart of America Foundation, will address the Junior League of Northern Virginia at its Celebration of Service Dinner on May 19 in McLean. The JNLV is honoring Ms. Halamandaris with its "Woman of Vision" award, usually given to a highly inspirational community leader. The Heart of America Foundation is a non-profit group dedicated to bringing children materials and opportunities they need to learn to read. Halamandaris organized a drive for school supplies in the wake of Hurricane Katrina in partnership with several other charitable organizations.