PAUL QUINN of Falls Church's Antique House was the guest auctioneer at last weekend's benefir supporting the Fall Church-based Northern Virginia AIDS Ministry (NOVAM) at the Torpedo Factory in Alexandria.
Bethesda Fine Arts Festival
A two-day event highlighting 140 contemporary artists will be selling their own original fine art and fine craft. The festival is scheduled for Saturday, May 12 from 10 a.m. – 5 p.m. in downtown Bethesda's Woodmont Triangle (Norfolk, Del Ray and Cordell Aves., Washington, D.C.). Locals Syl Mathis and Kerin McBride will be among the contributing artists.

No Property Tax Rate Increase
The Falls Church City Council approved the Fiscal Year 2008 Operating Budget and Capital Improvements Program at their April 23 regular meeting with no increase in the real estate and personal property tax rates. For a list of the approved FY 2008 Budget visit www.fallschurchva.gov.
Organic Wine Tasting
"Arlingtonians for a Clean Environment," will host an organic wine tasting at the Arlington Arts Center (3550 Wilson Blvd., Arlington) The Curious Grape will provide wines from around the world. May 11 from 7:30 – 9:30 p.m. Special cheeses and chocolates will be served. Tickets are $50. Call 703-228-6406 for more information.
Local Makes Chi Alpha Sigma Honor Society
Francis Marion University athletic officials announced the names of 12 student- athletes to the university's chapter of Chi Alpha Sigma, the National College Athlete Honor Society. Among recognized students, local Ariel Ortiz from Falls Church, a track and field athlete, was inducted. Congratulations to the student attending the South Carolina school.
American Sonata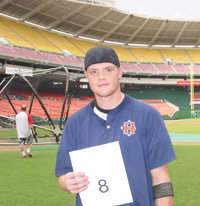 Jeffrey Chappell, an American pianist and composer, will present his own works as well as those of Joplin and Gershwin for the Amadeus Concert series. Chappell performs solo on May 6th 4 p.m. at St. Luke Catholic Church (7001 Georgetown Pike McLean). Tickets are $20 for adults, $15 for seniors and $10 for college students. Students under 18 are free. For more information on Amadeus Concerts, call 703-759-5334.
Rotary Speech Contest
Congratulations go out to Rebecca Spellerberg, a senior attending Bishop O'Connell High School. She received the second place award at the Finals of the Rotary District Speech Competition, for her talk on "Leading the Way". In Charlottesville Virginia on April 21st, she was one of eight finalists from the Northern Virginia Rotary District 7610.
Baseball Showcase Series in Virginia
National Scouting Report will hold the first Baseball Showcase in union with the Ringer Baseball Showcase Series. The showcase is scheduled for 9 a.m. and 2 p.m., Sunday, June 10th at Claude Moore Park (21544 Old Vestal's Gap Rd, Sterling), Field #4. There, scouts will rate players and invitations to advance to a regional than national showcase will be handed out. A college recruiting session will follow at 6 p.m. For more information visit www.nsrshowcases.com/baseball.
Don't Forget to Call Miss Utility of Virginia and Dig With C.A.R.E.
In Virginia, a homeowner, excavator or contractor should contact Miss Utility of Virginia when planning to dig in order to avoid damaging underground utility lines. The states one-call notification center where employees process information about the project and notify utility operators of the excavation work. Use C.A.R.E. whether it's a simple or complex job. (Call Miss Utility at 811 before you dig, Allow the required time for marking, Respect the marks, and Excavate carefully).
NAMI Meeting
NAMI- Northern Virginia will meet at 6:30 p.m. for hors d'oeuvres and to hear the Director of Forensic Services for the Virginia Department of Mental Health, Mental Retardation and Substance Abuse Services, Dr. James Morris. He will discuss jail diversion programs and forensic services. It will take place May 21 at First Christian Church (6165 Leesburg Pike, Falls Church). The meeting is free, call 703-525-0686 for more information.
2007 School Reunions
The following are schools and classes along with dates and locations of school reunions coming up a few months. Thomas Jefferson Class of '87, Embassy Suites Old Town Alexandria, 10/6/2007. TC Williams Class of '77, Hilton Old Town Alexandria, 10/27/2007. Wakefield Class of '87, Embassy Suites Downtown Washington, 10/06/2007. James Madison Class of '87, Clyde's of Tyson's Corner, 10/06/2007. Woodbridge Senior Class of '87, Embassy Suites Old Town, 7/14/2007. Contact GreatReunions.com or call 800-655-7971 for more information.