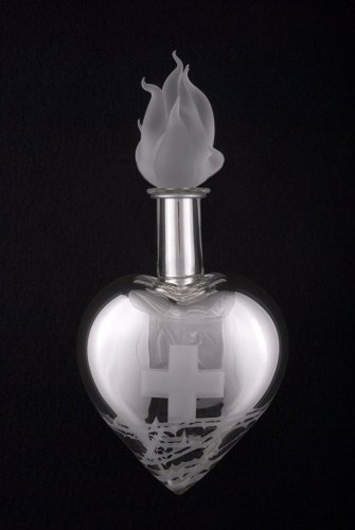 Trish Tillman, installation titled "Settlement", glasses with colored deposits, table and cloth. Each installation varies. Part of the WPA/Corcoran:Saturated show through Sunday April 29 at Heineman Myers Contemporary Art in Bethesda, MD.
Here we go…. The greater Washington art scene is red hot at the moment. Life is short. Art is long. However art shows are like cherry blossoms, they don't last long at all. The DC art scene has never before been flooded with the volume and quality that we're seeing at the moment. The peak is this week. Get out, go see some art! For better or worse, the TV and computer will be there when you get back. You've been warned.
3rd Annual Falls Church City Art Show and Sale Work will be accepted for display until 10 a.m. Friday April 27. The show also opens Friday night, from 5 to 7 p.m. Art will be on display Saturday from Noon to 4 p.m. Falls Church Community Center, 223 Little Falls St, Falls Church. For further information call (703) 248-5077.
ColorField Remix: Saturated
Wednesday April 25 through Sunday April 29. WPA/Corcoran's version of the "What happened to DC color" theme. Gallery owner, Zoe Myers curated this quickie 5 day show of 19 artists, making her selections from the WPA/Corcoran's artist image files. (Area artists trying to show their work on a serious level should consider joining WPA. You get a crazy amount of benefit off your measly $45, $35 for students. See www.wpaconline.org, or email the membership director at dwilliam@corcoran.org. Tell 'em you saw it in the FC News-Press!)
Myers' eye sought out work displaying bold colors, and innovative use of materials. (Note: due to the highly compressed show run, we're working off the preview images here, just as Myers did when she made her selections.)
Trish Tillman has a simple, yet intoxicatingly beautiful installation piece titled 'Settlement'. Comprised of glassware set on a table with white table cloth, and just a tiny wash of colored liquid in the bottom of the tumblers. The basic premise couldn't be simpler. As they say, less is more. The circles formed by the left over liquids, complement and play off the profusion of rings formed by glass bottoms and rims, as well as the annular ring like shadows that extend outward away from the colorful deposits. The circular forms also contrast with the vertical sides of the glassware.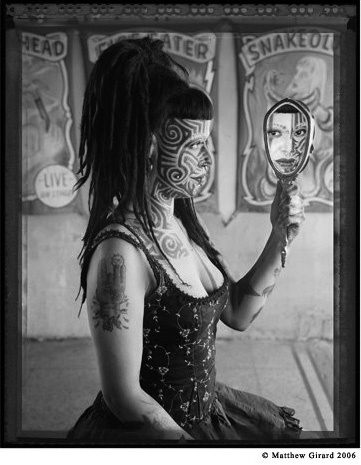 So simple, yet so powerful it is. We can't tell what the drink of the day is exactly. Be it Kool-Aid, punch, wine, or something else, whenever this many people drink colored stuff like this it's a convivial event of some note. A kids birthday party, a wedding, a neighborhood party, whatever it is people are having a good time. These colored glass bottom circles lead into more arcs in the dour gray annular ring like shadows. Reading the image to it's fullest, we'd say the way the liquid is intensified and magnified in the glass bottoms is the real key to reading the presentation. In effect the message seems to be saying the good times you have in childhood and youth, are the base from which you live your life, as well as the 'color' on which you will look back upon when you are 'old and gray'.
Also note that, as photographed, each glass encompasses three colored circles. Firstly the colored circle at it's base, and then the colored circles of the two glasses immediately behind it. In a sort of passing of the torch way each 'life' holds it's own childhood, secondly that of it's own offspring, and thirdly the childhood of it's grandchildren whereupon the normal life cycle comes to it's end….and you thought it was just a bunch of dirty glasses on a table. This one would absolutely knock your socks off if it were done as a large scale photo-realistic painting.
Isabel Manalo's three foot square canvas titled "Guilty" is another winner. Manalo's work is an ink blot lovers dream, or nightmare. Oh the trouble you could get in reading this one. I'm not exactly seeing what I think is in there, but it's safe to say what you find here will tell you a lot about yourself. A cornucopia of art media make up this image, including swatches of wall paper. The left side of the canvas is clearly the back of a man's head and shoulder. The rest is up to you. I'm a guy, so naturally I'm looking for the naughtiness in all that stuff. Spare me, we read the articles because we like the pictures, deal with it already.
This is the real joy of work that dances between abstraction, and representation. Work of this sort will entertain you for years. Or drive you completely batty trying to figure it all out. As close as I can get it's God looking in on Adam and Eve frolicking in the garden of Eden, and thus the original 'guilt'. But that's me, what you see may be something completely different. Either way it's a wonderful piece of work. If it has any fault, it's the simplicity of the left side of the canvas and the maddeningly difficult to read right side. Your eyes just park over on the right side hunting for clues so you can solve the visual riddle, and get some sleep.
Heineman Myers Contemporary Art, 4728 Hampden Lane, Bethesda, MD. Gallery Hours: Wednesday – Friday 2-6 p.m., Saturday 1-7 p.m., Sunday 1-5 p.m. Opening reception Friday 6-9 p.m. For more information call (301) 951-7900, or see www.heinemanmyers.com.
artDC, a four day world class art fair for modern and contemporary art, running from Friday April 27 through Monday, April 30. Featuring some 80 national, and international art dealers. This is a real turning point for the DC art scene. A former backwater for living artists, DC is finally on the map. These artist are playing on the national and international level. In short, these are the folks who've 'made it'. Nice to note that Arlington art photographer Jason Horowitz, seen in the 804 gallery show here in Falls Church last year, is one of the featured artists in the Curator's Office gallery booth #139. After 20 years of pounding out singles on the local scene, Horowitz is finally getting called up to the big leagues. Bravo!
Friday April 27 is Free admission day, after that it's $12, $9 for groups of 10 or more, Seniors/Students $5, and under 12 free. Hours will be 11 a.m. to 7 p.m. Friday through Sunday, and 11 a.m. to 5 p.m. on Monday. Washington Convention Center, Hall E, 801 Mount Vernon Place, NW, Washington, DC. Metro to Mt. Vernon Sq/7th St. Convention Center on the Yellow or Green Line. www.dc-artfair.com