HIGH WINDS UPROOTED A LARGE TREE along the road in Falls Church, toppling it onto the corner of the house at 310 Pennsylvania Ave. With winds gusting over 55 mph on Monday, trees came down across the area.
Fair Housing Month in Falls Church City
The Falls Church City Council is reiterating its commitment to the Fair Housing Act. by declaring April "Fair Housing Month." The council wishes to raise awareness of discriminatory housing practices and prevent housing discrimination in Falls Church. The Fair Housing Ordinance prohibits discrimination based on a person's race, color, religion, marital status, national origin, sex, elderliness, familial status, or handicap.
Virginia Library Receives CCA Environmental Award
The Mary Riley Styles Public Library and the City of Falls Church were presented an award by Commercial Carpets of America (CCA) for their participation in the CCA's Environmental Impact and Reclamation Program. The initiative aims to use unique recycling programs to reduce waste from large-scale carpet removal projects and award outstanding participants.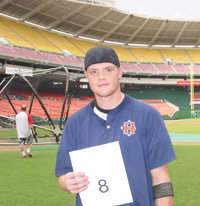 American Soccer Academy Summer Camps
American Soccer Academy youth soccer education organization will be hosting community soccer camps over the summer in Falls Church. The campus are set for July 16-20 and August 13-17. They will be held at Idylwood Park (7713 Virginia Ln., Falls Church). The camps are open to boys and girls of all skill levels and abilities, ages 13-14. Camps will be held from 9 a.m. to 5 p.m. each day during the camp week. To register visit www.AmericanSoccerAcademy.net, or call 301-695-GOAL.
Tree Dedication Ceremony
A celebration that included a Tree Dedication Ceremony was held today honoring the centennial of St. James Catholic School. The event was highlighted by the planting and blessing of a Paperbark Maple tree and the reading of a poem by a student poetry contest winner. Guest speaker Bob Ryan, Chief Meteorologist at Channel 4, was on hand to commemorate the day of celebration.
McLean Citizens Grant Awards Announced
The McLean Citizens Foundation (MCF), the charitable arm of the McLean Citizens Association, made grant commitments in their 2007 winter grant cycle to five organizations totaling $57,805. Share Inc., Fairfax Trails and Streams, Bat World, McLean Volunteer Fire Department and McLean Crew Club were the organizations included in the winter grant cycle. More information about the MCF is available on its web site www.mcleancitizensfoundation.org.
Joanne Malone Names Community Champion
Volunteer Fairfax County Supervisor Linda Q. Smyth, of the Providence District will honor Community Champion award winner Joanne Malone of Falls Church, during the 15th Annual Fairfax County Volunteer Service Awards on Tuesday, April 24. Each member of Fairfax County Board of Supervisors selected one volunteer in their district to receive a Community Champion award, which honors volunteers who are dedicated to improving life in Fairfax County in a wide range of causes including environmental causes and early childhood education.
High School Student Leadership Institute
Points of Light Youth Leadership Institute, sponsored by Volunteer Fairfax, is am opportunity for Fairfax county high school students who wish to serve the community. Participants plan their own community service project during the program and see it through to completion. Students entering grades 10-12 in the fall of this year are eligible to apply for this free leadership institute held from 9 a.m.- 3 p.m., June 25 to 29th. For an application visit, www.volunteerfairfax.org.
LPGA Girls Golf Launches 2007 Season

LPGA-USGA Girls Golf of Northern Virginia will again host clinics for girls throughout the Northern Virginia area. All girls in Grades 1-12 are invited. Parents/ girls may register at www.GirlsLoveGolf.com.
Six Flags' Super Hero Auditions
Six Flags is seeking enthusiastic, outgoing individuals to fill open positions as DC Comics Super Hero characters including Batman, Robin, Wonder Woman, Green Lantern and The Flash. Those interested in pursuing one of these seasonal positions in the Six Flags entertainment department is encouraged to attend an open audition scheduled from 7-9 p.m. on April 18 and 25 as well as May 2 and 9 or arrange a private audition by calling the entertainment department directly at 301-249-1500.
Student Wins Contest, for 24th Annual Sallie Mae 10K/2K
The Sallie Mae Fund unveiled the winning t-shirt design for its 24th Annual Sallie Mae 10K Run/2K Walk, set for Sunday, May 6. Gregory Little, a senior at McKinley Tech High School in D.C., submitted the design to be worn by an expected 2,000-plus runners and volunteers at the race, which benefits the D.C. College Access Program (DC-CAP).
City Council Honors Outstanding '06 Employee
The City Council recognized Human Resources Generalist Beverly Reich as the City of Falls Church 2006 Employee of the Year on Monday, April 8, 2007. For the past 10 years, Reich has demonstrated her commitment to public service by serving the needs of all city employees.
Local Leads Diversity Workshop
Kate Bauer, a Falls Church resident and senior at Lynchburg College, led a workshop titled "Eye of the Storm: Ways to Eliminate Racism." The workshop focused on discussing innovative ways to eliminate racism.
$15,000 Check to Capital Hospice
As a result of the tremendous generosity of our members and our community, we are proud to announce that Arlington-Fairfax Elks Lodge #2188, will be presenting a $15,000 check to Capital Hospice. The award comes from the proceeds of the Cash Back Benefit held on March 10. The ceremony to present the Elks check to Capital Hospice will held on Thursday April 26 at 7 p.m. in the Arlington Room. Call 703-573-8382 for more information.
Spring Cleanup in the City of Falls Church
The City of Falls Church 19th Annual Spring Cleanup is this Saturday, April 21, 10-11:30 a.m., rain or shine. Join other volunteers in front of the Falls Church Community Center (223 Little Falls St., Falls Church) to receive a work assignment and cleanup kit. Free picnic lunch to follow. Call 703-248-5176 for more information.
Revision of Wedding Policy
The congregation of Rock Spring Congregational United Church of Christ in Arlington has voted to offer "ceremonies of holy marriage to all couples regardless of gender." The UCC resolution marked the first time that one of the nation's mainline Protestant denominations expressed support for marriages of gay, lesbian bisexual and transgender couples. Rock Spring Church's revised Statement, sermons, forum discussion summaries, and other materials can be found at www.rockspringconguccc.org/htm/open.html.