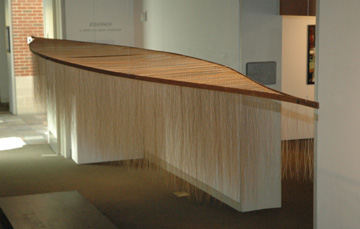 Triskaidekaphobia has never been a problem for me, but after this week I might have to add it to the list. Friday, in case you've yet to check your calendars, will be the 13th. Come Friday, roughly four-fifths of the greater Washington area art spaces will have their openings. The DC art scene has been quietly gaining steam for a while now, and seems poised for some sort of rebirth on the art world stage at large. Been a long time coming.

Namely we have ColorField Remix a city wide multi-month long look back on DC's long past day in center stage. Yes we are referring to the Washington Color School. Washington traditionally being a place to show dead art, of course focuses on the original practioners there of, but forward looking shows are also scheduled, as some search for the Color Schools' effect on contemporary art work. I'll try to keep up with this, but a good starting point can be had by visiting www.washington.org/colorfieldremix.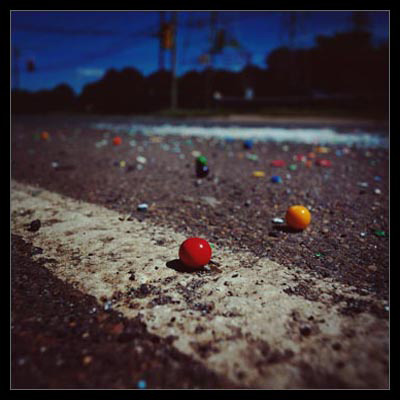 Additionally we have the opening for Artomatic in Crystal City on Friday. That even will show some 600 area artists struggling to make a name for themselves. No matter what your tastes, you'll find something to please here, and plenty you don't like all at the same time. See www.artomatic.org for complete details. Looks like the opening will begin at 3 p.m. and run until 1 a.m.. Expect the opening to be something of an artist run mad house. ARTOMATIC 2007 runs from April 13–May 20. Located at 2121 Crystal Drive, Arlington, VA. Metro stop: Crystal City. Admission is Free, but Donations are accepted/encouraged. Regular hours will be:
Sunday, Tuesday, Wednesday: Noon–10 p.m., Thursday: Noon–11 p.m., Friday, Saturday: Noon–1 a.m., and closed Mondays.
A couple of significant Washington Color School openings in Dupont Circle this Friday will be the Estate of Gene Davis at Marsha Mateyka Gallery, 2012 R Street NW, Washington, DC. Phone (202) 328-0088, or see www.artline.com/galleries/mateyka/current/current.html . The Davis life review is worth reading all on it's own. The opening runs from 6 to 8 p.m. Surely by now Gene Davis' work hangs in just about every contemporary art museum worth mentioning, so this could be a very interesting show to catch.
Also in Dupont circle, Conner Contemporary Art will be an opening night reception, Friday, April 13th from 6 to 8 p.m. for an exhibition of rarely seen all over paintings by Howard Mehring. Mehring has been called the "sleeping giant" of Washington Color Painting and was the first of the second generation of Color Field painters.' Conner Contemporary Art, 1730 Connecticut Avenue, NW-2nd Floor, Washington, DC . Normal Gallery hours are Tuesday-Saturday 10 a.m. to 5 p.m., and by appointment. For further information call (202) 588-8750 or see www.connercontemporary.com. Dupont Circle Metro for both of those galleries.
Threatening to be downed out in the art tsunami is Arlington Art Center's Spring Solos 2007, and Sculpture on the Grounds. Both shows open Friday from 6 to 9 p.m. Arlington Art Center. 3550 Wilson Blvd., Arlington, Virginia. Gallery Hours: Tuesday through Saturday 11 a.m. to 5 p.m. Call (703) 248-6800, or see www.arlingtonartscenter.org. On the Orange Line at Virginia Square/GMU Metro stop
So we have roughly 700 Washington area artists opening their shows this Friday. And I get roughly 700 words a week to review them. Could be time to "yank and bank," and make a run for the border…. but not just yet ….
So you're thinking… whew.. what else can you possibly throw on top of this pile? Like Godzilla emerging from the sea, comes… artDC, a three day world class art fair, running from Friday April 27 through Monday, April 30. Featuring some 80 national, and international art dealers. Bring the checkbook with all the zeros in it, because this is the big leagues. Everything you hemmed and hawed over at Artomatic will most likely seem just this side of free after you see this one. The list of exhibitors can be found at www.dc-artfair.com/exhibitors.html.
Friday April 27 is Free admission day, after that it's $12, $9 for groups of 10 or more, Seniors/Students $5, and under 12 free. Hours will be 11 a.m. to 7 p.m. Friday through Sunday, and 11 a.m. to 5 p.m. on Monday. Washington Convention Center, Hall E, 801 Mount Vernon Plane, NW, Washington, DC. Metro to Mt. Vernon Sq/7th St. Convention Center on the Yellow or Green Line.
'Hand Pulled ' through Saturday May26. Ellipse Art Center, 4350 North Fairfax Dr., Suite 125, Arlington, Va. Ph. (703) 228-7710 Gallery Hours: Wednesday though Friday 11 a.m. to 7 p.m., and Saturday 11 a.m. to 2 p.m. www.arlingtonarts.org/ellipseartscenter.htm
I was only able to get a quick look at the juried print show, 'Hand Pulled', at the Ellipse Gallery, but still managed to find prints I liked. A number of artists from the Arlington Lee Center are on display, some of which I've review in the past. Which seems to further validate the notion that the Lee Center is one of the best keep secrets around town, with excellent print and pottery facilities, and excellent artists using them. Of special note was a print I almost bought last year from the Washington Area Print Club in Dupont circle. Jenny Freestone's aquatint etching titled Sentinel II, is a cycle of life type print. This image is of a somewhat desiccated plant holding it's seed clutch, about to burst forth. The companion image, not seen in this show, has the seeds dispersed and the parent plant left to continue the wilting process in preparation for the next generation. It's moving and evocative stuff to be sure. I also like the edgy yet whimsically fun and playful air of Rose O'Donnell's fishing themed graphite monoprint titled "A Fine Line."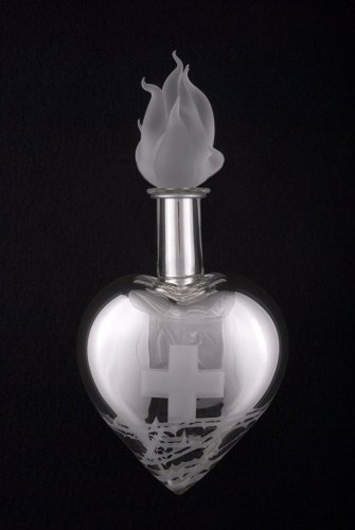 "Portraits" a photographic group show at Pass Gallery through April 28. Featured artists are Arlington resident Jason Horowitz showing more of his large scale people parts series. Jason works off the edgy line between attraction and revulsion. Which obviously doesn't make his work the most beautiful around, but it almost has an intriguing aspect to it that can keep you entertained for years. It's not trendy work that looks dated quickly at all. Always good to see his work on the wall. Of additional note was Dennis Drenner's portraits of Columbians, good and bad. And some of these guys are seriously bad, we're talking battle scared drug workers and the like. Also attending the opening in support of Carol Harrinson's portraits of DC area residents was Matthew Lesko, who's portrait she shot. Matthew was fully decked out in his Riddler style pink question mark suit. Turns out the guy is a fairly normal DC resident raising kids in Kensington with his wife. Still I had the strange urge to apply for a government grant….
Pass Gallery, in the rear alley of 1617 S Street NW, Washington, DC. This one is crazy hard to find the first time, so best call for directions at 9202) 745-0796. Gallery Hours: Tuesday through Saturdays 1 to 5 p.m., and by appointment.