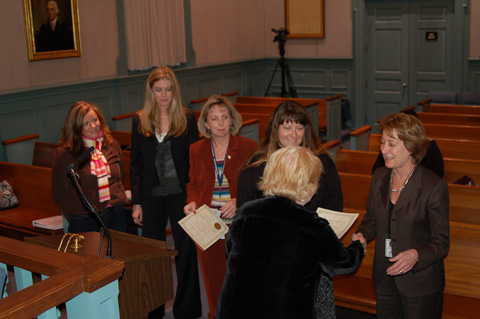 Gee/Kerns Engagement
Ms. Debra L. Gee of Falls Church, and Mr. and Mrs. James and Signe Gee of Springfield, announce the engagement of their daughter, Rachel Elizabeth, to Matthew Vincent Kerns, the son of Chief Warrant Officer II (Ret.) Richard E. Kerns, Jr. and Mrs. Debra Kerns of Virginia Beach. The wedding will take place in September in Petersburg.

Woodrow Wilson Library Celebrates Anniversary
The Woodrow Wilson Library is celebrating its 40th anniversary on March 31. The branch is located at 6101 Knollwood Dr., Falls Church. For details, call 703-820-8774.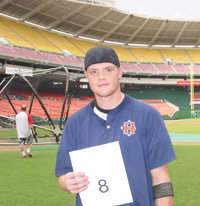 To Russia With Love
Fox News Channel correspondent Molly Henneberg will host CrossLink International's 10th Anniversary ball "To Russia With Love" on Saturday, April 14 at the Fairview Park Marriott in Falls Church. "The Band Aid Ball" will celebrate CrossLink's ten years of providing medication and medical supplies to international aide workers in the field. Individual tickets are $175 and can be purchased online at www. Crosslinkinternational.net or by calling 703-534-5465.
Church Service Against Domestic Violence
Churches from a variety of denominations will be holding a combined worship service to benefit Doorways for Women and Families and the Arlington Alexandria Coalition for the Homeless. The service will be held on Good Friday, April 6, at 7 p.m. at Cherrydale Baptist Church. All religious backgrounds are invited to attend.
Special Olympics Tournament Saturday
The 12th Annual Special Olympics Basketball Invitational Tournament will be held on March 31, with opening ceremonies at 9 a.m.. Games begin at 10 a.m. in the Lee Center's Verizon Sports Arena located on the main campus (2807 N. Glebe Rd., Arlington). For more information call Jonathan Shiflet at 703-384-3853.
Panic and Anxiety Attack Support Program Offered
Panic Relief Inc. is a non-profit, educational program coming to the N. Virginia. area. A minimum of ten participants are needed to start a local group. If interested, visit www.panicreliefinc.org or call 732-940-9658.
3-on-3 Hoops for Hope Basketball Tournament
Friends of the Orphans will hold a 3-on-3 basketball tournament at Crystal Gateway and Sports Club (1235 S. Clark St., Arlington) on Saturday, April 14 from 8 a.m. to 5 p.m. benefiting orphans and orphan hospitals. Registration is open to all ages and groups. For more information and to register, contact Kristen McLeod at 703-848-2072 or by email at kmcleod@friendsus.org.
Civitans Host Community Garage Sale
The Civitans are coordinating a community garage sale to be held the first Saturday of each month starting April 7 and concluding November 3. The sale will be located at the I66 parking garage on 15th St. between N. Quincy and Stafford in Arlington. Hours will be 7 a.m.-1 p.m. All proceeds will benefit local organizations providing services or support to the developmentally challenged and mentally ill. For more information, view www.civitan.net/Arlington or call Chris Wahl at 703-536-8686 or capitolfund@msn.com.

Stuart Offers Girls Sports Camp
J.E.B. Stuart High School is hosting a girls sports camp from June 25-29 for girls in rising 4th through 9th grades. The camp will offer sessions on field hockey, lacrosse basketball, soccer, volleyball, tennis, golf, cheerleading and track and field. Camp hours are 9 a.m. to 2 p.m. each day and will be held in the Stuart Athletic facilities. Registration forms can be found at www.radiersports.org.
Mountain High Running Camp
Reebok's Mountain High Running Camp will again be held in Mars Hill, NC July 9-14 and 16-21. Middle and high school cross country runners will train on trails, receive free Reebok shoes, and be coached by an elite staff of runners. Info and applications can be found at www.mountainhighrunning.com or by contacting Scott Simmons at coach@mountainhighrunning.com or 701-240-1757.
Ash Lawn Opera Auditions
Ash Lawn Opera will be holding local auditions for the 2007 season. Auditions will be held April 30 and May 1 from 4-6 p.m. at First Presbyterian Church. All ages are encouraged to attend. Singers should bring one or two songs with them to the auditions well as a recent photo. An accompanist will be provided. For more information or to schedule an audition, please call the Ash Lawn Opera office at 434-293-4500.
Spy Museum To Throw Stirring Shindig
The Washington D.C. International Spy Museum is celebrating spring with the ubiquitous spy cocktail—the martini. The celebration will start at 6:30 p.m. on April 11. Tickets are $100 for members of the Museum of the American Cocktail and The Spy Ring and $125 for non-members. Advance registration is required. Call 800-551-SEAT or the museum at 202-393-7798. Order online at ticketmaster.com.

St. James Student Raises Over $2,000 for Diabetes
Teachers and students at St. James School raised over $11,000 for the American Diabetes Association during a fundraising walk held for third, fourth and fifth-graders at the school. Students were encouraged to solicit funds from neighbors, friends, and family for the cause. One student, Mary Isabelle Tattersall, raised $2,138 on her own by writing letters to neighbors and rollerblading around her neighborhood collecting donations.
Volunteers Needed for Hospice Cup
Capital Hospice is looking for volunteers for Hospice Cup XXVI, America's largest charity sailing regatta in Annapolis, Maryland. Volunteers solicit sponsors, sell ads and procure silent auction items. More information will be provided at a complimentary kickoff event on Tuesday, April 3, 2007, 6:30pm to 8:30 p.m. at Indigo Landing Restaurant (1 Marina Dr., Alexandria). Contact Caroline Kuo at 703-531-1111, e-mail at ckuo@capitalhospice.org or visit www.hospicecup.org for more information.
New Hope Housing Annual Gala
Wild, Wild West, New Hope Housing's annual gala will be held Friday, April 13 at 7 p.m. at the Westin Arlington Gateway (810 N. Glebe Rd., Arlington). The evening will include live and silent auctions, a buffet dinner, the presentation of the Good Neighbor Award and dancing. Congressman Jim Moran will serve as auctioneer. Tickets are $125 ($50 tax deductible) and sponsorship opportunities are available. All proceeds go to support New Hope Housing. For further information or to purchase tickets, call 703-799-2293, ext. 20, or email mwoolridge@newhopehousing.org.
Snodgrass Presents Jamestown to Civitans
Mr. Paul Snodgrass, a local genealogist and historian, will address the Tyson Civitan Club at its April 10 meeting at 12 p.m. at Clyde's of Tyson (8332 Leesburg Pike, Vienna). Snodgrass will review Jamestown's early history, and describe some of the activities celebrating the 400th anniversary. For more information or to attend the meeting, email tysoncivitan@aol.com or contact Linda Powell at 703-356-0154. There is a $10 fee for lunch.
Library to Honor Volunteers
The Fairfax County Public Library Board of Trustees will honor volunteers and community partners at a special awards ceremony at 7 p.m. on April 11 at the George Mason Regional Library (7001 Little River Turnpike, Annandale).
ASYMCA Helps Children of Deployed Parents
The Armed Services YMCA, in cooperation with Fort Belvoir Child and Youth Services is launching a program to address the emotional stress experiences by children during the time in which their parents are deployed in military operations. On March 29 at 5 p.m. there will be a program and a presentation of photographic quilts made to honor parents of deployed children.
Youth Soccer Spring Season Opens
Youth soccer registration is open for Falls Church and Arlington youth players ages 6-19. For information visit www.arlingtonsoccer.com or call Chris Madison at 703-248-5150.
National Library Week
Mary Riley Styles Public Library will celebrate National Library Week April 15-21 with a series of events to recognize the contributions of libraries, librarians and library workers nationwide. All events are free and open to the public. For more information visit the Mary Riley Styles Public Library (120 N. Virginia Ave., Falls Church), call 703-248-5030, or visit www.falls-church.lib.va.us.
Benton Sits In on Wolf Trap Announcement
For the second straight year, the News-Press' Nicholas Benton was invited to sit at the head table at the NPC annual nationally-televised luncheon featuring the upcoming season at Wolf Trap. A major new Wolf Trap national environmental initiative was announced by Terrence Jones, CEO of Wolf Trap, and Mike Love, lead singer of the Beach Boys. Both spoke at the luncheon. Over 100 performances slated for this summer were announced.