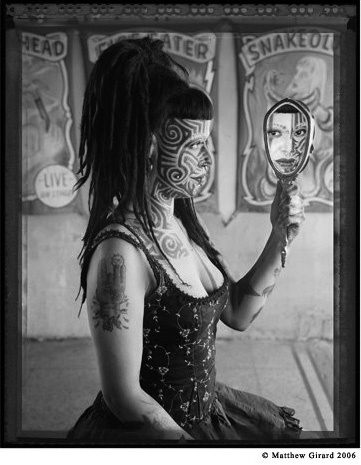 "Chaos" collage by Gisele Nimic at the Lee Art Center through March 28.
Gisele Nimic Solo Show
Through March 28 in the Lee Arts Center, 5722 Lee Highway, Arlington. Monday- Friday 9:30 a.m. to 10:00 p.m., Saturday 9:30 a.m. to 6 p.m. For further information call (703) 228-0560. or see www.arlingtonva.us/leearts.htm
Gisele Nimic has a series of small collages, and a variety of ceramic work on display in the Lee Center Mini gallery. Clearly two different bodies of work, there is no one cohesive theme to tie the two mediums together, other than the fact they're made of the same hand. I like to see cross media work like this. It tends to keep things interesting and can push the artist in unexpected directions as one type of work informs the other.
Most cohesive of all the work shown here is the series of small scale collages. While examining them I repeatedly misspoke and referred to them as prints. Well, they do have the look and feel of prints, though clearly they are not. Not too surprisingly, a substantial amount of Ms. Nimic's art training has indeed been in the field of print making. Collage is a fairly distinctive medium to work in. It's not easy to blur the line in this way. Covered in a gloss coating the varied paper surfaces are easily distinguished when a glint of light catches the various edges within the images. Otherwise, your brain wants to classify them as prints.
Nimic's artist statement discusses her attempt to show the order within seeming chaos in nature. Fair enough I suppose, but to my eye it's all about the magnetic attraction of the group. The inability for true chaos to exist for long. There is a sense of societal conformity that runs through most all of the collages. Spinning schools of fish, a swirling flock of birds, veins in leaf. All seem to have a pervading manta that the whole supercedes the individual. Even when the lead bird seems to attempt a break away from the flock, the flock follows in pursuit and quickly subsumes the individual once again. Try as we might to escape it, we all have our role to play in the big picture. Like it or not, it is in fact our duty to serve the greater good of the whole.
McLean Middle & High School Artists
Through April 7 at the McLean Project for the Arts, on the second floor of the McLean Community Center, 1234 Ingleside Ave., McLean, VA. Gallery Hours are Tuesday through Friday 10 a.m. to 4 p.m., and Saturdays 1 to 5 p.m. For more information call (703) 790-1953, or see www.mpaart.org
Almost all of these student shows offer some fun unexpected work. The Elementary School show just closed. In that were some fairly interesting portraits from first, second, and third graders. It'll be interesting to see what the high schoolers have to show this year.
Artist Opportunities
Show Me the Money I
Show me the money…. "Strictly Painting 6" at the McLean Project for the Arts (see contact info above). Deadline for receipt of entries 4 p.m . Monday April 9. Up to four images will be judged via slides or CDs, with an entry fee of $25, and a prize pool of $2,000.
The theme this year is works influenced in some way by the Washington Color School. Painting may be mixed with other media, but obviously must include painting. Washington Color School work often was quite sizable to say the least, so if you feel the need to go big, make sure it fits through the 81x 65 inch doorway. Kristen Hileman an assistant curator at the Hirshhorn Museum is the judge this year.
The theme strikes me as a tad quirky with not a lot of good work done in this genre. I could of course be wrong, but I'm guessing this one won't see a throng of entries… hint, hint…
Show Me the Money II
The other $14,000 golden slipper has fallen. "The Trawick Prize: Bethesda Contemporary Art Awards" deadline for submissions April 10. Entry fee of $25 for up to five entries via slides only. Three panel jury comprised of staff from the Hirshhorn, Virginia Commonwealth University, and Maryland Institute College of Art in Baltimore. Fifteen artists will be selected to show in September with the top prize of $10,000 going to one lucky artist. Second place gets $2,000, third gets $1,000, and one young artist born after 4/10/77 gets $1,000.
This jury pool doesn't have the crushing resumes that some of these shows of late have had, but rest assured they still know what's what. I would dare say you'd best be thinking edgy capital A art. $14,000 is a huge lump and you're going to have to work for it here. The Trawick prize is fast becoming the show to go for on the local scene for those who have even a whiff of intention of making a name for themselves. Call (301) 215-6660, or see www.bethesda.org/arts/trawick.htm for downloadable entry form.
Show Me the Money III
So edgy isn't your bag, well here's a group that looks for more traditional work. "15th Annual International Exhibition of the Colored Pencil Society" to be held in Bethesda, MD from July 14 through August 25. Two entries via slides for $30, $20 if you are a member. Entries must be strictly colored pencil, and they do mean strictly… Total cash awards for the 2006 show were over $15,000. See www.cpsa.org for forms and details for the show and convention events including workshops, etc.