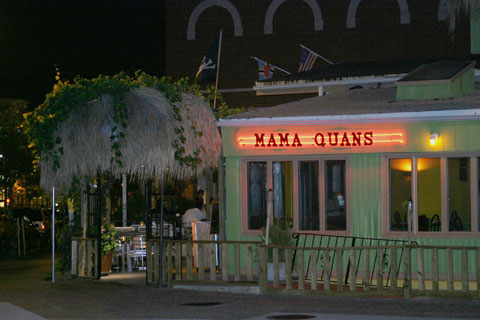 Busboys and Poets is where intellects, political-artistic types, and all those in-between flock to in Washington D.C. Here you'll find comfortable surroundings for the wireless internet fiend to the fashionable trendsetter. Just grab a couch, or sink into the spacious booths of the back room, or enjoy standard seating arrangements with tables and chairs in the designated dining area, only a few steps from the kitchen.
Busboys and Poets's space is comfortable and chic, with many distinctive touches like mosaic mirrors in the bathrooms and the mural of peace in the performance space. Here, the owner is also an artist and uses the walls as his canvas.
The in-house bookstore contains a variety of genres from politics, poetry and literature and is operated by Teaching for Change, a social justice nonprofit organization. That way the costs will remain low, according to its website. And they are pretty low, with pizzas between $7 and $8, burgers at $7 and sandwiches between $5 and $10, and half the entrees less than $10.
The food is healthy and delicious. The Mediterranean calzone with fresh mozzarella, feta cheese, red peppers and black kalamata olives along with marinara sauce is nothing less then amazing. The grilled chicken sandwich with avocados, pepper jack cheese on toasted ciabatta bread is far from ordinary. The teas, in their cheesecloth sacks, are all natural and sweet with organic honey. With vegan/vegetarian friendly options galore, others might want to indulge their carnivorous side with the New York strip steak or fried cat fish. Side dishes are endless and fresh, from home-cooked favorites like collard greens and stuffed baked potatoes, even side salads are free with entrees.
Other menu items included burgers and gourmet pizzas, with pita bread and your choice of spread and toppings, including something other then generic mozzarella cheese. Or just make an appetizer a main meal: the eggplant & goat cheese with sun-dried tomato and garlic spread might whet your appetite.
The Busboys and Poets staff is fabulously hip and helpful, if possibly too attentive. Glasses of water were constantly filled; wedges of lemon were given when asked. The vibe is so comforting, there is not a solemn face in the entire establishment.
Stay on after dinner and enjoy free coffee and a $3 live poetry reading in the performance room at 9 p.m., on stage in front of a velvet curtain. It's called the Langston Room and offers not only readings but space for more than 200 people for other events.
The bookstore/restaurant has an enchanting aura about it with walls painted in soothing colors and jazz emanating from speakers around the room. Sit by tea light and watch the evening sun go down behind the buildings of the city. As the lights grow dim, more people emerge at the front door, waiting to be seated. Despite the huge windows that display the loads of traffic outside the walls, tranquility can still be found under the dim, white, hanging lights. It is truly all about the experience one has when visiting, whether meeting up with friends for drinks or finding a quite spot to curl up and read.
D.C. is known for its politics, but it should also be known for its activism and its protesters searching for change. Busboys and Poets's social scene is able to unite both sides of the issue with amazing food, good drinks and an ambiance that is appreciated by all.
Busboys and Poets
2021 14th Street N.W., Washington, D.C. 20009
Mon-Thu, Sun 10:00 a.m.-12:00 a.m., Fri-Sat 10:00 a.m.-2:00 a.m.
(202) 387-7638