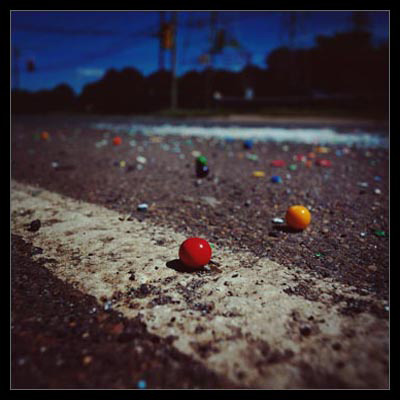 'Electrical Cord' oil on canvas by Richard Wyvill, in the Falls Church Arts 'Vision' show through March.
'Vision'
Through March at Falls Church Arts gallery in 111 Park Ave., Falls Church, VA Open until 6 p.m. weekdays, and 5 p.m. on Saturdays.. Falls Church Arts is now in its fourth year. This being FCA's major show of the year with it's usual opening in the Don Beyer Volvo showroom. Happily each iteration seem better than the last, and fosters growth of the group and the area arts community in general. Fifty-five artists showed a total of 105 art works at Fridays opening. With seemingly all of Falls Church's notables in attendance, we also saw a handful of folks from the Del Ray Artisans in Alexandria. Here's to bigger and better things to come.
I found Richard Wyvill's oil painting "Electrical Cord" the most notable of all. Wyvill is known around the area for his nostalgic still lifes filled with boyhood toys, and trinkets from what we'd surmise to be roughly a 1950's childhood. Sometimes referred to as "Man-tiques" in the collectables field. In an art world swamped with landscapes, seascapes, flowers and portraits those boyhood memories have a refreshing view. Wyvill has taken something of a departure from that body of work and offered us the Electrical Cord painting and a landscape, which somehow escaped my view.
Electrical Cord has a nice asymmetrical composition that gives it interest and movement not afforded in typical dead-center compositions. One could leave it at that, a simple painting of some orange electrical cord hung on a wall. But I'm not so sure it all goes down quite that easily. For me, this was the one piece that had the most metaphoric punch. In a by gone era the symbol of domestic masculinity was that most "Dad" space of all, the work bench. Men were do-it-yourself hands-on creatures. In our Falls Church neighborhood the guy across the street was a career airplane mechanic who built that house with his own hands. Two houses behind him was a retired high school shop teacher. Two more houses was a furniture builder re-upholsterer.
Others were home builders, or refurbished old houses on nights and weekends. Far from Blue collar, this was middle class America of the 50's and 60's. Today, today the great symbol of domestic masculinity is Dad's possession of the TV remote control. Now you're lucky if dad can manage start the lawn mower, much less fix it.
That is the micro-cosmic view of it. On the grander scale of things, these days we have a terrible time even finding hard goods to buy that are made in America. Suddenly everything seems to be stamped "CHINA." For a self-made country founded on a near 400 year tradition of hands on craftsmanship it's a horrible slide.
"Electrical Cord" seems to address this very notion. Giving equal space to the cord's shadow, it seems to literally imply that we are a mere shadow of our former selves. These orange indoor/outdoor electrical cords are often colloquially referred to as "power cords." The flaccid ends seem to imply the very antithesis of post WWII American omnipotence.
Also shown were a number of excellent watercolors, and a nice loose and free drawing by Anne Rechter titled "Blue Flowers."
Tim Tate
Welcome to the Tim Tate-athon. Undoubtedly the best known glass artist in the greater DC area, Tim Tate has his finger in several pies at the moment. Fraser Gallery in Bethesda is currently hosting his latest solo show through April 7. (Fraser Gallery, 7700 Wisconsin Avenue, Suite E, Bethesda, MD 20814. Gallery Hours are Tuesday though Saturday: 11:30 a.m. to 6 p.m. Call (301) 718-9651 or see www.theFraserGallery.com). Tate continues to work within and around the usual visual lexicon of his oeuvre.
Flames representing memories (the eternal flame), and crosses representing aspects of health (Red = healing, Blue = prevention, Green = education), are worked into and around his sealed glass reliquaries (vessels). It's the usual high quality work we've all come to expect from Tate. If you can't get to the gallery, the full show can be seen online at thefrasergallery.com/TimTate2007.html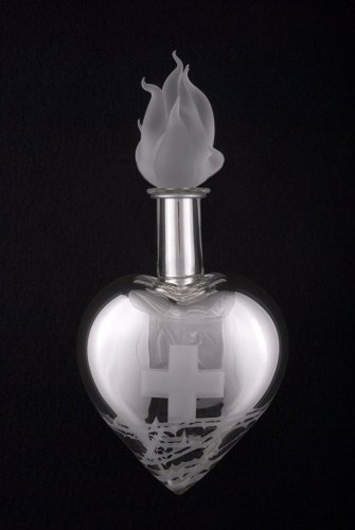 On Thursday, March 22 at 3 p.m. Tate lectures on three aspects of "Art and Healing" at the Smithsonian's American Art Museum in the third floor Luce Education Center (the American Art Museum is located above Gallery Place Metro station at 8th and F Streets N.W., Washington DC. Regular Hours: from 11:30 a.m. to 7 p.m. daily).
The talk will focus on his, and other works from the Smithsonian's permanent collection, and how he sees their relation to healing within the artist themselves, the viewer, and on a larger scale society in general.
Tate is also one of three co-directors of the Washington Glass School in Mount Rainier, MD. Which they claim to be the second largest "warm glass" school in the nation. Warm glass being kiln type work involving molding and fusing. As opposed to the 'hot glass' variety which gets into blowing glass. See www.washingtonglassschool.com or call (202) 744-8222
Tate and company do plan to show at the upcoming Artomatic this year, but due to the quick notice and other aforementioned projects, there will not be a major glass room as seen in the last Artomatic.
For those who scoff at Artomatic in general, it should be noted that Tate's art career took off like a rocket after his showing in the 2000 Artomatic.
arts council @ grace
In last week's past deadline typing frenzy I seem to have left off the contact info for the arts council @ grace show. Oops! Details, details…
The prize pool for this show is $2,000. Postmark deadline is March 30 for up to five entries. Entry fee is $35, and waved for current members of the Arts Council of Fairfax (this would include paid entrants from last year, which was about six months ago), or a current member of the Greater Reston Arts Center.
These are both excellent arts groups, and I don't want to slight anyone, but you might want to consider the extended benefits of the $50 Grace Membership, and tax deductible to boot.
For further information see www.artsfairfax.org, or call the Arts Council of Fairfax at (703) 642-0862, or the Greater Reston Arts Center at www.restonarts.org, or (703) 471-9242.
The Northern Virginia Art Beat is compiled by Kevin Mellema. To e-mail submissions, send them to mulsane@aol.com.