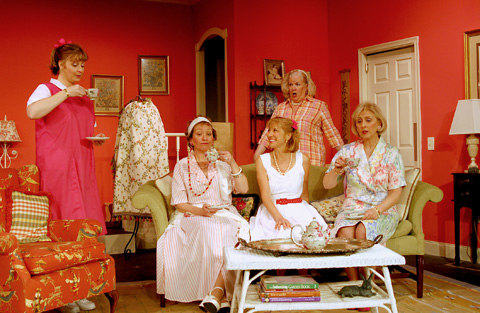 Murder, mystery, a cantankerous parrot and a visit from the Grim Reaper himself help to make this laugh-out-loud Southern spoof a buoyant and enjoyable way to spend a winter evening.
The Providence Players and director Mike Mattheisen have succeeded in making this all-female comedy leap from the stage in the company's winter production of "Good Help is So Hard to Murder" from playwright Pat Cook. The story told is one of dark southern humor, akin to the plays of Beth Henley, where the ridiculous duality of the region's expectations of women is exposed, while at the same time the experience is kept light enough for anyone to enjoy.
This is the tale of two sisters, Delilah, the eldest, played by Beth Hughes-Brown, and the younger (and somewhat dim) Miribelle, played by Susan Kaplan. These ladies have all the drama, all the drawl, and all the pink clothes that one might expect from a couple of southern belles. But like any good southern family, they also have their share of skeletons living in their lavender-scented closet. And when you are friends with an eccentric psychic and the town police officer, live on haunted ground and care for a talking parrot with an axe to grind, one cannot expect secrets to stay buried for long. When Delilah gets a bit paranoid about what the dutiful maid Libby might have overheard in her 12 years of devoted service to the family, she decides there's only one thing left to do.
When it comes to the set, every bit of open space is covered in magnolias and overflowing greenery that serve to heighten the already excessive femininity of the sitting room where the story takes place. The bright pink walls and wicker furniture make it very clear where you are and what type of people you are dealing with. But underneath all of the frills lay some surprises that would make anyone dilly-dally before entering this home uninvited. In the antique clock, for example.
Beth Hughes-Brown (Delilah) makes this production delightfully droll with her ability to deal out malicious groaner puns and dark humor towards her sister and the other women that arrive at the home. Brown uses her resonant voice well to alternate between hectically homicidal and devilishly docile. She stands out in this production with her comic timing — it's dead-on (ahem) — and she never misses a beat.
Susan Kaplan plays Miribelle, the quintessential ditzy blonde who can only remember the details of events from many moons ago and loses track of just about every conversation that goes on around her. Kaplan plays this part spotlessly — able to find the character's ability to go on and on pointlessly, without trying the attention span of the audience.
Other characters serve to heighten the eccentricity of this small southern town, including a town psychic and a neighbor straight out of any women's club below the Mason-Dixon Line. They all serve to move the story to a satisfying end.
Overall, the performance starts out rather slow — lots of discussion about events, but little action. But be patient: once the action starts progressing, you'll scarcely be able to keep up. Hardly a moment goes by where the characters do not get the chance to play up their most entertaining qualities. The play certainly fits the genre of the southern gothic comedy perfectly, with enough wit to give it a wide appeal. The actors are very satisfying and fit well with the script, and they certainly are able to expose the conflicting expectations of females in the modern world — in a riotously entertaining way.
If planning and covering up a homicide is anywhere near as fun as this production, audience members may well want to give their next tea an extra sniff before taking that first sip.