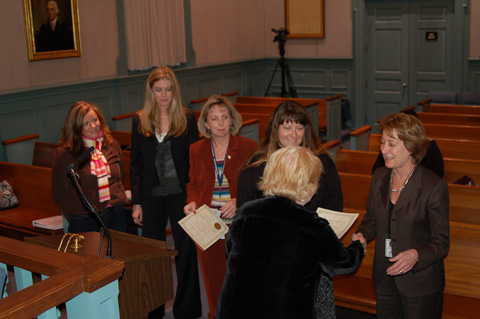 FORMER FCPS SCHOOL BOARD MEMBER Jerry Barrett accepts a FCPS School Board Proclamation in honor of Deliberation Day, which will be held on Saturday, March 17 from 8:$5 a.m. – 12:30 p.m. at ME Henderson Middle School. George Mason High School Students will serve as discussion leaders for the event, which will feature a discussion of the topic "Falls Church City: What Are We Becoming?" Members of the public, from high school age and up, are invited to participate. Guest panelists include Mayor Robin Gardener, FCPS School Board Chair Craig Cheney, Planning Commission Chair Ruth Rodgers and Economic Development Authority Chair Ed Saltzburg. Retired Washington Post reporter and Falls Church resident Pete Behr will moderate the panel.
Falls Church Resident Makes George Mason University Dean's List
Congratulations to Alan Chong for making the Dean's List of George Mason University for outstanding academic achievement during the fall 2006 semester.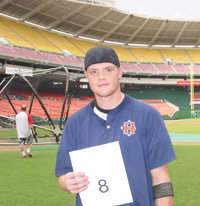 Falls Church Resident Makes Mitchell College Dean's List
Congratulations to Zaria E. Scott for making the Dean's List for the fall 2006 semester. The Dean's List honors students with a grade point average between 3.5 and 4.0.
Brown Graduates Auburn Univ.
Congratulations to Edward Brown of Falls Church for graduating with a Bachelors of Science.
Falls Church Panelists Named for Deliberation Day
A four member panel of Falls Church leaders and experts will participate in a community- oriented dialogue as part of the City's first Deliberation Day, Saturday, March 17, 8:45 a.m. – 12:30 p.m. at Mary Ellen Henderson Middle School (7130 Leesburg Pike, Falls Church). Any resident or local business person of high school age and upwards may attend Deliberation Day by registering now at www.DFCCVA.org , or by calling 703-533-8197. The deadline for registration is Saturday, March 10.
Guest Speaker to Attend Fall Church Chapter of AAUW
Brigadier General Wilma Vaught will speak to the Falls Church chapter of AAUW (American Association of University Women) at 7:30 p.m. March 12. Her topic will be the history of women in the military and their extraordinary legacy of service. For more information, contact Anne Baxter, 703-256-6567.
PFLAG Support Meeting
The Falls Church chapter of Parents Families and Friends of Lesbians and Gays, PFLAG of Metro D.C. will hold a support group meeting to discuss issues about coming out, March 8 at 7:30 p.m. at Temple Rodef Shalom (2100 Westmoreland St., Falls Church). Admission is free and for more information, call 703-532-2217.
FCYBL Girls Win First Place
Congratulations to Ashley Alexander, Jaya Chaver, Courtney King, Jessica Manning, Stephanie Manning, Rebecca Moot, Samantha Rolander, Julianna Rollo, Claire Trevisan, and Shannon Upton, girls on the Falls Church Select basketball team. The team won first place in their conference with a record of 11-0. They will play in the post season championship game Saturday, March 10.
State Legislators to Review Recent Session
A number of state senators and delegates will speak and answer questions about the 2007 General Assembly session at "Richmond Wrap-Up," Sunday March 18, from 2:30 – 4:30 p.m. at Providence Presbyterian Church (9019 Little River Turnpike, Annandale). The event will discuss how state lawmakers have been responding to social justice and human services needs facing Virginians. This event is co-sponsored by the Virginia Interfaith Center for Public Policy and SALT (Social Action Linking Together). For more information, call 703-255-7074.
Local Soccer Executive Appointed Head Coach
Douglas A. Homer of Falls Church has been appointed by Maccabi USA/Sports for Israel as the Head Coach for the Open Men's Soccer Team representing the United States at the 12th European Maccabi Games in Rome, Italy. Maccabi USA/Sports for Israel will send its largest team, of close to 100 athletes, to the games.
Movie Night at Frying Pan Park
Frying Pan Park presents the award winning moving "The Battle of Chantilly (Ox Hill)" on Saturday, March 24 at 7:30 p.m. and 9 p.m. The movie is to be shown in the Frying Pan Park Visitor Center (2739 West Ox Rd., Herndon). Admission is $5 and prepaid admission is recommended. For more information, call 703-437-9101.
W&OD Trail Patrol Seeks New Members
The W&OD (Washington & Old Dominion) Trail runs through the communities of Arlington, Falls Church, Vienna, Reston and other parts of Northern Virginia. The Trail Patrol is seeking new members to be on-scene ambassadors of safety, courtesy, information and goodwill. All adult trail users are eligible to apply. Two orientation sessions are scheduled for 2007 — one will be on Saturday, March 31 at the Vienna Community Center (120 Cherry St., SE Vienna) at 10 a.m. and another session will be Tuesday, April 3 at the Herndon Library (768 Center St., Herndon). For more information, call 703-726-6993.
College of William and Mary Announces Dean's List
Congratulations to the following Falls Church residents recently named to the Fall 2006 Dean's List at the College of William and Mary: Maya Cough-Schultze, James Evans, Cosmo Fujiyama, Isaac Garon, Matthew Goldman, Nefret Hanna, Anne Maynard, Stacey McDermott, Samuel Moser, Laura Parente, Julie Riggs, Stephanie Roussel, Petra Stark, Andrew Starr and Kendall Stone.