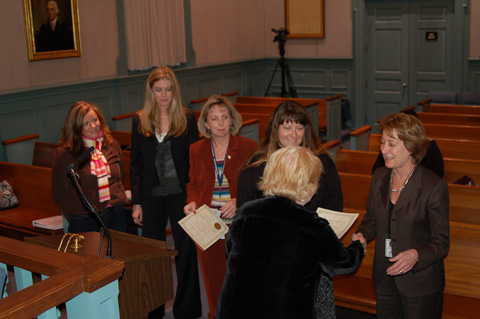 The George Mason High School academic team ended its season undefeated with an incontestable victory in this year's state scholastic bowl championship held at the College of William and Mary last Saturday.
The team dominated the state championship throughout, blowing through Twin Springs in the first round 295-40, followed by a 250-145 win over Region A champion West Point. In the final round against Radford High School, the Mustangs finished out their perfect season by routing their foe 270-115; by far the largest win margin in any of the state's final matches.
The Mason team was a balance of effort by all members, each contributing in his or her own academic specialties. Senior Matt Peppe, for instance, took on questions dealing with science, mythology and philosophy. Senior David Maher answered those in the areas of history and politics. Junior Peter Davis contributed in the math category and team captain Margaret Lipman dealt with questions in the areas of literature, language and pop culture.
Other team members contributing to the title were juniors Peter Breen, Brennen Downey and K.K. Bracken.
The team is coached by Jamie Scharff, a social studies teacher at George Mason.
The experience was "rewarding — especially seeing the students improve over time," Scharff said.
This years team will go down in the record books as the only Mason team to win the state title following a perfect season.