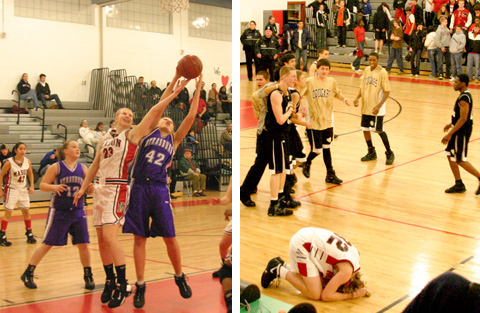 It was a low-scoring affair throughout, but what it lacked it points, the contest more than made up for it in pure drama. The Strasburg Rams battled back from a nine-point deficit with 5:40 remaining in the fourth quarter to send the game to overtime and ultimately defeat the George Mason High School girls varsity basketball team 44-40 on the Mustangs' home court last Thursday night.
The Mustangs, who held the lead from the 3:45 mark in the first quarter until the end of regulation, opened up the nine-point lead after a fourth-quarter three-pointer by junior Rachel Kazman. Kazman finished with a career-high 10 points. However, a 8-0 run keyed by three-pointers by Jenna Smoot and Kalyn Warner closed the gap to just a single point. Smoot scored seven of her teams final 13 points in regulation, including a pair of free throws with 26.7 seconds left to send the game to overtime. Mason junior Bailey Walton (nine points, six rebounds), who sat out nearly all of the first half due to foul trouble, hit a three pointer to open overtime. That was followed by a baseline jumper by freshman Nicole Mitchell to give Mason a five-point advantage. But Strasburg scored the next nine points to secure the 44-40 victory and advance to the Bull Run District finals.
"I think we were a little tired and just made some poor decisions," Mason Head Coach Bill Broderick said of the final minutes of regulation.
The loss ended a season that saw the Mustangs finish second in the Bull Run District during the regular season despite the graduation of three all-district players from the previous season. Now, Mason bids farewell to seniors Ashley Thompson and Kit Thackrey.
"They provided a lot and really kept us focused," Broderick said of the seniors, both team captains. "We're really going to miss them a lot."