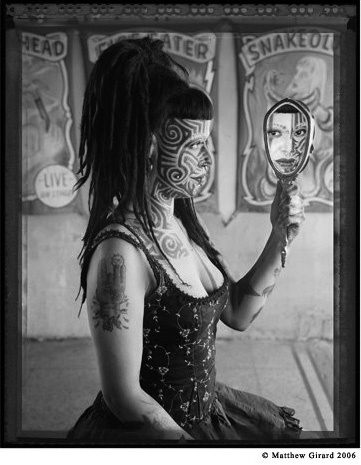 Doug Fuller's entry selected as the new Reston,VA speciality license plate.
After at least one extension, the contest to design a new license plate for Reston residents is finally over. The jury panel from Greater Reston Art Center has selected Doug Fuller's entry as the winner. Reston resident and art director at the Freddie Mac Design Studio, Doug Fuller has done a fair amount of logo work for local organizations as well.
His license plate features a seemingly wind swept tree, loosely rendering in silhouette with gradated greens. The color moves, the drawing moves, the vehicles it will be mounted on move.. what a concept! Roughly ten thousand times better than the usual stilted imagery the DMV places on specialty plates. Fuller's plate is certainly one of the best plate designs I've ever seen. Nice work.
It's probably worth mentioning to the powers that be in Falls Church, the hurdle for a specialty plate of this sort is really quite low, all things considered. DMV requires a scant 350 plates to be ordered, with a $10 specialty plate surcharge tacked onto the normal DMV fees.
Shakespeare's 'Much Ado About Nothing' performed by Vpstart Crow from March 2 through 18, at the Cramer Center, 9008 Center St, in Old Town Manassas, VA. www.vpstartcrow.com (703) 365-0240. Performance times Friday and Saturday nights at 8 p.m., and Sunday afternoons at 2 p.m.
This rendition of 'Much Ado About Nothing' is set in the wake of World War II, with the battle of the sexes still in full fight. Main characters Beatrice and Benedick each think they hate the other, whilst in fact loving each other. And they call this a comedy. Does this make Jerry Springer the Shakespeare of our age? OK, probably not, but it does make you wonder.
Tickets are $20 for adults, and $15 for Manassas and Prince William county employees, seniors, and students. Unless you go to the special final dress rehearsal on Thursday March 1, at 8 p.m. That, and only that, is a pay-what-you-can preview performance. Also of special note, the regular March 4 matinee performance will have a 'talk back' with the entire cast and production team.
Artist Opportunities ————–
Target Gallery in the Torpedo Factory Art Center, Alexandria, Va is taking proposals for a solo or group show (if you are entering as a group) to run from October 27 through December 2, 2007. Entry application, supporting materials, and $35 entry fee should be submitted by Thursday March 1. Full details and downloadable entry form can be found at www.torpedofactory.org (click on 'Galleries: Target', then 'Exhibition Opportunities'). Call (703) 838-4565 extension 4, or email them at targetgallery@torpedofactory.org
Tired of getting rejected by the same venues over and over again? Need a new kick in the teeth? Oh, if only I was joking. Those not actively in the arts have no concept of how much rejection we endure as a normal course of business. After awhile you develop something akin to 'rhino hide', or it gets to you and you quit making art, or you become a bitter self-absorbed back stabbing…. uh… oh yea, the show…. So you want to expand your horizons? Try ' Radius 250' at Plant Zero in Richmond, VA. Everyone inside a 250 mile radius of Richmond is eligible. Which includes everyone from the other side of Philly to the other side of Wilmington, N. C. Postmark deadline is March 2. Prizes up to $3,000, entry fee $30. By the way, the juror Ragan Cole-Cunningham has her masters from Cal Arts, and is a former member of the curatorial staff at MOCA in Los Angeles. Don't plan on blowing smoke past this one, we're talking capital A hard-core art. If you haven't got the goods, this one will be a meat grinder.
See www.radius250.org for more information, or call (804) 232-6464, or email Radius250@gmail.com
'Hand Pulled' a juried Mid Atlantic Print Show at the Ellipse Art Center in Arlington, VA. Drop-off submissions to be delivered on Wednesday Mach 14 between 11 a.m. and 7 p.m. You may submit up to three entries, for the fee of $20. Three juror's choice awards of $300 each. This one has a fairly prestigious juror, Joan Boudreau a curator of the graphic arts collection in the National Museum of American History, Smithsonian Institution.
What does, and does not, constitute a submitable print is rather wide open, but not totally so. You need to consult the official requirements, but in a nutshell the print must be 'hand pulled', not push-button art. Predominantly digitally printed media will not be accepted. Reproductions of original works in other media, off-set reproductions, traditional photography, etc. all not acceptable.
On the other hand 'digitally manipulated' and photomechanical prints are OK. Like I said, you really need to read the rules yourself, and decide which side of the fence you're work falls on. All work must have been done in the past three years and no bigger than 70 inches in any direction, and weigh less than 50 pounds.
For application, and complete information see www.arlingtonarts.org/ellipseartscenter.htm, or call (703) 228-7710