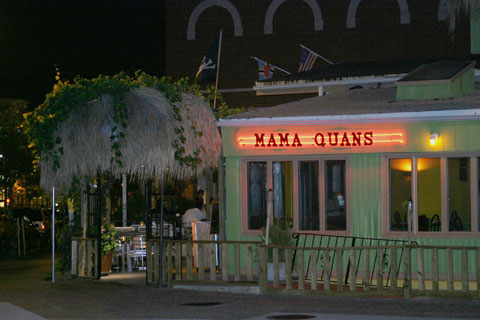 For centuries, Atlantis has been one of the western world's favorite legends, a tantalizing blend of fantasy and mystery. Stories tell of a rich and glorious empire that was lost to the sea, where some hope its ruins still lie, waiting to be discovered.
Atlantis Pizzeria is a small humble restaurant located in a strip mall on King Street in Alexandria. Practically a hole in the wall, this unsuspecting diamond in the rough is waiting to be discovered by the hungry passersby just like the legend itself.
Squeezed between a Hallmark store and a super market, one's first glance at the strip mall might not notice the humble pizzeria. Look again though, and you might notice the line of customers has poured out to the side walk outside under its red neon sign.
It is only six in the evening and Atlantis devotees are intensely reading the white board that has listed the soups and entrees of the day, as well as freshly homemade desserts. Waiting in long wool coats and gloves, families and older couples start to inch their way towards the next available booth or table. Friendly waitresses in black aprons pull out their note pads, and in some cases hug their customers before taking down their "usual."
Some regulars start off with a hot bowl of soup to warm their shivering bodies from the cold. Chili and Hearty Vegetable soups are $2.75 a cup and just a dollar more for a bowl. Some follow with Mediterranean salad ($9.95) that includes strips of marinated chicken breast over fresh crisp lettuce, Feta cheese, tomatoes, black olives, pepperocini, cucumbers, green peppers and onions with house Italian dressing that is so big most customers share. Hot sandwiches are available with deli favorites like gourmet hot pastrami with melted mozzarella cheese, mayonnaise, lettuce, tomatoes and onion served with potato chips are a pickle for $6.55.
Atlantis's main focus is on Greek and Italian dishes. Their section of the menu called "Submarine Creations" offers Athenian Gyros that include delicious slices of seasoned meat, cooked on rotisserie and served with onions, shredded lettuce, tomatoes, crumbled feta cheese served on warm pita bread and Tzatziki sauce, a Greecian delicacy that is made from yogurt, dried garlic and cucumber. All of it accounts for a very filling meal at only $6.95. Other Mediterranean dishes include baked eggplant with melted mozzarella cheese and tomato sauce for $6.95, Chicken Breast Pamigiana with tomato sauce and melted mozzarella cheese, only $7.25. Strictly Italian dinners like lasagna, manicotti, and spaghetti with meatballs start at $11.95 and go up to $15.95.
Contrary to all the Italian food on the menu, Atlantis's area of expertise lies in traditional Greek food. If one has ever been curious to try dishes like Moussaka — baked zucchini and potatoes with fresh seasoned ground beef topped with Bechamel (cream) sauce — or Pasitsio — the Greek version of lasagna — you will only pay $14.95 for the delicacies. Let us not forget that the second word in the neon side reads Pizzeria, Atlantis's main carryout is their thin crusted pizza. A large 16-inch pizza with five toppings is $17.95, and with topping choices such as grilled marinated chicken and rotisserie gyro meat, one might be tempted to order a different pizza every night.
Dessert is not so simple at Atlantis Pizzeria, with choices like homemade baklava and rice pudding starting at $2.95, it isn't fair to just eat one. Imported Greek beers like Mythos and Athenian are $3.95 and accompany any meal perfectly.
At the end of day, don't we all just want a good home-cooked meal waiting for us on our dining room table? A hearty meal that fills us up yet we can savor bite by bite? Well, Atlantis Pizzeria is just like getting home and pulling out a chair at your table — they just throw in that Mediterranean flair for fun.
Atlantis Pizzeria
3672 King Street Alexandria Va
703 671-0250
Mon-Thurs. 11 a.m – 10 p.m.
Fri – Sat 11 a.m – 11 p.m.
Sun. Noon – 10 p.m.