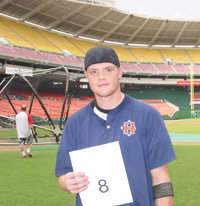 THE FEB. 2 "FIRST FRIDAY" festivities in Falls Church featured a gallery showing of original art by Falls Church art instructor extraordinaire Eileen Levy. Here, the Divine Ms. Levy is shown standing before some of her work with Dr. Stephen A. Rogers, former vice mayor and now head of the Falls Church Housing Corporation. (Photo: News-Press)

Falls Church / Annandale Babe Ruth Baseball Starting Registration
Falls Church / Annandale Babe Ruth Baseball is starting registration now. Sign up on-line at www.FCABR.com or go to Providence Rec Center (7525 Marc Dr., Falls Church). Signup dates are Feb. 17 – 18 or 24 – 25. All players ages 13 to 18 are welcome to register. The cost for the season is $175.

Update on Potomac River Watershed Cleanup
The 19th Annual Potomac Watershed Cleanup will take place March 31 and April 1 from 9 a.m. – Noon. Site leaders and volunteers are needed at hundreds of sites throughout Northern Virginia. To learn more about sites closest to you, call 301-292-5665 or visit www.trashfreepotomac.org.
Local Student Graduates TWU
Congratulations go out to Katie Elizabeth Ceary from Arlington who recently graduated from Texas Woman's University.
Falls Church Arts Annual Meeting
Everyone is invited to the Falls Church Arts Annual Meeting at 2 p.m. on Sunday, Feb. 25. Hear and see what FCA has been doing the past year and learn about the Vision All-Member Art Show & Sale slated for March. There will be plenty of parking and refreshments at the Falls Church Arts Gallery (111 Park Ave., Falls Church). Visit www.FallsChurchArts.org for more information.
Congressional Schools of Northern Virginia Selects Head
Seth W. Ahlborn was recently selected as Head of School by The Congressional Schools of Northern Virginia. He was unanimously selected by the Board of Regents to lead the institution beginning July 1. The Congressional Schools educate 350 children from across the Northern Virginia and around the world each year.
Spay Day USA
The Animal Welfare League of Arlington will participate in Spay Day USA by spaying and neutering up to 40 local dogs and cats for $25 each. Any low-income pet owner who registers in advance for this event will not only receive a spay or neuter surgery for his or her pet at an extremely reduced price, but will also have the benefit of reduced fees on distemper and rabies vaccinations along with a free location micro-chip, courtesy of the league. The surgeries will take place at the Washington Humane Society's low-cost clinic. Call 703-931-9241 x 200 for more information, including location.

Middle School Seminar Clarification
The Mary Ellen Henderson PTA seminar on teens and sleep takes place at 7:30 p.m. Feb. 26 at Mary Ellen Henderson Middle School (7134 Leesburg Pike, Falls Church). Dr. Helene Emsellem, Medical Director of the Center for Sleep and Wake Disorders in Chevy Chase, a nationally known expert in sleep research and treatment, will hold a discussion with parents of