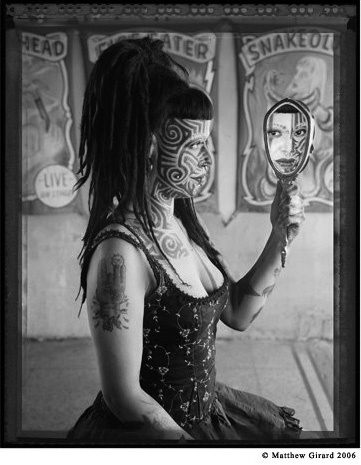 'Photo 07: Photos You Have Taken in the Last 75 Years' through Saturday March 10, at the Ellipse Art Center, 4350 North Fairfax Dr., Arlington, VA. Gallery Hours: Wednesday through Friday 11 a.m. to 7 p.m., Saturday 11 a.m. to 2 p.m. Phone (703 228-7710, or see www.arlingtonarts.org/ellipseartscenter.htm.

Looking for a repeat of last year's success, the Ellipse Art Center re-ran the 75 year theme for this year's open call photo show. Keep in mind that virtually all open call shows are limited to work done in the past two or three years. It's a format that drew work out of deep storage last year, with some photos taken in the 1930's. But you never know what people will submit, much less what the judge will select to show. You just have to wait and see how it all turns out.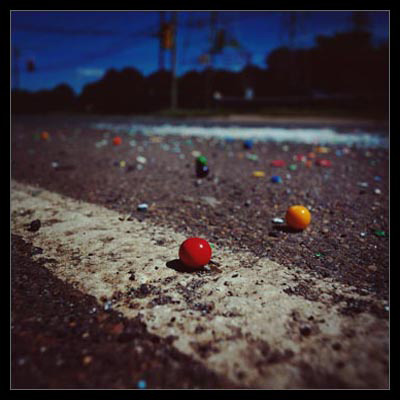 Last year the judging duties were performed by a photo curator from the Smithsonian, this year's show was judged by local art photographer Frank Hallam Day. Roughly 70% of the 107 images exhibited this time were shot within the past three years. The oldest image is from 1970. There are no Polaroid images of any sort, despite those processes being red hot about ten years ago. Which is a long winded wonky way of saying this year's show has a more up to date feel to it.
Despite differences from last year, the theme is hardly a failure. Best in show (and winner of the Purchase Award as well) is recent New Orleans transplant S. Sean Khamphouang's black and white photo 'Highland Estate', shot in 2000.
Khamphouang's nocturnal image of an overwhelming light down by the power lines, has a menacingly haunting quality to it. We don't know what to make of it. Is it the omnipotent source of the power we use? Or is it an alien landing come to take power for their own needs? It has a tantalizing psychological push-pull to it. We want to go closer and find out what the source of all that light is. At the same time, we recognize the fact that it's clearly far more powerful than we are, and could easily destroy us if it were so inclined. In fact, even at this distance, the scant foliage and lone pole between us and the light source seem treacherously thin protection.
Khamphouang revels in the transformative power of existing light nocturnal photography. He's done a masterful job with this image to be sure. Check out his other work at www.sskphotography.com.
Further dabbling in the Delta brings us to the work of Nicholas Syracuse, who grew up along Route 1 In Virginia, and now splits his time between DC and New Orleans. Syracuse has two excellent images in this show, with my favorite being the color photo 'Gumballs and Crushed Chicklets U.S. 1, New Jersey' from 2003.
Here we find a couple of untouched gumballs on the roadside, with a multitude of other crushed confections in the blurry background. It literally has an edgy feel to it. A sort of malevolent playfulness.
Gumballs being something of a childhood pursuit, and the crushing there of by the adult driven passing cars offer some clear clues as to what the metaphoric message is. With the untouched gumballs literally the focus of the image, you're almost forced to give it a positive, survivor's type spin to it. When you wear on their nerves, and they want you to grow up, they tell you to 'go play in traffic'. The image seems to be commenting about the way adult life grinds down the playful pleasures of childhood, and how we should cherish the few pieces that manage to survive the process.
You can check out Nicholas Syracuse's road warrior work on his web site at www.roadphoto.com. He's turning out some really high quality work. Somebody give this guy a show already…..
No trip to the Delta would be complete without a dose of the blues, and so we turn to the work of Karen Coteler. 'Katrina I' and 'Katrina II", both color images printed from what we can only assume were flood damaged negatives, or slides. There is a definite 'found art' esthetic to this sort of thing. The photo editing job of selecting images to print and present, in effect becomes the artistic act itself. On the other hand, the vast majority of photographers rely on 'found' subject matter to shoot, so it's not a tremendous leap from there to here. Of course those who question the artistic value of photography to begin with, are tacitly questioning the mechanical capture of 'found' subjects. Bottom line, there is no hard and fast rule here, and as such you'll have to decide for yourself what you think of the image making process.
Side stepping that endless debate, the images do have a whimsically textural and playful quality to them. The image of the girl in a dress seems especially poignant. Water damage has erased her head in a cloudy fog. This one seems to be telling us about the human lives lost in Katrina, as well as offering tangible evidence to lost memories amongst water damaged belongings. Either way you cut it, if you were caught in that mess, you lost in a profoundly significant way.
The work of 76 additional photographers is on view. Check out the show, and find your own favorites.
Artistic Opportunities ————
Falls Church Arts has two upcoming shows, both with deadlines of February 25. One a juried show at Goodwin House requires the drop of work on Sunday February 25. The other requires the submission of intent to show, and details there of by the same day. Vision is scheduled to open March 9 in the Don Beyer Volvo showroom. See www.fallschurcharts.org for details, and entry forms for both of these member shows.