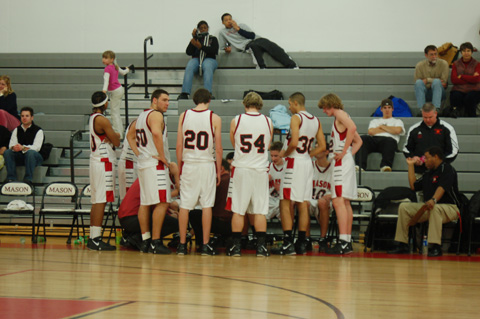 The George Mason High School boys varsity basketball team ended its regular season with a pair of victories over Rappahannock and Strasburg, thereby locking up the No. 2 seed for the upcoming Bull Run District Tournament. The No. 2 seed give the Mustangs a first-round bye and also home court advantage in their semi-final game against either Manassas Park or Madison County.


The Mustangs clinched the two spot after a Manassas Park loss, combined with a 68-59 home win Tuesday night. Leading by four at the half, Mason pulled away in the second, led by senior Jack Settje's team-high 18 points. Kevin Montgomery added12, while junior Tim Brooks contributed eight along with junior Mike Schwengel.
Last Thursday, Mason endured a tough road test from a persistent Panther team before finally prevailing, 54-50. Schwengel scored a season-high 17 points to lead the team.
"We got up early in both games and held off rallies from both teams" Mason Head Coach Chris Capannola said. "It was nice to see us keep our composure in those situations and it let to both wins."
The victories improve Mason's record to 11-11 on the season and 7-3 in the Bull Run District. The Mustangs will host the district semifinals next Tuesday at 7:30 p.m.