OFTEN UNDERAPPRECIATED, the George Mason High School cheerleaders lend their enthusiasm during the boys varsity basketball team's Tuesday night game against Strasburg. The team is coached by Lance Logan and Kristin White. (Photo: News-Press)

Falls Church Students Make Virginia Tech's Dean's List
Congratulations to the long list of locals to make the Virginia Tech Dean's List for the fall semester. The list includes: Karla Delgado, Matthew R. Dowden, Julia E. Falkenstern, Casey W. Evanoff, John D. Flatness, Melissa A. Jan, David X. Le, Griffin V. Ofiesh, Kathryn M. Rebers, Stephanie M. Rosse, Rungnapha S. Senedara, Syed M. Shamin, Jennifer A. Toth, Lauren T. Cobert, Ian A. Hay, Courtney E. Heck, Michael S. Jansen, Natalie A. Lauby, Robert W. Lauby, Dacia Leon, Brian J. McCabe, Sean B. O'Neil, James C. Scarano, Laura Degitz, Colette E. Ferri, Paul D. Williams, Reed A. Anzalone, Gavin R. Argo, Chelsea R. Caumont, Gregory A. Douglas, Christine M. Gallagher, Hillary M. Kett, Andrew J. Montgomery, Caroline S. Neyland, Spencer D. Patton, Joanna M. Sadler, Timothy M. Sadler, Geoffrey W. Schrager and Daniel P. Shook.
Capitals to Host Salute to the Military
The Washington Capitals will host their fifth Salute to the Military Night on Feb. 8, at 7 p.m. when the team takes on the Los Angeles Kings at the Verizon Center. Salute to the Military Night, is a special evening dedicated to honoring the men and women who are serving our country in the armed forces.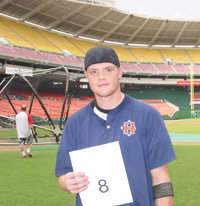 Black History Month Truly Celebrated
On the First Friday of February, the exhibition room of F.A. McGonegal's (212 N. West Street, Falls Church) was a popular destination. A crowded and clearly uplifted audience sampled sensational songs from Africa, Brazil, and the U.S. in a soul-stirring, foot-tapping tribute to Black History Month sponsored by the local Bahá'í community and F.A. McGonegal. First, the assembled public figures and private citizens feasted on beautiful Brazilian tunes by sultry Mozambican songstress Loide Jorde (with Sam Prather on keys). The program went on with great gospel from the Pastor Carter and the Carter Singers of Falls Church, who were so moving they returned later that night for more aisle-dancing inspiration. Host Greg Meyjes from the local intercultural consultancy Solidaris served his Creole Filé Gumbo. The final act of this musical extravaganza was an edge-of-your-seat performance by ELIKEH, a roots afropop collective with music from Togo that graced the enthusiastic crowd with two encores. The event was organized by Solidaris Intercultural Services LLC.
The Congressional Schools of Virginia Open House Sunday Feb. 11
The Congressional Schools of Virginia (3229 Sleepy Hollow Rd, Falls Church) will have an open house Sunday Feb. 11 from 2 p.m. – 3:30 p.m. The Congressional Schools of Virginia offers foreign language courses, music and art studios, an emphasis on community service, an equestrian program, band and choir and more to children in pre-school through eighth grade. For more information, call 703-533-9711.
Area Students Make Christopher Newport's Dean's List
Congratulations to local residents named to Christopher Newport University's Dean's List. The list includes Fairfax residents Brian Adams, Lori Bickman, Chelsea Bowes, Suzanne Burns, Peter Fadul, Neil Hamilton, Callie Hardman, Theodore Hellmann, Christina Jaeger, Lisa Johanson, Hannah Marshall, Margaret McDermott, Christopher Ojeda, William Pullen, Amanda Ranowsky, Catherine Smagala, Stephanie Wacek, Nathan Wallingsford and Erin Wojkun. From Falls Church, Mehreen Farooq, Andrew Havens, Illysa Schrager and Sarah Taylor made the list, as did McLean residents Elizabeth Daly, Darryn Lamb, Bianca Moreno, Richard Barton, Karla Feghali, Jeffrey Myren and Kristina Neighbour. Arlington and Alexandria residents Barbara Bonner, Catherine Henifin, Eryn Kawecki, Megan Mathis, Kristin Merek, Jessica Watson, Lisa England, Evelyn Heinemeier, Candace Mascia, Colin McCarthy, Donald Oellerich, John Peacock, York Prado and Tamara Rocabado were also named to the list.
Mary Ellen Henderson PTA to Present Seminar
On Feb. 27 at 7:30 p.m., the Mary Ellen Henderson PTA is presenting a seminar for middle and high school parents and students at Mary Ellen Henderson Middle School (7134 Leesburg Pike, Falls Church) on the topic of sleep. Dr. Helene Emsellem, s nationally known expert in sleep research and treatment, will speak along with her young colleague, Jessica Warburton, a recent Connecticut College graduate, who will talk with teenagers about the topic. Call 703-720-5700 for more information.
19th Potomac River Cleanup to Mobilize Thousands of Volunteers
The 19th Annual Potomac River Watershed Cleanup will hit shorelines, neighborhood parks and schoolyards of the region, from 9 a.m. to Noon either Saturday, Mar. 31 of Sunday April 1 depending on the site. "In the past the cleanup enabled the community to accept the problem and not change it," Tracy Bowen executive director of Ferguson Foundation said in a release. "This year however, the cleanup will be a tool to eliminate trash completely, rather than simply manage it."
The Cleanup is sponsored by the Ferguson Foundation, call 301-292-5665 to volunteer and for times and locations.
Northern Virginia Senior Softball
Northern Virginia Senior Softball (who boasts their average age to be 65) seeks men 50+ and women 40+ for fun, fitness and friendship. The league plays two, seven-inning slow-pitch softball games on Fairfax County fields Tuesday and Thursday mornings from mid-April to mid-August. That season is followed by Fall Ball, a 30-game September – October season. A seven- week indoor conditioning program begins Feb. 20 and the season begins April 17. Call Dave (703-534-5576) or Ted (703-913-0028) to sign up.