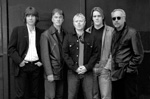 While attending school at Greenville College in Illinois, Augustana frontman Dan Layus failed piano — twice. Professor Kwon, Layus's instructor, never much cared for the fact that he couldn't read sheet music. After enrolling in a pair of music theory courses — and flunking both of them — Layus gathered his friends, primarily his fellow bandmates, and offered a bold new plan. Forget college. Forget grades. Forget Professor Kwon. Let's just go.
"Education was pretty big for me, so it was a tough decision," says Jared Palomar, Augustana's bassist of the fateful decision to leave school and hop in a car bound for California. "But this was what I wanted to do anyway, so why turn down the opportunity to do it with my best friends?"
Despite the doubts of naysayers like ole Prof. Kwon, the decision proved to be the right one. While they braced themselves for a long, hard road, the band was inked to Epic Records almost immediately.
Producer Brendan O'Brien (Pearl Jam, Neil Young, Bruce Springsteen) got a hold of the band's demos and personally flew up to Chicago to check out one of their shows. In the winter of 2004 the band recorded their debut LP on Epic and in the summer of 2005 they released it under the title All the Stars and Boulevards.
Boulevards captures the sound that made O'Brien swoon. The slate of songs is distinguished by Layus's flittering piano melodies and vacillating vocals that range from an angsty scream to a sweet, serendipitous falsetto. Behind him, Palomar and drummer Justin South pound out a robust rhythm section that embellishes the subtleties of their songs, turning tunes that could work as whispered coffeehouse lamentations into full-on anthems.
The album's major mojo centers on the sojourning single "Boston," a track that has been all over VH1 as part of the "VSPOT Top 20." Despite the song's smash success (a "Favorite Song" poll on the band's MySpace song shows "Boston" with nearly an 11,000 vote lead over any other track), its appeal wasn't immediately apparent when Layus first introduced it to his mates.
"To be honest, it wasn't my favorite," Palomar says. "But, it's always been one that connected with people. It's the theme of walking away from everything. We get a lot of messages from fans about how that's exactly their story."
Palomar also says that he's excited to see a number of fans growing to appreciate the group's other tunes as Augustana wraps up their headlining tour Feb. 2 in New York City.
"People have been singing along with so many other songs. 'Sunday Best,' 'Bullets.' It's crazy and it's encouraging."
Augustana embarks on a new tour, supporting the Goo Goo Dolls, that hits D.C. for two shows Feb. 5 and 6 at 9:30 Club. They'll stay on the road until April, then they'll head back into the studio to record some of the new songs they've been playing on this tour ("Heart Shaped Gun," "Devil's Blue Eyes," and "Cocaine") songs that Palomar says demonstrate a more mature sound.
"Musically, after touring for two years, we're a lot tighter," he says. "Lyrically, Dan just had a baby and that's changed all of our perspectives."
And who knows, a few years and a smash single later, maybe Professor Kwon has changed her perspective too.
• For more on Augustana, visit www.augustanamusic.com r www.myspace.com/augustana.