Rebounds, FTs by Schwengel Prove the Difference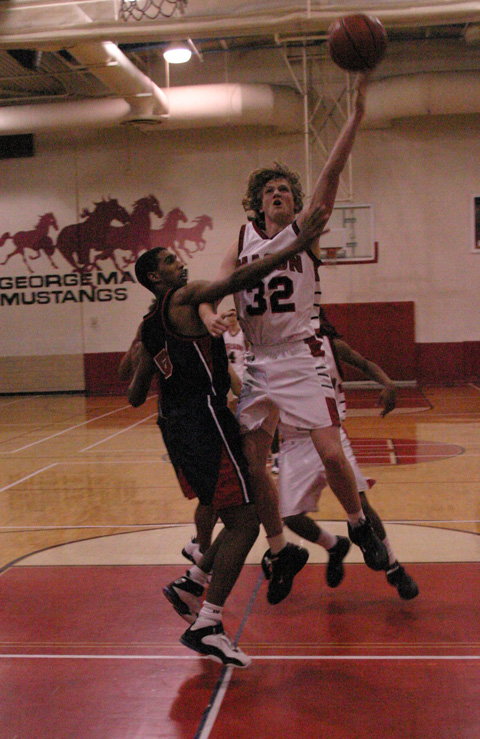 A couple of proverbial nail biters gave the George Mason High School boys varsity basketball team a couple of Bull Run District wins last week, as the Mustangs narrowly topped both Strasburg and Manassas Park by a total of just six points.
The Mustangs utilized a staggering 56-20 rebounding advantage last Wednesday, Jan. 17 to down the Rams, 52-50. Senior Jack Settje continued his impressive season with 29 points and 15 rebounds. Ben Zorn furthered Mason's dominance inside with six points and 11 rebounds of his own. The Mustangs' performance on the glass could not be understated, according to Mason Head Coach Chris Capannola.
"It's the only reason we won," he said.
With a slimming lead down the stretch, it looked as though Mason's Achilles Heel, free throw shooting, would again prove their undoing. The Mustangs missed seven of eight foul shots in the final quarter, but a last-second Strasburg three-pointer rimmed out, allowing Mason to escape with the victory.
"Usually when you dominate on the boards like we did, you win going away," Capannola said. "But we made too many turnovers and missed too many foul shots to win comfortably."
There was no comfort to be found in Friday's 76-72 double-overtime home victory against Manassas Park. Trailing by as many as 16 in the final quarter, the Mustangs whittled away, using a 12-0 run to tie the game at 57 apiece with just over a minute remaining. Mason netted the tying basket after a steal by Alex Prewitt, who turned up the defensive pressure down the stretch, led to a put-back by Settje. A pair of made free throws by Zorn gave the Mustangs a brief lead in the waning seconds, but Manassas Park converted a shot under the basket to send the game to overtime.
The Cougars struck first in the extra period with a three pointer by Alex Rivas, but Mason would rally to take a 65-63 the lead on a basket by Settje with 40 seconds remaining. Again, however, the Cougars found a way to score on another basket by Rivas to knot the game at 65 and send it to a second overtime.
Manassas Park opened up a four point lead to start the second overtime, but a basket by Zorn and a three-pointer by junior Mike Schwengel turned the tide in Mason's favor with 1:47 to go. Schwengel took over from there, hitting all six of his free throws over the final minute and change to hand the Mustangs a 76-72 win.
"It was the most unlikely victory of my coaching career," Capannola said. "We were dead in the water and somehow pulled it off. Unreal."
Schwengel finished with 13 points in the game, while Settje (23 points, 15 rebounds) and Kevin Montgomery (14 points, 14 rebounds) each finished with a double-double. Zorn contributed nine points and eight rebounds.
The highs of the Manassas Park game were consistent with the inconsistent play of the Mustangs this season. At times the team shows the talent to beat anyone on the court, at others the squad struggles with turnovers or yield easy shots defensively. It was a theme noticed again by Capannola in these two most recent games.
"We play well for small stretches and poorly for large ones," Capannola said. "The difference is that we found a way to win these last two, whereas we lost all five one-possession games [up to] this point."
Fortunately for Mason, only two of those one possession losses have come during the district portion of their schedule. The Mustangs are now 4-2 in the Bull Run (8-10 overall) with both losses to Manassas Park (63-62) and Clarke County (62-60) coming on the road. The Mustangs face Clarke County this coming Tuesday at Mustang Gymnasium at 7:30 p.m. Prior to that contest they'll travel to Madison County on Thursday, Jan. 25. In the meantime, Capannola will keep pressing his team for consistency and hope that it takes.
"I think we need to realize that the things that make us good are fundamentals and passion for competition," he said. "Too many times we play an almost rec-league style and it never works, we also play tentatively and indifferently at times. When we are backed into a corner we come out fighting, but that is going to catch up with us in the next few games if we continue."