July 2, 1908 – January 14, 2007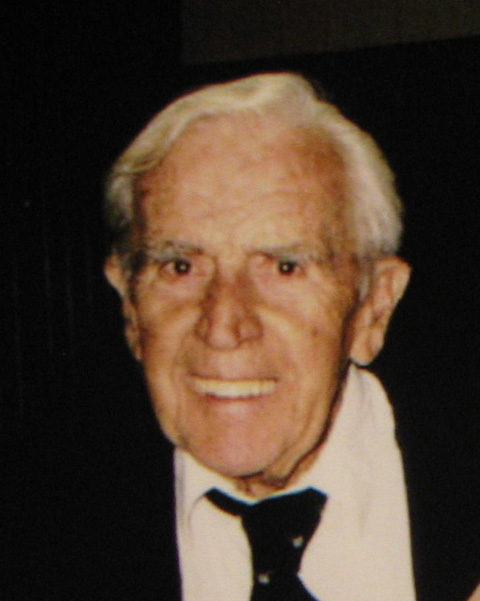 Sloan Michael Knecht, 98, a long-time Falls Church resident known for his many volunteer efforts for his church and community, died Sunday January 14, 2007 at Sunrise of Countryside Assisted Living in Sterling, Va., where he had lived for two years.
Mr. Knecht's volunteer work includes countless hours at St. James Church and school, in Falls Church. From building stage sets, bookcases, and bazaar booths to serving as parish council member, Eucharistic minister, and church painter, he enjoyed giving his time for God and his church. He took pride in showing off such projects as the roadside nativity scene he installed each Christmas for the sisters at the convent. He and his wife frequently hosted large picnics at their home "Knecht Park" for the church and school communities, as well as other civic groups in the Fairfax/Falls Church area.
Mr. Knecht also volunteered with the Boy Scouts, Literacy Council of Northern Virginia, Meals on Wheels, and other local Catholic parishes. He was a founding member of the Merrifield Improvement Association and served for many years as treasurer. He was a lifetime member of the Catholic War Veterans.
Sloan Knecht received recognition for his volunteerism from several organizations, including an award from the Catholic Business Network of Virginia and the Lord Fairfax designation from Fairfax County. The announcement of his Lord Fairfax award says in part: "Sloan Knecht is one of Fairfax County's unsung heroes."
Born July 2, 1908 in West Salisbury, PA, he was the first son of the late Joseph Adam Knecht and the late Margaret Sloan Knecht. Before coming to the Washington DC area in the late 1930's, he worked at many different jobs, and sometimes several jobs at once, in PA and MD, including farm laborer, saw mill worker, ice plant laborer, railroad and highway builder. Once in Washington, he worked at the Corcoran Gallery of Art as a security guard and at the U.S. Post Office downtown as a mail sorter, before joining the Army Air Corps in 1942. His service during World War II included time stationed on the island of Tinian, where he witnessed the departure and return of the Enola Gay. He achieved the rank of staff sergeant. Sloan Knecht was a proud veteran who considered himself so fortunate to live in and serve "the greatest country on earth."
Returning to the Washington area after the war, Mr. Knecht married Cecelia Schruender, a Catholic University nursing education student from Massachusetts. He purchased property in the Falls Church area of Fairfax County and built his own home there from some of the trees he cleared from the land. He loved his home and spent many hours keeping the grounds looking like a park. After several years of working for Bender Miller Heating Co. in Falls Church, he joined the Federal Aviation Administration Property Management Branch at Dulles International Airport, retiring in 1978. Even while working these full time jobs, he continued his practice of supplementing his family's income with additional weekend or night jobs.
Sloan Knecht is famous for his strong work ethic and the satisfaction and joy he took from a job well done. His charming personality, willingness to help, and sweet, ready smile made him a favorite among family, neighbors, and anyone else he encountered. Above all, he cherished his large family and felt grateful surprise that, at almost forty years old, he found a good wife and went on to have six children.
One of the great sorrows of his life was the loss of his youngest son, Joseph B. Knecht, ten years ago in a construction accident. Like his dad, Joe also spent many, many hours working at St. James. The new gymnasium at the school is named in his memory.
In addition to his parents and his son, Mr. Knecht's brothers, James and Lawrence, preceded him in death. Survivors include his wife of 58 years, Cecelia; children: Margaret Thaler (Richard) of Charlotte Hall, MD, Mary O'Connor (Michael) of Greenlawn, NY, Grace Weeden (Gary) of Gales Ferry, CT, Sloan Knecht Jr. (Debby) of Potomac Falls, VA, and Catherine Williamson (James) of St. Cloud, MN; fifteen grandchildren: James Reingruber (Molly) and Christopher Reingruber (Amy); Elizabeth Boll (Greg), Molly D'Antonio (Paul), Lauren Marlow (Craig), and Katie O'Connor; Adam and Conrad Weeden; Amy Knecht, Erin Rojas (German), Gwen Wotring (Matt); Briana and Erica Williamson, Joseph and Anna Knecht; ten great-grandchildren: Ben and John Reingruber; Jacob, Sarah, and Lucas Reingruber; Jake Marlow; Samuel D'Antonio; German Isaac and Moriah Rojas; Sydney Wotring; Jane Morrissey Knecht.