FALLS CHURCH RESIDENT Al Eisele (left), former editor of The Hill newspaper in Washington, D.C., chats with former Democratic presidential candidate George McGovern after McGovern delivered a forceful address calling for the withdrawal of U.S. troops from Iraq at the National Press Club Friday. (News-Press photo)

F.C. Lax Registration Announced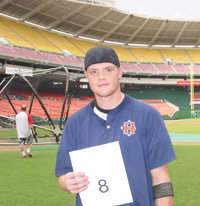 Registration is now open for Falls Church Youth Lacrosse. You can register online at www.fclaxclub.com. The deadline for registration is Feb. 1, with practices beginning in early March. The league plans to field teams for boys and girls grades 1 – 7 (born between 1994 and 2000). More information on the league can be found at the aforementioned web site.
Erging, Yes, Erging for Dollars
The McLean High School crew club will row 10,000 meters as part of an "ergathon" at Books-a-Million in downtown McLean this Saturday, Jan. 20. The event will take place from 9 a.m. to 6 p.m. with the club members utilizing ergs, or rowing machines, to accomplish their goal. The event will raise money for the club, this year celebrating its 10th anniversary. The team competes against others in the D.C. area and has produced several national champion rowers. Two recent alumni are on the U.S. national team.
Hatcher Hatches on Dean's List

Vanessa Hatcher, a junior and speech major at Hillsdale College, was recently named to the Dean's List for the 2006 fall semester. Vanessa is the daughter of David and Vasana Hatcher of Falls Church, and a 2004 graduate of Falls Church High School.
Strug Speaks to Special Olympians
Olympic Gold Medalist Kerri Strug joined more than 250 Special Olympics Virginia athletes at the Jan. 12 Opening Ceremony of the Special Olympics Winter Championships at Dominion High School. Strug, joined other athletes in offering a speech prior to the ceremonial lighting of the Olympic Torch. For more information on the events, visit www.specialolympicsva.org.
Head to 'Garden Gate' and Have a Heart
Beyond the Garden Gate has a few more items for sale these days and they are special items indeed. Lucinda Crabtree and several of her friends (Bridget Anderson, Rhoda Baer, Caroline Burkman, Karol Forsberg, Allison McMichael, Lani Phillips, Mildred Porter, Susan Sloan, Carol Talkov and Lisa Suchy, along with sons Devan and Dillan Suchy) crafted mosaic hearts out of ceramic, glass and grout to be sold at Beyond the Garden Gate with the proceeds earmarked for heart disease awareness and advocacy organization WomenHeart. Crabtree, owner of Crabtree+ Company, a Falls Church-based marketing communications firm, has been supporting WomenHeart for the full 10 years of its existence. To date, the group has made 30 hearts and expects to raise nearly $2,000. For more information on WomenHeart, visit www.womenheart.org. For hours and directions to Beyond the Garden Gate, visit www.beyondthegardeng8.com.
Printmaking Workshops on the Horizon
The Vienna Arts Society is sponsoring a Printmaking Workshop for children ages 7 – 12 at the Patrick Henry Library (101 Maple Ave. E, Vienna) from 4 – 5 p.m. on Tuesday, March 27. The event is free, however you must register. You may do so by calling 703-938-0405. For more information, visit www.viennaartssociety.org.
Volunteer Org. Offers Development Series
Starting on the final day of this month, Volunteer Fairfax will offer the first of its 2007 professional development series for volunteer coordinators and program managers at nonprofit organizations. The first session, "15 Minutes of Fame: Putting Volunteers in the Limelight," will include an open discussion on the best practices for recognizing and rewarding volunteers. The workshop will be held from 8:30 a.m. to 12:30 p.m. Fees range from $35 – $55 per session. To register or find out more, visit www.volunteerfairfax.org, then click on "Training Registration."
Metropolitan Council Tabs Gross as Vice Chair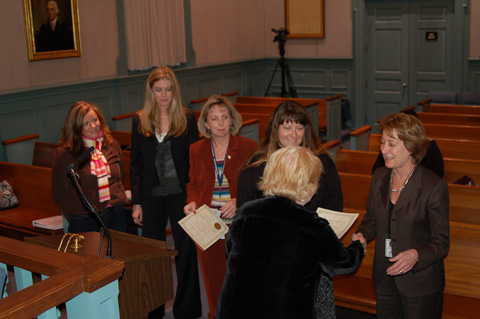 The Metropolitan Washington Council of Governments recently elected District of Columbia Council Chairman Vincent C. Gray to head its Board of Directors. Montgomery County Council Member Michael Knapp and Fairfax County Supervisor Penelope A. Gross will serve as vice chairs.
Gross has served on the Fairfax Board of Supervisors since 1996. She has served as chair of COG's Chesapeake Bay Policy Committee, Water Supply Task Force and Public Safety Policy Committee.
The board also appointed chairs to oversee several policy committees. Among them, was Fairfax County Board of Supervisors Chair Gerry Connolly, who was reappointed to chair the National Capital Region Emergency Preparedness Council.