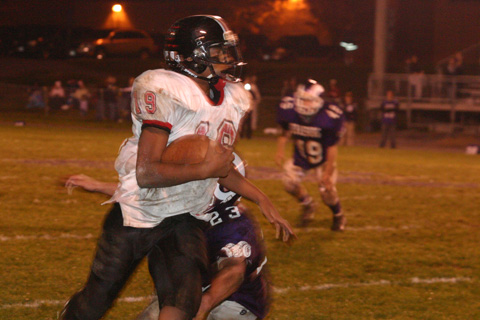 The George Mason High School boys varsity basketball team dropped another close contest last Wednesday, falling 62-60 to rival Clarke County. This time, at least, the difference between winning and losing did not come from the foul line.
The Mustangs hit all 11 of their free throws, but could not best the Eagles, as they endured their second defeat in the Bull Run District. Previously the Mustangs fell by a single point to Manassas Park, 63-62. That game saw Mason miss 10 of their 22 free throws.
Last Wednesday against Clarke, Jack Settje led the team with 21 points, including a pair of three-pointers. Mike Schwengel was next in line with 13 points, while Kevin Montgomery added 10 for the Mustangs.
Mason didn't linger on the defeat and closed out the week with a victory on Friday over Rappahannock, 74-53. Settje recorded a triple-double in the win, totaling 14 points, 16 rebounds and 10 assists. Mason's Tim Brooks equaled Settje in the scoring column with 14, while Schwengel dropped 13 points for the second straight game. The Mustangs took control with a nine-point halftime lead and never looked back as they cruised to victory.
The Mustangs continued their schedule with a road game at Strasburg on Wednesday night, the final game of their first rotation through the Bull Run Schedule. Mason currently stands at 6-10 overall and 2-2 in the district. Results of the Strasburg game were not available at press time.