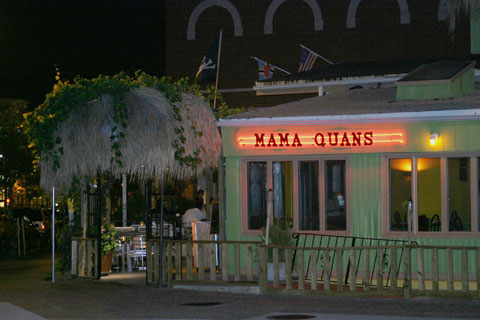 Vegetarian (noun). 1.) One who's diet is composed primarily or wholly of vegetables, grains, fruits, nuts and seeds. See also: herbivore.
I am not now, nor have I ever been an herbivore. Like the mighty Tyrannosaurus Rex from the days of yore, or the majestic Lion roaming the African planes, I am a carnivore. Sure, vegetables are fine as a side dish, but when we get right down to the main course, I desire meat. I crave it. Previous encounters with vegetarian fare were underwhelming at best. I recall my first encounter with a "tofu hotdog" to which my vegan brother subjected me a few years back. The texture was somewhere between "mush" and "glop," and the taste, well, if the color gray had a flavor, then that "tofu hotdog" would have been it. So, imagine my surprise when I sat down at a 100% vegetarian café and not only had an immensely pleasurable dining experience – but actually enjoyed eating tofu!
Located on Maple Avenue in Vienna, the Sunflower Vegetarian Restaurant is a sanctuary for those seeking refuse from red meats, saturated fats, chemical additives, and other assorted "treats" found within contemporary kitchens. Every item on the menu is 100% organic as well as 100% delicious.
Yes, that's right. I said delicious.
For veggie-novices, such as myself, the Sunflower is a perfect introduction to the world of vegetarian cuisine. There is no need to feel self conscious or timid. The Asian-inspired interior is as warm and inviting as a summer garden. And the friendly staff is happy to guide newcomers through the menu, which, considering the impressive selection, is a good thing. For many, the most difficult part of being vegetarian is not just eschewing the wonderful goodness that is meat, but rather finding a menu that offers more that just a "vegetarian option." In fact, even vegetarian establishments have difficultly coming up with more than a dozen or so menu items. The Sunflower however, boasts a menu that runs the gamut from Asian style dishes (such "General Tso's Surprise") to more traditional vegetarian entrees (such as the "Peace & Harmony" — grilled eggplant stuffed with vegi-bacon, pine nuts and covered in sun-dried tomato mushroom sauce) — and that's not all; there are appetizers, soups, salads, noodle dishes, sushi rice, deserts, coffee, tea — the menu goes on and on.
Of course, what good is variety without flavor? In this case, the flavors are as immense as the menu is diverse. The sauces are rich, and the vegetables are crisp and fresh. One can taste that the entrees are prepared with care, using only organic ingredients (no MSG to be found). Every bite seems to echo the overall philosophy of harmony and happiness. In addition to vegetable dishes, the menu also contains a selection of faux meat dishes. These items, such as, the aforementioned General Tso's Surprise and fried popcorn "chicken" (both of which are excellent choices for those new to vegetarianism), capture both the flavor, and (most importantly) the texture of meat. In fact, the General Tso's surprise was so good, that my friend and I actually fought over whom would take home the leftovers.
With its pleasant atmosphere, moderate prices (lunch entrees ~$6; dinner entrees ~$10) and generous portions, the Sunflower Restaurant is an obvious choice for vegetarians and vegans (the menu is roughly 80% vegan) — as well as for those with food allergies. Those however, who have yet to try vegetarian fare, or those, like me, who might have had unfavorable experiences in the past, the Sunflower Restaurant is highly worth the trip to try something new. Treat yourself to a dining experience that is not just good for your body, but your taste buds as well.
Maybe it's not so bad being an herbivore.
Sunflower Vegetarian Restaurant
2531 Chain Bridge Road, Vienna, VA 22181,703.319.3888
http://www.crystalsunflower.com/
11:30am – 9:30pm