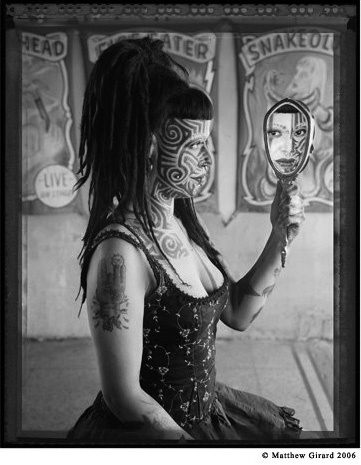 'Wound' by Allison Cooke Brown (Yarmouth, ME), composed of vellum sheets, thread, clamp, and batiste.
"Mixed Messages"
Through this Sunday January 14. Target Gallery at the Torpedo Factory Art Center, 105 North Union St., Alexandria. Gallery hours: Noon to 5 p.m. Wednesday through Sunday. (703) 838-4565 (extension 4), or see www.torpedofactory.org.
"Mixed Messages" is a national juried show of mixed media art works by 29 artists (ten of whom are from VA, DC, and MD). Some of these open call shows wind up with a thematic thread running through them, due to the fact that one person picked the art to be seen. In this show the strongest pieces seem to revolve around families in a generational sense, and memory.
Brad Story (Essex, MA) has a 5 foot plus 'Heron' sculpture on display. At first blush it seems to be another fairly predicable bird sculpture. Not much of anything to talk about per se. However my male brain did pick up on the very female opening running the length of the bird's torso underneath. I couldn't make sense of it. I brushed it off as me needing to get out more, and moved on to the next piece. You can spot these sorts of things from time to time in various art works. Sometimes the artist does it with a flick of the brush, and as such is as likely as not placed in the art work subconsciously. But certainly not here. This example is carved out of wood, you have to want it to look like this.
The problem for me was that it was so incongruous with the rest of the work, and our expectations of what a bird is, that I couldn't make sense out of it. About 24 hours later my subconscious spit out the answer straight out of nowhere. It was one of those hit your forehead, and say "duh" moments.
You see, what we have here is not an arty interpretation of a Heron, but rather the artist's interpretation of the mythical Stork. Not a Stork, the Stork. As such it's a truly wonderful object. Keeping in mind that the Stork is an adult construct whose sole purpose is the avoidance of a 'birds and the bees' discussion with young children. As such the Stork is a vehicle for magically delivering babies, not conceiving them. It is definitely not a sexual being as we know it. Therefore 'Heron' is rightly missing vital bits of pleasurable anatomy (and partly what threw me off the trail to begin with). The artist has thought this one through. He deserves applause for that alone.
Fortunately Heron is not a concept only piece. The carved wood detailing on the feet, hips and belly is quite nice. I especially like the diaphanous insect like wings, that for me resemble primitive airplane wing construction. It's worth remembering at this point that this is in fact a man made airborne beast.
I did have a little problem with the head, neck and shoulder areas. They aren't worked to the same standard as the rest of the piece, and as such detract somewhat from the whole presentation. They look somewhat kitsch to my eye. Then again the whole concept of the Stork is rather kitsch, so maybe it's OK to look that way. Either way it's a wonderfully creative, and witty piece. Like a great joke told with a straight face, the delivery is impeccable.
Another great piece in this show is 'Wound' by Allison Cooke Brown (Yarmouth, ME). 'Wound' is deceptively simple, but deep in a fairly straightforward way. Constructed of many layers of vellum, which are sewn together with red thread spelling out the word 'remember'. At that point the individual sheets were pulled back and ripped loose from the sewn section, leaving a ragged elliptical hole in each sheet. The individual sheets then sit in a fairly puffed up stack, with the aforementioned holes forming a sort of pit at which 'remember' lies at the bottom. All of which is covered by a thin white sheet of gauze.
A highly metaphoric piece that seems to say no matter how well we try to cover them up, some wounds are too deep to heal. Of course the root of the problem, and the source of our continued pain is the memory of the wound. One does not want to repeat the injury, and part of the protection for that is remembering the injury and keeping one's guard up against future injury. It's a somewhat circular problem, in which we perpetuate the damage others do to us. A good dose of 'forgive and forget' would right the ship, but sometimes a lifetime of effort can't get the job done. This is the stuff that turns innocent children into twisted adult monsters with holes in their souls. It's one of the most truly tragic aspects of human psychology.
'Artomatic'
Openings this Friday January 12, from 6 to 9 p.m. Score another one for the arts district in Bethesda. Artomatic (the D.C. biannual art free for all) was supposed to be this winter, but failed to make it out of the conference room due to problems finding an acceptable venue. So, a group of galleries in Bethesda got together and crafted a makeshift 'Best of Artomatic'. Mind you, that is if there had been an Artomatic. The mass opening will be this Friday night at six different venues. Look for poetry, music, dance, and lots of art. Should be the place to be this Friday, so expect a crowd. See www.artomatic.org for a long list of addresses and events. Washington School of Photography, Creative Partners, Fraser, and Neptune galleries have the art. All events are Free.
Special notes: Artists needing head shots for their bio sheets, web sites, etc. can get them taken for free (bring a blank CD) at Washington School of Photography on January 19, from 6 to 9 p.m.
Tag team portraiture will be done Saturday, January 13, from 12:30 p.m. to 5 p.m. at Gallery Neptune. This wacky take on portraiture will be executed by the "4traits", a group of four emerging artists from Washington, DC: Brandon Bloch, Alex Slater, Rob Stelboum, and Ming Yi Sung Zaleski.