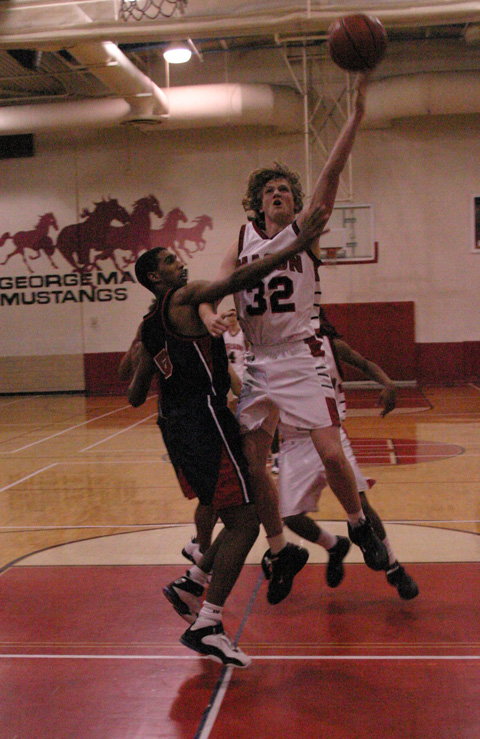 A trio of losses in the Fauquier/Liberty Winter Tournament marred the holidays for the Mustangs, as poor free throw shooting again deprived the team of a potential upset.
After falling on consecutive nights to Brooke Point (68-44) and Liberty (58-44), George Mason High School's boys varsity basketball team found itself in striking distance of Highland. Senior Jack Settje scored 32 points to keep the score close, and senior Ben Zorn scored a career-high 16 points to lead their team back from a 27-10 deficit. However, the Mustangs missed nine of their foul shots in the fourth quarter and those points proved the difference in the 70-68 loss.
"We had a chance to tie it in the waning seconds, but couldn't," Mason Head Coach Chris Capannola said. "[Missing free throws] has been our nemesis all year. We make half of those and we win the game."
Despite coming up winless in the winter tournament, which featured larger schools that the Single A George Mason, there were signs of optimism. Though those signs also pointed out the negative factors that have been directly contributing to George Mason's (4-7) losses.
"We are still having one bad stretch, usually almost a full quarter, that is killing us," Capannola said. "We won seven of the 12 quarters we played in the tournament, but the one bad quarter completely takes us out of the game.
"We have to find ways to stop people when they go on runs, and to answer with a run of our own, and if we do, we can win a bunch of games."
Capannola and his team hope that begins Wednesday night, with a win over Bull Run District opponent Manassas Park. Results of the road game were not available at press time.
The next contest for the Mustangs comes Friday as the team returns home to face Madison County. Tip off time for that game is 7:30 p.m.