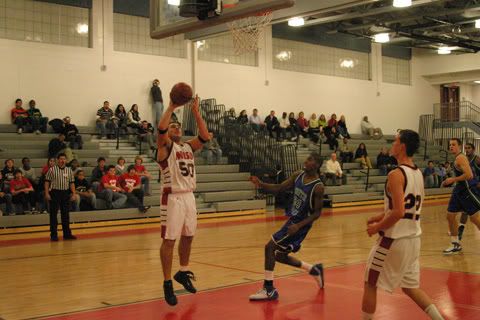 FT Misses Prove Costly
A pair of losses before their winter break sent the George Mason High School boys basketball team home for holidays unsatisfied. In the past week, the Mustangs dropped two close contests on consecutive nights to Loudon County and Park View by a combined total of seven points.
Against Loudon County (2-5), Mason's Jack Settje led the team in the scoring column with 20 points, followed by junior Mike Schwengel with 13. No one could match the game-high total of 29 scored by Loudon's Donne Lucas as his team prevailed 62-58. Lucas scored 11 of those points in the fourth quarter.
Despite Lucas's strong performance, George Mason High Head Coach Chris Capannola believes his team made the task a lot harder by failing to execute the fundamentals.
"The difference [between winning and losing] was the free throws and easy shots and also careless turnovers at the end of both games," Capannola said. "Our fundamentals are lacking at times and we make seemingly easy plays difficult at times."
The Mustangs shot only 60-percent from the foul line against Loudon County.
Rounding out the high scorers for Mason were Ben Zorn with seven points and Jake Johnson with five.
Perhaps inspired by the holiday season, the Mustangs were again in a gift-giving mood against Park View. The team combined to make only half of their 16 free throw attempts and ultimately found themselves on the short end of a 50-47 final margin. Settje again led the Mustangs with 16 points, with Zorn chipping in nine. Mike Straub added six on two three-pointers, while Alex Prewitt scored five.
The victory moved Park View's record to a perfect 9-0, while Mason dropped rto 4-5 on the year.
Despite the losses, the Mustangs are showing signs of progress. Though they were without leading-scorer Settje, Mason fell by 20 points the first time in matched up with Loudon County this season.
"Settje's return was a big factor [in the closer outcome], but also our defense has improved considerably since the first few games," Capannola said. "The effort from the team though has been outstanding. These two losses had nothing to do with our effort. I'm looking forward to the New Year if we can keep making the strides we're making so far."
Before 2007 begins, however, the Mustangs will face three more non-league opponents at the Fauquier/Liberty Winter Tournament. The tournament began Wednesday, Dec. 27, though results were not available at press time. The Mustangs will also play tournament games on Thursday and Friday. They return next week to begin their Bull Run District schedule Wednesday, Jan. 3 on the road against Manassas Park.