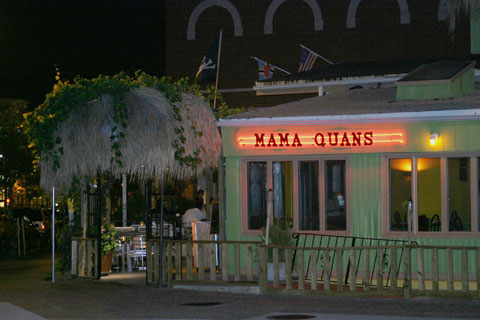 Nestled in the back corner of Idylwood Shopping Center, one of Falls Church's best small-town bars, Mark's Pub, is proof that great things come in small packages. In contrast to some of the coat-and-tie venues of Falls Church City, this is a pub without pretension and with all the comforts of your local neighborhood drinking hole. Owner Ray Adame has operated for 26 years (as old as this writer!) and is one of the area's long-running independent businesses. With this year's renovations, Mark's Pub is getting an upgraded look, but still offers all of its original charm.

Mark's Pub makes for an excellent location for an after-work happy hour or late-night meal. It's an intimate setting that never feels too crowded, always dimly lit and smoky with good music in the background. Seating booths line the right side, with the full bar on the left. Along with new wood countertops and tables, the upgrades include the large flat-screen monitors, perfect for a watching the game over a pitcher of beer.
Food service is quick and always served with large portions. With most entrees in the $5.95-$6.95 range, and none more than $12, this leaves more room on your tab for the bar. Sandwiches have that nostalgic diner feel to them, large portions on rolls or toasted bread, with generous helpings of fries. One favorite, the Tuna Patty Melt, is served open faced and covered with melted swiss cheese on rye bread. It's the perfect consistency, not too heavy or creamy, but with proportions so big that you're practically getting two melts for the price of one. The Grilled Chicken Sandwich is also ideal, a healthy-sized grilled patty smothered with sautéed mushrooms and melted cheese. With both sandwiches under $7, they're worth the money and taste great. For a full entrée, Mark's Pub offers home-style favorites like Homemade Meatloaf and Grilled Pork Chops to London Broil, which is served with a heavy brown gravy and creamy mashed potatoes. For more traditional pub cuisine, the Fish 'N Chips tastes wonderful, white fish with a thin breading served with fries. Not too dry and always appetizing, its another great dish for only $8.95. If you're looking for a few more greens in your meal, salad options are in abundance, from traditional Caesars to the Taco Salad. The latter is served on a bed of tortilla chips with Mexican rice, chili, plenty of lettuce, green peppers and tomatoes, topped off with shredded cheddar cheese.
Being that Mark's Pub is a bar at heart, its easy to pass it off as just another late-night diner. During their busy nights, you might be more inclined to order beers and Buffalo wings, sit back and enjoy their live entertainment. Every Wednesday night is reserved for Open Mic, in which acoustic musicians get a chance to perform for the masses. However their Saturday night live music series boasts many notable local acts to their roster. Country-Rock group, DC 3 is a regular staple at the pub, along with Jimmy Buffet-esque singer Chris Gantzer. Saturday night performances begin at 9:30 p.m. and can close off as late as 1 a.m. Upcoming events can be viewed at www.MarksPub.com.
With the lack of late-night eateries in the Falls Church City area, Mark's Pub has a lot to offer for a young crowd looking for a low-key night out, as well as a more professional crowd looking for downtime. With family service throughout the day and the bar turning "21 and over" at 9 p.m., it's a venue for a family lunch or a great spot for beer and music with friends afterwards. Whether you're there day or night, owner Ray Adame can be often spotted at the bar, ready to welcome you in with a smile.
Mark's Pub
2190-E Pimmit Drive
Falls Church, VA 22043
703-356-3822
Monday-Saturday – 11am – 2am
Sunday – 12am-9pm