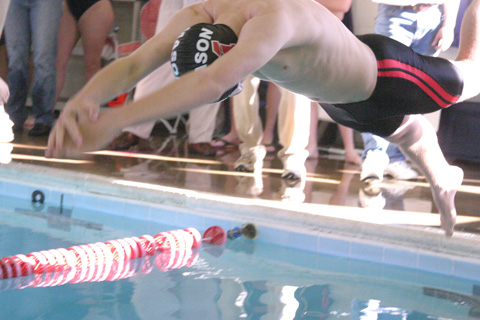 Last Saturday, the George Mason High School varsity swimming team participated in their very first meet as a letter sport and they made it count at the Dunn Loring YWCA.
The boys' squad defeated both Clarke County High and Strasburg High, 93-73 and 121-30. While the men began the season on the right foot, the women Mustangs stumbled out of starting gates, falling both to the Eagles, 83-64, and to the Rams, 81-71.
Leading the way for the Mustang boys was the relay team of juniors Jeffrey Williams, Kyle Nette and Andrew Breen, and sophomore Carlos Clark, who combined to win the 200-yard medley relay by 10 seconds, with a time of 1:54:25. Nette also placed first in the 200-yard individual medley, beating out fellow Mustang Clark by eight seconds, with a time of 2:19:20, as well as finishing second in the boys 100-yard butterfly to Clarke County star Jacob McCorkle.
In addition, Andrew Breen placed first in both the 100-yard and 50-yard freestyle, while Williams took first in the 100-yard backstroke. The 400-yard freestyle relay team of Clark, sophomore Jack Cashin, freshman Sam Parker and Nette took first, annihilating the competition by 30 seconds, with a time of 3:57:97. Parker also took first in the 100 breaststroke, and the 500-yard freestyle, the 500 being a grueling ten laps around the pool.
On the girls side, although they came out on the losing end, the Mason swimmers demonstrated that the best is yet to come. Junior Jordan Frankovich and freshman Kelley Frank led the way for the Mustang ladies, placing first in the 200-yard freestyle and in the 500-yard freestyle, respectively. Frank also took the gold in the girls' 200-yard individual medley, crushing the nearest competitor by nearly 40 seconds.
The girls relay team of Frankovich, Frank, senior Miriam Alshagra, and junior Krisie Southern won both races they competed in, the 200-yard medley and the 400-yard freestyle.
Frankovich also took second in the 100-yard breaststroke, falling only by two seconds to Strasburg's Lindsey Muller, while Akshagra took third in the 100-yard freestyle and Southern placed second in the 50-yard freestyle, losing by a mere .4 seconds to Clarke's Sara Shim.
The team, under the direction of Mason alumnus Jon-Michael Lemon, is in its first year as a varsity sport, having just been bumped up from "club" status.
This meet was their only home meet of the year. The Mustang's next meet will take place Jan. 4, as they battle Clarke once again at the Strasburg Pool.