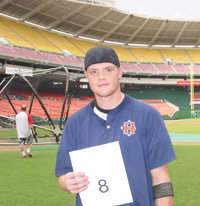 WITH ALL OF THE RECENT ATTENTION being paid to Robert F. Kennedy with the release of the new motion picture "Bobby," Laurence M. Gordon sent in this photo of RFK posing with the members, managers and coach of North Bethesda Jr. High's 1963 Montgomery County championship basketball team. Gordon, third from the left, recalls in the meeting at RFK's office when he was Attorney General that Kennedy asked the team a history question that no one could answer. "It was a special experience being in his presence," Gordon says now. The meeting was arranged by Edwin O. Guthman, the father of Les Guthman (fourth from the left). The elder Guthman worked as Kennedy's press secretary at the time. Ed Guthman, who won the Pulitzer for national reporting in 1950, would later write a book on Kennedy after his death titled "We Band of Brothers." (Photo: Courtesy Laurence M. Gordon)
Searching for Victorian Pics
The Victorian Society at Falls Church is seeking photos, drawings, maps, postcards or anything else that depict Falls Church buildings, people and events during the years of 1837-1910. These items will be included in a book about Victorian Falls Church, as part of Arcadia Publishing's Images of America books series. The book is scheduled for publication in 2007. If you have any items of interest, please contact Midge Wang at (703) 534-8394.
No Super Bowl, But Marshall Goes to Disney World
George C. Marshall High School students traveled to Walt Disney World on December 2, to take part in one of several Disney Youth Education Series Programs, (Y.E.S.), offered throughout the Resort. The Marshall students took place in "Keepers of the Kingdom" at Disney's Animal Kingdom. Each year, groups from around the world take part in these programs which include career discovery, life management, physical science, natural science, history, art and humanities. For more information on Disney Y.E.S. programs, visit www.DisneyYES.com or call 800-603-0552.

Dickinson Makes Fennel Famous
Congratulations goes out to Vienna resident Eric Joseph Fennel, who was honored by the Dickinson College Sports Hall of Fame, for his involvement in the 1989 and 1990 men's golf team. During those years, the teams posted back-to-back Mid Atlantic Conference Championship (MAC) titles, and were one of just two Division III teams invited to play in the Eastern College Athletic Conference (ECAC) South District Championships. Fennell graduated in 1992 from the school, located in Carlisle, Pa., with a Bachelor of Arts degree in political science.
Jags Play for Mickey
The Falls Church High School Orchestra performed at Walt Disney World Resort in Florida on December 1. The group made the trip to take part in Disney Magic Music Days and perform for an international audience of Theme Park guests. Groups from all over the world travel to perform, learn and compete at all four Walt Disney World Theme Parks. For more information, please visit www.DisneyPerformingArts.com or call 1-800-603-0552.
Red Cross Mobile Kitchen Serves F.C.
The Spirit of America, the American Red Cross of the National Capital Area's 53-foot mobile kitchen, served free breakfast and lunch on December 5 at Jefferson Park in Falls Church. As part of the Disaster Kitchen Training (DKT), the Spirit's staff and 20 military reserves prepared about 350 meals. The reserves are part of the Mass Care activities conducted by the Spirit. For more information about this branch of the Red Cross please call, (703) 584-8455.

Lund is a Shoebox Santa
This year, Falls Church resident Irene Lund hopes to make the holidays a little brighter for the area's sick children. Lund, who knits homemade dolls and makes beds for them from shoeboxes, will be donating these gifts to children at Fairfax Hospital. For more information on Lund's creations, or to view pictures of the dolls, please contact her step-daughter Kathy Hackshaw at happyhacks@cox.net.
Toy Drive for Alternative House
New to You, Inc. is collecting holiday presents and necessary items for Alternative House, an organization that helps children in need. The age range for desired donations is pre-teens and teens for both boys and girls. The toys/gifts should be unwrapped. Items should be placed in the basket at New to You (108 W. Broad St., Falls Church) by Dec. 19.
Santa Sets Sights on F.C.
Santa Claus will once again be stopping in Falls Church prior to his Christmas-eve Tour de Force. Starting Dec. 15 and going through Dec. 23 Old Saint Nick will be rolling through select neighborhoods of Falls Church between 6:30 – 9:30 p.m. In order to keep his faithful steeds fresh for the big finish at Christmas, he will be riding around with the Falls Church Volunteer Fire Department on a festive fire engine. The site of a red flashing light leading the way should be a familiar one for Rudolph's rotund rider! For a street map of Santa's travels, visit www.fallschurchvfd.org.
Equivalency Practice Test Offered
A free GED practice test will be offered on Saturday, Jan. 6 from 8 a.m. – Noon at Woodson High School (4105 Whitacre St., Fairfax) in Cafeteria B. Participants will receive an individualized review of test results, as well as recommendations. Call 703-503-6442 to register.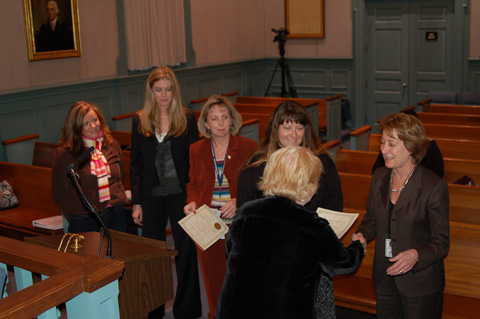 Stars Searching for Campers
The Vienna Stars will hold a fastpitch softball camp Dec. 26-29 for girls 8 – 12 years old. Coaches and players from the Vienna Stars travel teams will provide personal and group instruction in all phases of the game to campers grouped according to age and ability. The sessions, $40 per day, will be at the Vienna Stars indoor training facility on Pickett Road in Fairfax. More information and registration forms are available at www.viennastars.com.
Maryland Offers Field Hockey Tourney
Field hockey players can venture up to Maryland this January to compete in the Seventh Annual Women's Indoor Field Hockey Extravaganza Tournament slated for the 15th in Hampstead. Competition will be offered for the following age groups: Under12, Under 14, Under 16 JV and Under 18 High School. The tournament will feature round-robin competition with all teams being guaranteed a minimum of three games. The team registration fee is $265 and the deadline is Dec. 31. Forms, rules and regulations are available on the Extravaganza's page under "Field Hockey" on www.usamateursports.com. For more info: 410-363-8610.