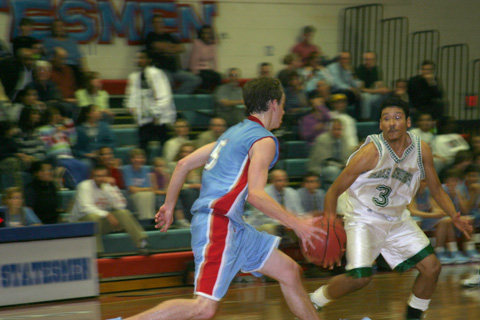 Just because this is a new George Marshall's boys basketball team, doesn't mean they didn't do their homework. Void of nearly all of last year's semi-final Cinderella squad, the Statesmen still managed to tip off this year's play with a strong showing, beating Falls Church 49-33 on Friday night at home.
The game, part of the 2006 Solano Spine & Sport Tip Off Classic tournament, marked the beginning of regular season play for both squads. Early-game jitters from both sides gave root to a pass-heavy first quarter, and a mere 5-0 lead for Marshall. Junior guard Nate Whittington nailed a three-pointer from the top of the key for the only points scored in regulation.
"Both sides were very tentative, we didn't do anything special, we just needed to get the jitters out and find our rhythm," said Head Coach Kevin Weeren, on Marshall's early struggle.
Falls Church's offense was even more out of sync, shut out the first nine minutes of play. After a Bryan Whittington steal came up empty-handed for the Statesmen, the Jaguars finally hit their mark, as senior forward David Acosta stretched over several Marshall defenders for a basket at 7:01 in the second. Acosta struck again after Marshall junior Chris Hurlburt missed both shots from the line, bringing the Jaguars within one. But it would prove to be the smallest Statesmen lead of the night, as Marshall went on an 8-0 run, including six points from senior Qaiser Ahmed, before a steal and lay-up from Jags freshman Antonio Harris Jr. closed the gap, making it 12-6.
After a pair of turnovers, one from each side, Marshall guard Tony LaBarbera made a great pass to Ahmed, who raced down the court for an easy bucket, putting the Statesmen up eight with the clock just shy of two minutes in the first half.
Senior guard Gabe Eusebio attempted to jumpstart his Jaguar squad, hitting a three-point shot and than stealing the ball on the next possession, but was stopped cold by Whittington, who regained possession and charged back up the court, drawing a Jaguar foul. Whittington hit both free throw attempts to close out the first half with Marshall on top 16-9.
"We both [teams] tried to slow people down, we played similar games," said Weeren. "We wanted to keep their offense at our pace."
If the initial game pace was a casual stroll, the game's second half was more of an offensive jog, featuring a collective 57 points between the two squads as both sides buckled down and started shooting.
The third quarter started sluggish, with the score frozen until Marshall's Scott Bugby got on the board with a bucket at 6:57. The crowd became electrified on the next few possessions as Whittington hit a three-pointer, followed by an Acosta three at the other end. Whittington followed suit, stealing the ball and hitting another 3 pointer, while Acosta, hung another three from outside the arc, making it the game's fourth straight.
Ahmed followed up a pair of free throws with two assists, a down court pass to junior forward Jae Oh and a shot fake pass to sophomore Bryan Whittington to give the Statesmen a monster 30-15 advantage.
Marshall's tough defense caused constant turnovers and missed shots for the Jaguars, and gave way to a plethora of Statesmen shots, as they posted a 17-point third quarter.
With momentum in their favor, the Statesmen opened up the fourth with two early steals, resulting in a barrage of points, and extending the lead 47-21. Ahmed led the Statesmen offense, scoring 22 points in the game, while Nate Whittington chipped in with 17. Ahmed was also a force on the boards, grabbing six rebounds for Marshall, while senior forward Ulysses Puccetti secured four of his own.
Despite a late 11-2 run in their favor, including a pair of consecutive three's by Eusebio, the Jags were unable to dig themselves out of the hole, eventually losing 49-33. The freshman Harris led the team with 14 points, while Acosta was good for another 11. Forwards Chris Utate and Bryan Tran also turned in solid rebounding efforts, finishing with four rebounds apiece.
With the win, Marshall starts the season on a high note, even though Weeren is quick to point out the game was far from perfect.
"We have a lot of new players who are still adjusting and a lot of subs from last year who have 'moved up,'" he said.
"Our goal is to be as good as we can be, and to do that we have to take better care of the ball, we have to do better handling the pressure."