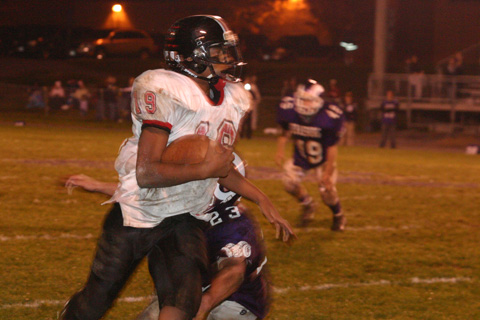 The game was the Mustangs' first of the year, and for the George Mason High School varsity boys basketball team, it was almost one that got away.
Nevertheless, the Mustangs hung on to defeat Briar Woods, 46-41, thanks to some clutch free throw shooting and critical rebounding after a late-game collapse gave the Falcons the lead with just over a minute remaining. Trailing 39-41, the Mustangs converted seven of eight free throws and forced two turnovers to finally dispatch a dogged Briar Woods squad.
Junior guard Mike Scwhengel led Mason with 14 points, seven rebounds and six steals, while senior center Ben Zorn recorded a double-double with 10 points and 12 rebounds. Equally as important to the game's outcome was Mason's work on the defensive end, forcing 26 turnovers from their opponent. Mason's pressure defense gave Briar Woods fits in the first half of the game, but when the Mustangs hit a scoring drought in the fourth quarter, they were unable to set up their full court press. Briar Woods capitalized, using a 10-0 run to start the fourth quarter and tie the score at 34 apiece. The lead changed hands four times over the next two-and-a-half minutes before a jumper from just inside the free throw line gave the Falcons a 40-39 edge with 1:21 left and added a free throw 20 seconds later to push the margin to two.
The Mustangs would not score another field goal in the game, but pulled away on the foul shooting of Kevin Montgomery, Schwengel and Zorn in the final minute. Briar Woods cracked under Mason's pressure, turning the ball over twice inside the final minute of play.
The game last Friday also marked the return of former Mason Head Coach Chris Capannola to the Mustang sidelines. Capannola left Mason in 2001, after leading the team to a semi-final berth in the state tournament, to move to Ohio to be with his father, who had fallen ill.
"Being back is great. We love it here and never would have left if not for my dad's illness," said Capannola, whose father has since recovered. "I love George Mason and I am indebted to [Athletic Director] Tom Horn for allowing me to come back and coach football and basketball."
Capannola utilized his bench to the fullest on Friday, playing 10 deep to keep legs fresh and the tempo quick. The Mustangs were without three of their players, who sat out both Friday's contest and Tuesday's game against Loudon County for disciplinary reasons.
In Tuesday's game, the Mustangs fell 66-46. Jake Johnson and Zorn led Mason with 10 points each, while Montgomery added nine and Joel Chandler scored eight.
Mason travels to face Park View on Thursday, before returning for home games against J.E.B. Stuart on Friday and South Lakes on Monday.