A FESTIVE ANNUAL holiday season gathering took place again this year at the Barnes and Noble bookstore in Seven Corners, as students and parents from the Mary Ellen Henderson Middle School of Falls Church gathered last Friday for an evening of showing off talent, sipping hot chocolate, munching cookies, browsing, milling and buying books with a significant portion of each sale going to the school. More photos inside. (Photos: News-Press)



Holiday Service Geared at Youngsters
St. Luke's Methodist Church, located on 7628 Leesburg Pike in Falls Church, will host a Live Nativity on Christmas Eve. Starting from 4-6 p.m., children can visit with animals and see what the first Christmas might have been like, before a brief family service at 5 p.m. designed specifically for kids and featuring cake and gift bags. Also, a candlelight service will be held at 8 p.m. For more information please call the church at 703-893-9220.
Workshop Encourages Creativity In The Arts
Creative Cauldron will host A "Community Cauldron" Night at 111 Park Avenue in Falls Church on Saturday, December 9 from 7-9 p.m. This workshop will include improv theatre, music, poetry and spoken word and will be led by veteran theatre artists Oran Sandel and Matt Conner. Local performers, poets, writers and singers who wish to share their talents can register online at www.creativecauldron.org.

Area Resident Scores Spot
Falls-Church resident and George Mason High School graduate Allison Farrow was recently selected as a member of Randolph Macon Woman's College Soccer Team. The WildCat program participates in NCAA Division III athletics and competes in the Old Dominion Athletic Conference (ODAC), which is the second-largest Division III athletic conference in the nation. Farrow looks to make an immediate and lasting impact as an R-MWC athlete.
Seeking all Shakespearians!
VpStart Crow Productions will be holding auditions for Shakespeare's Much Ado About Nothing on Saturday Dec. 9, from 12-3 p.m., and Monday Dec. 11 from 7-9 p.m. at the Cramer Center, located at 9008 Center St. in Old Town Manassas, Va. Director Patrick Torres is seeking to cast 16 men and 5 women; auditions will consist of readings from the script, found at http://wwwtech.mit.edu/Shakespeare/much_ado/index.html. The production will run from March 2-18, Fridays & Saturdays at 8 p.m. and Sundays at 2 p.m., all at the Cramer Center. For more information, please contact Mr. Torres at
Ptorres@youngplaywrightstheater.org or VpStar Crow at 703-365-0240.
Holiday Flick For Low-Budgets
Does the holiday have you strapped for cash already? See the holiday classic movie, "It's A Wonderful Life" on the big screen for free on Friday December 17 at 7:30 p.m. The event, put on by St. Luke's Methodist Church, will take place at 7628 Leesburg Pike in Falls Church and will feature free popcorn and soda. All ages are welcome and no reservations are required. For more information, please call 703-893-9220.
White & Partners On Board
The Washington Nationals recently announced that it has awarded the 2007 advertising account to White & Partners of Herndon, Va. As the Nationals strategic marketing partner, White & Partners will build branding, advertising and marketing campaigns for the 2007 season and assist the team with the launch of the new Nationals Ballpark on the Anacostia waterfront in 2008.
Grand Master Selection Unveiled
George Bernard Dungan, Jr. was elected the Grand Lodge of Virginia's 162nd Grand Master during its 228th Annual Communication, on Saturday November 11. Virginia resident Dungan, who will serve as the Grand Master during the 2006-2007 year, began his Masonic history in 1965 as an active member in Westmoreland Lodge No. 212. Since then he has taken an active role in Masonic services as well as community services. He will emphasize "Charity Toward All Mankind" during his tenure as Grand Master.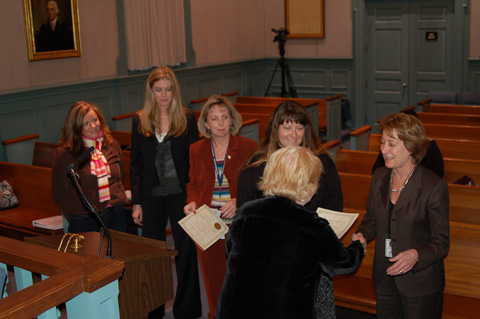 Dickens' Classic Comes To Life
The Providence Players of Fairfax will be performing an adaptation of the Charles Dickens classic, "A Christmas Carol", beginning on December 15 and running through December 23. Nine different performances will be offered in the play's two week run, directed by Beth Hughes-Brown. The show will take place at The James Lee Community Center, located at 2855 Annandale Rd. in Falls Church. Tickets can be purchased at the door or by calling 703-425-6782; all seating is general admission.
Strutting His Stuff
Congratulations to Falls Church resident William D. Hanson, who won second place for October in the prestigious photography contest sponsored by BetterPhoto.com. More than 25100 entries were submitted to the online photography contest, which attracted contestants from around the world and featured 10 separate categories. Hanson's image, "Stray Cats Strut" garnered top honors after being submitted in the Animals category, and can be viewed online at http://www.betterphoto.com/contest/winners/0610.asp.
Feline Needs To Be Found!
Sarah and David Barr need your help! The couple's cat, Hunter, has been missing since November 19. The five year-old Pixie Bob, a brown tabby with a short tail, is also missing his collar. He was spotted on Marshall on November 28, but since then there has been no luck. Anyone with any information is asked to please contact Sarah Barr at sbarr@hickokcole.com.
Give The Gift of Education
Help children get the gift of education this holiday season by donating to the Kokolopori Project Grant. 100 donations of $10 or more by December 31 could win a $5,000 challenge grant to benefit the schools in Kokolopori, in the Democratic Republic of Congo. Your gift will buy basic school supplies such as books, pens and paper for the over 5,000 children in Kokolopori schools. To help please log on to www.supportsistercities.org/cb/sistercities/pr/1700/proj1624.html.
Bringing Theatre To Your Living Room
Arlington's American Century Theater will be presenting the unique opportunity for audience members to tune in to the performance 365Days/365plays in the style of classic radio theater. On December 18, at 8 p.m. DC area audiences will be able to call a toll-free number and connect to hear seven original plays written by Suzan-Lori Parks for the week of December 18-24. They can also connect the broadcast to a speak phone and invite family and friends to experience this "theatre of imagination" event. The 800 number and PIN code will be available to anyone wishing to hear the broadcast beginning Monday, December 4, by calling the TACT message line at 703-553-8782 or going to www.americancentury.org. The entire performance will be approximately forty minutes long.
A Chance to Hone Your Skills
In preparation for Deliberation Falls Church City (DFCCVA), there will be a hands-on training opportunity this weekend in Skills for Community Deliberation & Action. The two-part training course will take place on Friday, December 8 from 7-10 p.m. and Saturday December 9, from 9 a.m.- 1 p.m. at the Winter Hill Senior Center, located at 330-B South Virginia Avenue in Falls Church. Reservation is limited to the first 40 signed up. If interested please send your name, organizational affiliation (if any), phone number and email adders to rsvp@dfccva.org as soon as possible.