The George Mason High School football team bowed out of the Regional Playoffs with a loss on the road to Goochland High School, but the result was a far cry from the 45-0 drubbing the Mustangs endured from the Bulldogs earlier this season.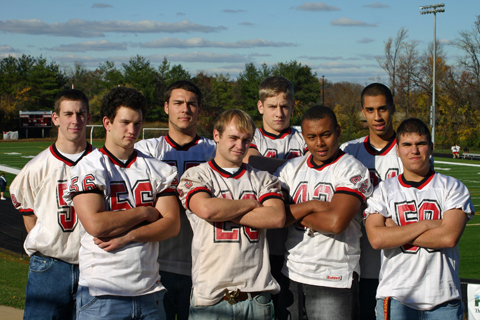 A rejuvenated roster of departing seniors led the Mustangs in a determined effort and made the Bulldogs scrap for every one of their scores in last Friday's 21-7 win in the regional semifinal.
"We were timid and had a lot of injuries back in week five," Mason Head Coach Tom Horn said, reflecting on the earlier contest. "We were a bit timid in the first half of this game too."
In the week leading up to the rematch Horn said there is an old football coach adage, "If you've lost once already, make a team beat you another way."
Although Mason prepared differently, and benefited this time from a healthy roster, there was one constant that proved a deciding factor in both contests — Goochland running back DJ Coles.
Coles had 16 carries for the Bulldogs totaling 168 rushing yards, including a 53-yard touchdown run in the first quarter. He added a 17-yard touchdown reception in the fourth quarter as well.
"DJ is phenomenal, but they are not a one-player team, which makes preparation more complex," said Horn. "[Quarterback] Brian Jordan and [running back] Jazz Hicks not only are good at what they do on the football field, but they are also all-state baseball players. There's a lot of leadership there."
The Bulldogs took a 13-0 lead into the half, but Mason came out on the opening drive of the third quarter and scored on a 23-yard pass from junior quarterback Michael Schwengel to sophomore running back/receiver Joel Chandler. But that would be the only score for Mason. For the game, the Mustangs could only muster 113 yards on the ground and 79 through the air.
The Mason defense did its best, and kept Mason in the game by forcing three Bulldog turnovers and producing a blocked kick. Senior Ryan Larcamp forced a fumble in the first quarter that senior Ben Zorn scooped up and advanced for considerable yardage. Zorn also blocked a point-after-touchdown attempt in the second quarter, and Larcamp forced and recovered a pair of Goochland fumbles in the third and fourth quarters.
The game concludes the varsity football careers of eight Mustang seniors: Judah Chandler, Ed Hickey, Eddie Huber, Ryan Larcamp, Kevin Montgomery, Roger O'Brien, Cody Roden-Reynolds and Ben Zorn. The seniors, and the entire football squad, will be recognized for their effort at the Fall Sports Banquet on December 4.
"We graduated a number of great football players last year and are doing that again this year," an appreciative Horn said. "What was nice about making it to the regional semis this year is that our players got to see through what we started last year. It is great to have some success, but when you do it two years in a row that starts a trend. If the trend line is long enough, then you talk about sustaining tradition. That is a considerable challenge now before the coaching staff."