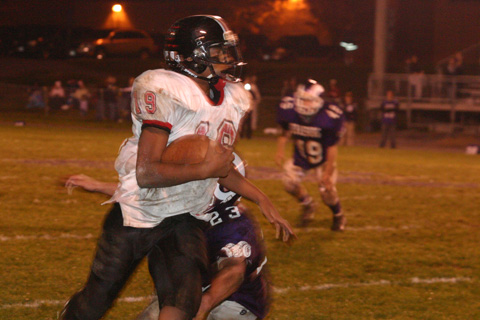 On Oct. 12, the George Mason High School varsity football team's record stood at 1-4 as it prepared to open its district schedule against a highly touted and highly ranked Madison County team. At that time, a winning record seemed a long shot and a playoff berth, well, that was nearly unthinkable.
Now, five weeks later, the Mustangs have not only topped the Mountaineers, but they've defeated the rest of their Bull Run District opponents as well and find themselves en route to the Virginia Single A Playoffs this Friday at Goochland High School. It is the first playoff appearance for the Mustangs since 2003.
The Mustangs latest, and final, district victory of the 2006 season came last Friday night at Strasburg High School, defeating the Rams 21 – 13 despite an early 7-0 deficit.
"It was the first time we have been down in a while," said George Mason Head Coach Tom Horn. "We were tight early on and looked tentative. Sometimes you get the seniors thinking too much about this being their last game instead of just letting play happen naturally. But some of our seniors, like Ryan Larcamp and Judah Chandler, did make plays when we needed them most."
Immediately after Strasburg's touchdown, Mason marched 80 yards in 16 plays with senior running back Eddie Huber scoring on a 14-yard run. Senior Ben Zorn,
successful on all three point-after-touchdown kicks for the night, tied the game at 7 – 7. A key play on the scoring drive was a fourth-and-10 deep in Strasburg territory. Huber fought for eight yards, but fumbled the ball forward. Alert senior Cody Roden-Reynolds fell on the ball just past the first down marker keeping the touchdown drive alive.
The game remained tied at seven until the third quarter, as Strasburg's passing game continued to pick on Mason's defensive secondary. However, the Mustang defense flexed but did not break. And after a stop by Larcamp for a five-yard loss, Mason struck again, this time following an 80-yard touchdown drive. Contributing to the drive was a 26-yard run by sophomore running back Joel Chandler, a 10-yard run by junior quarterback Michael Schwengel with a key block by Larcamp, and a 24-yard touchdown pass from Schwengel to Joel Chandler giving Mason a 14 – 7 lead they would not relinquish. Strasburg fought on and nearly scored twice in the fourth quarter. Strasburg marched 66 yards in 14 plays to the Mason one yard line. But on fourth and one, junior Barratt Kennett and Larcamp stuffed the Rams' Josh Kibler for a one yard loss, keeping the Rams off the board and giving the ball back to the Mustangs.
The persistent Rams made good on their next possession, a 42-yard scoring drive highlighted by a pass interference penalty that moved the ball down to the Mason six yard line. Following the touchdown, a bad snap led to a failed extra-point attempt and Mason clung to a 14 – 13 lead.
The Mustangs responded immediately and on the next possession, Zorn provided a key block that sprung Schwengel for 73 yards down the left sideline for a touchdown to give Mason a 21 – 13 lead.
Larcamp forced a fumble by Strasburg's quarterback Kirby Keller on the Rams final possession and Mason senior Ed Hickey fell on the ball sealing the Mustangs' win.
Mason finishes 6 – 4 overall and 5 – 0 in the district.
"It is hard for Mason to win ten games because we schedule good teams to get ready for the Bull Run District portion of the schedule," Horn said, looking back at the season. "It's almost like we have two seasons. Unfortunately, we had some early season adversity with all the injuries, but the team responded with urgency against Madison County."
Following the 1 – 4 start, the only way the Mustangs could make it to the playoffs was to win all five of its Bull Run District games. Having done so, Mason now faces one of the top Single A teams in the state in Goochland (10-0), the James River District champion. The Mustangs faced the Bulldogs in week five, when they endured a 45-0 defeat. One key to a potential upset will undoubtedly be stopping All-Region running back D.J. Coles. Kickoff is slated for 7:30 p.m.