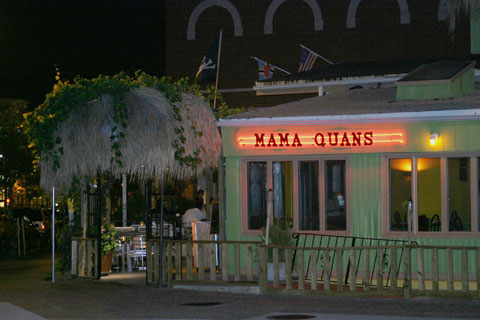 With a street full of restaurants, delis and other food havens as neighbors it's easy to overlook Robeks Fruit Smoothies & Healthy Eats as another futile attempt to steer consumers away from an industry that not only embraces the obese, it caters to them.
But the Robek's franchise, which opened for business in Falls Church in the West Street Plaza on October 28, is no gimme. Not only do they advocate healthy eating, the smoothie chain is constantly inventing new ways to do so.
For instance, the Robeks MuscleMax is a blend of cranberry juice, pineapples, blueberries, bananas, and raspberry sherbet, plus high-performance protein to support lean muscle and Creatine to improve workout performance. You won't find any of that in a McDonald's Big Mac with cheese; unless of course you attribute your muscles to lifting such a mammoth sandwich.
These nutritional boosts, there are 11 to chose from, add nutrients and vitamins to each smoothie such as soy protein or Immunibek, which is an anti-cold formula with zinc, Vitamin C and Echinacea. Each customer can pick a free nutritional boost for their smoothie, customizing it for their own health and diet needs.
The franchise has also begun to branch out from a rudimentary smoothie shop, adding an assortment of fresh salads and wraps such as the Mediterranean Tuna, with Roma tomatoes, red onion, mixed greens, pine nuts, cucumbers and feta cheese wrapped inside a spinach tortilla drizzled in Girards Organic Olive Oil dressing. The popular Napa Valley salad features succulent pieces of lean chicken coupled with blue cheese chunks, grapes, pecans, carrots and red onions tossed in a red balsamic dressing to give customers a taste of California, the franchise's birthplace.
Based out of the southern part of the Golden State's, the first Robeks opened in 1996 with an aim to help customers achieve optimal health without sacrificing flavor.
And in a culture that swears by packaged food and pre-made meals, Robeks prides itself on making each menu item quick, fresh and delicious.
Each smoothie is made from fresh fruits and vegetables without added sugars and goes far behind the typical strawberry and banana combo; tropical favorites like coconuts or mangoes are blended with pomegranate, papaya and guava juices to whip taste buds into a frenzy.
Those looking for extra protein can opt for one of the four "Power Smoothies" or seriously Arnold-ize with the "800 lb. Gorilla Protein Shake," a blend of soy milk, peanut butter, bananas, chocolate, non-fat yogurt and whey protein amassing to 50 grams of protein.
Perhaps the biggest advantage to Robeks is the healthy options it allows each customer. Each of the over-30 smoothies and shakes listed on the menu can be made dairy free by substituting soy milk or 98% fat-free sorbet in place of non-fat frozen yogurt. Don't like any of the frozen yogurt combinations listed? You can create your own by choosing up to three fruits and adding organic granola. The same create-your-own theme is possible with the salads. It is this tailored approach to healthy eating that makes Robeks ideal not just for dieters or vegetarians but for the hoards of people who swear every January 1, that this will be the year they get healthier…
However, eating healthy doesn't mean having to condemn yourself to a life of watercress and sprouts. Robeks reinforces the "have your cake and eat it too" phrase, offering a line of satisfying goodies that amazingly enough, are pretty good for you. The store is stocked with all-natural and nutritious power bars, muffins, and cookies, in addition to providing low-fat and low-sodium gourmet pretzels stuffed with natural fillings.
With smoothie prices comparable to Smoothie King, the sugary fast-food conglomerate of the blended world and wraps and salads running around $6, the same as a 6-inch Subway sandwich or a Burger King value meal, Robeks presents a strong case in the fast-food court.
Currently celebrating its 10th anniversary, the franchise has plans to open 30 to 40 new locations in the DC area within the next five to seven years. With a delicious healthy menu that includes my personal favorite chocolate chip cookies, it seems there may finally be a place consumers can call a "Happy Meal."
Robek's Fruit Smoothies & Healthy Eats
1063 West Broad St.
Falls Church, Va.
Mon. – Fri.: 6 a.m. – 9 p.m.
Sat .& Sun.: 8 a.m. – 9 p.m.
(703) 538-4111