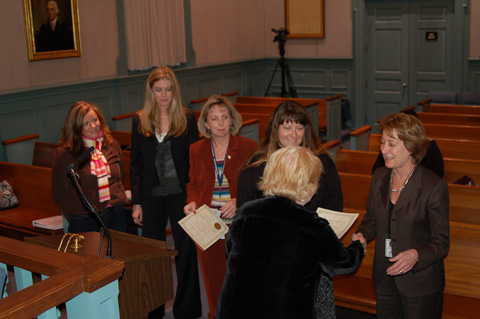 THE 2ND ANNUAL Business Expo sponsored by the Greater Falls Church Chamber of Commerce Saturday featured U.S. Figure Skating star Derrick Delmore (shown above, right, with Dr. Raymond Solano) and exhibits of area businesses and civic groups, such as the effort spearheaded locally by Barbara Cram (below, left) to celebrate 400 years of Virginia history. (Photo: News-Press)

FC Resident Takes the Walk
Congratulations to Falls Church resident Paul Phillip Anderson who received a Master of Arts in Political Science degree from Washington State University. Anderson received this degree after finishing up in the summer of 2006.

Area Resident Hits The Bar
On October 30, Falls Church's Jason Hobbie was admitted to the Virginia Bar in a special session of the Virginia Supreme Court in Richmond. Hobbie, a 1997 graduate of George Mason High School and a 2001 graduate of the University of Virginia, graduated from the William and Mary Law School in June. He is the son of Young and Chuck Hobbie.
Contest to Honor Military Parents
In honor of Military Family Month this November, Armed Services YMCA will hold its annual art and essay contest. The art contest asks children in grades K-6 to submit artwork that best illustrates "My Military Family", while the essay contests asks grades 1-12 to submit essays about "Why My Military Mom/Dad Is My Hero". Children of active duty and retired service members from all branches of the military are eligible; winners will receive savings bonds of varying amounts. Deadline for the artwork is February 16, 2007 and the essays March 16, 2007.
Visit www.asymca.org for complete rules and entry information.
Local Resident King of Concrete
Yaw Ayirebi of Bill Page Toyota in Falls Church has been certified as a Toyota Truck Champion after competing four days of specialized training on the 2007 Toyota Tundra. Led by truck industry experts from across the nation, these sessions provided Ayirebi with the latest in truck business management techniques, an in-depth technical vehicle immersion and an unprecedented "behind-the-scenes" tour of plant operations. Toyota hopes Truck Champions like Ayiebi will spearhead marketing and attract new buyers and serve an ever-growing base of North American truck customers.
Fundraiser Aims to Keep Singers From Being 'Blue'
The DC Blues Society is sponsoring a fundraiser show on November 18 at 7 p.m. at Chick Halls' Surf Club, 4711 Kenilworth Ave., Bladensburg, Md. The concert features a triple threat of performances with Robert Lighthouse, Clarence "The Bluesman" Turner and Mike Jr. all slated to perform. The proceeds will go to help send the winners of the Society's solo artist and band competitions to Memphis to compete in the 23rd International Blues Challenge. Advance tickets are $10 for DCBS members/$12 for non members of $15 at the door. For tickets and directions call the DCBS Ticketline at 301-322-4808.
Bona Fide Bueno
Trowbridge-Lewis Galleries, located on 5 E. Washington St. in Middleburg, Va., will be hosting the renowned Spanish artist Jose Antonio Pineda Bueno in his American debut. The Pineda Bueno show will open at 10 a.m. on Friday, November 10 and will conclude on Sunday November 12 at 6 p.m. Receptions will be held on Friday and Saturday evening from 6-8:30 p.m. as part of the "2nd Saturday, Art in The Village" events in town. For more information please call 540-687-6653.
New Arena Shines
The Kettler Capitals Iceplex recently opened as a community ice arena and new training facility for the Washington Capitols adjacent to the Ballston Common Mall in Arlington, Va. The 137,000 sq. ft facility was built on a new eighth level atop a public parking garage and is the only rink in the U.S. built eight stories or more above street level. The Iceplex includes two indoor NHL-sized ice rinks, office space, locker rooms, a pro shop, a snack bar, media facilities and additional spaces for special events. The project also features a 20,000 sq ft. state-of-the-art training center for the Capitals with a large weight and fitness room, extensive athletic training and medical facilities, spacious locker-room and lounge areas, a theater-style classroom and a high-tech video room.
FC Author Delves Into Culture
Falls Church resident and author Dan Joy will have a book signing and discussion of his paperback "Counterculture Through the Ages: From Abraham to Acid House," on Tuesday November 14. The reading will take place at 7:30 p.m. at Stacy's Coffee Parlor on 709 West Broad St. in Falls Church and will be free of charge. The book is a groundbreaking look at countercultures from ancient times to the present.
Student Singing A Different Tune
The George Mason High School Music Department is sponsoring a unique fundraiser for the band and choral trip to Atlanta, Ga. Sign up for a date and time to have a minimum of two students come to your home or business to baby-sit, perform music, do yard work or any other odd jobs. The dates will be on the following Saturdays: November 4 & 11 and December 2 & 9. For more information or to sign up please contact Margaret Buenneke, at 703-534-8488 or buenneke@hotmail.com .
Local Pies Makes National Mark
Congratulations to Ledo Pizza System, Inc. who was named Best Pizza in America on the November 1, 2006 episode of the Oprah Winfrey Show. Ledo Pizza was founded in 1955 by Robert L. Beall near the University of Maryland, in Adelphi, Md. Currently, Ledo Pizza operates in nine states and has nearly 80 locations. The show elaborated on the deliciously unique taste of Ledo Pizza and its 50 year tradition as a mainstay in the community.
Your Shot to Shine
The Washington Savoyards will be hosting auditions next week for the musical Kiss Me, Kate. Those interested are asked to prepare two contrasting pieces from Kiss Me, Kate or a comparable show and a pianist will be provided. Audition times and locations vary, to schedule an appointment please call 202-315-1323 or email bscrafford@savoyards.org.
Realtors Get Into Holiday Spirit Early
Sales associates from Weichert, Realtors recently held a Fall Food Drive at Cameron Station in Alexandria, Va, benefiting the Carpenter's Shelter. The agents, who were members of Margaret Hollar's sales team, collected non-perishable food items and monetary donations in addition to offering face painting, candy and raffle drawings for gift certificates to local merchants. Carpenter's Shelter houses homeless children, families and adults. For more information about the shelter please visit its website at www.carpentersshelter.org .
Morrison Book Unveiled
Mark Opsasnick, author of the book "The Lizard King Was Here: The Life and Times of Jim Morrison in Alexandria, Virginia", will be presenting a lecture and book signing at Stacy's Coffee Parlor, 709 W. Broad St. in Falls Church, on Sunday November 19 at 1 p.m. The book focuses on the legendary singer's teenage years in Alexandria from 1959-1961. For more information please visit www.capitolrock.com .
Birds Of A Feather Flock Together
Wild Birds Unlimited of Arlington, Va., is holding a 15th Anniversary Party in recognition of this milestone. The party will be held all day on November 18 at the Wild Birds Unlimited store at 2437 Harrison St. in the Lee-Harrison Shopping Center. There will be raffles, refreshments, an optics seminar and a live raptor presentation from 1-3 p.m. Come celebrate 15 great years of bringing nature and people together!
Music to TYOF's Ears
The Youth Orchestras of Fairfax are currently accepting applications for new musicians for the 2006-2007 season. Audition requirements include a solo, in addition to sight-reading and major and minor scales that include 2 or 3 octaves. The auditions will take place Monday, November 19 and applications need to be postmarked by Monday, November 13. Applications can be found at www.TYOF.org or by calling 703-459-8963.